Guest Poster
On Social Networks
The fifth annual London Futurebook conference featured 47 speakers from the publishing industry and beyond. A pre-conference survey suggested only 1 in 7 publishing insiders thought the industry was ready for the next stage in the digital revolution.  But the atmosphere was excitement, not anxiety.
Billed as Europe's largest publishing conference it was certainly one of the most opinionated audiences I've encountered – by 5.30 pm the #futurebook14 hashtag was trending at #5 on Twitter.
So what generated the tweetfest? Here are 5 of my personal highlights
The 3 Holy C's George Berkowski (serial entrepreneur, product developer for the taxi app Hailo and new launch, Ice Cream) had made waves pre-conference in an interview with the Bookseller where he asked how any industry paying £28k a year could expect to attract talent (software developers don't get out of bed for £50k) – and also his skepticism over the publisher's marketing efforts of his own book, How To Build a Billion Dollar App. His presentation was more conciliatory than many expected, focusing on the three 'holy C's, content (inspiration and information – which should be the industry's bread and butter), Commerce (he's staggered by the fact that publishers don't own transactions but rely on third parties), and Community (we've always bought and read books on friends' recommendation but publishers don't exploit this enough).
Smart Creatives: In Bekowski's view it's the 'smart creatives' who'll drive the industry forward – combining technical knowledge, business minds and creativity. Step forward the Editors: In a panel chaired by Michael Bhaskar, Harper Collins's Kimberley Young described recruiting romance writers via a twitter shout out (I can only pity the person who had to read the 1000 submissions she got in in response) and hailed the new openness to experimentation – and the speed publishers could move (from acquisition to Amazon in 30 days).   Not to be outdone Gollancz's Darren Nash told a thrilling tale of The King in Yellow, the story unpinning the True Detective.  Having discovered it trending via google trends three days before True Detective launched, they had their own e-book complete with extra content on sale to time with the first airing of True Detective. From concept to commerce in 45 hours.
Follow the audience: Carla Busazi (WGSN, formerly Huffpo UK) started her career at Marie-Claire – working with a group of digital elves up in the attic of the Conde Nast building because, you know, it was the print that made the money.   Typically, the money has lagged behind the readers.  Now that print magazine sales are falling off a cliff, the key challenge is to supply what people want, where they want it.  Before long, people will read on google glass, even on watches (software will adapt to your reading speed to compensate for the small viewing space).   'If you don't cannibalise your own business, someone else will' she says – a sobering thought.
Cosy up to the customer. Surprisingly to some people I talked to, Tom Weldon (CEO, Penguin Random House) said in an interview with The Bookseller's Philip Jones that e-commerce wasn't part of the company's plans:  he said that if companies like Google, Barnes & Noble, Tesco and Sainsbury's were struggling to succeed in the e-book market, it would be arrogant to assume PRH could succeed. But customer insights can be gleaned in many other ways: BBC Worldwide's David Boyle described how market research had shaped campaigns – and spend for music and TV – the budget for Eliza Doolittle's first album increased once focus groups indicated a more mainstream appeal, and they launched a substantial Dr Who promotion in Korea once market research suggested the Koreans would be especially well-disposed.  Penguin Random House's Hannah Telfer (3 cheers for reminding us that 4 out of 5 UK bookbuyers live outside London!) stressed the need for data and rigour as opposed to 'Anecdata', citing the 3,500 strong readers' panel and Young Hackney, a Hackney Youth Centre where PRH test apps and new launches.  All very well, but what about publishers with smaller budgets?  Pan Macmillan's Sarah Lloyd cited examples that smaller companies could use – including free data sources such as facebook, email signups, google analytics as well as more formal (and expensive) research, which could be used at acquisition, in forming strategic partnerships (they discovered that Jane Green readers thought of spa breaks as their number one treat – leading to a promotional partnership) and in testing ideas on groups of readers.
Lesson from dog food: Running a book publicity agency, many of my clients are small independents. Heartening to hear Tumblr's Rachel Fershleiser stress that the potential of the internet is 'not how big it is, but how specific it is'. If she can find fellow lovers of home-cooked gourmet dog food on Tumblr, a small indy can surely be equally nimble in reaching its audience.
Final thoughts: This is just a small snapshot of the conference and some personal highlights. You can see the award winners here (can Nosy Crow do anything wrong).
Which just leaves money: Ultimately, we're a business.  Make money or we die.  Some sobering money things that stuck in my mind:
Berkowski quoted the scary figure that 58% of US authors earn less than $1k per year – how are we going to incentivise them?
How to marry the amateurs (the Huffpost bloggers, the BookTubers) and the professionals (the hapless writers trying to earn a living and taking time to develop their craft)?
What happens to the losers in a much more customer-focussed world?  David Boyle mentioned that some artists were simply dropped after marketing research – would we do that with authors if focus groups responded badly?  And how would that affect a relationship business, long term?
One word I didn't hear mentioned much this year was piracy.  Strange, given that the Bookseller's pre-conference survey showed that 1 in 7 publishing professionals had knowingly downloaded a pirated e-book. Hmmm…
Ruth Killick is Publicity Director at Ruth Killick Publicity, a UK-based books and arts publicity agency. www.ruthkillick.co.uk @rkbookpublicist

You might have heard about this term "Mobile Workforce". This concept revolves around the fact that a mobile phone is changing the style of business management and incorporating new ways of business development. The concept of having a paperless office is finally gaining momentum. The era of 9 to 5 job has been over. Thanks to laptops, smartphones and tabloids. All you need is an internet connection and you are done with your work. How to manage the new mobile workforce is bothering employees.
According to a study, 3 of 5 workers say that they don't need to be in the office anymore to be productive. While 32% rely on more than one mobile device.
If you analyze then you will see that most of the businesses have gone online. They hire consultants who work from homes, etc. The power of the mobile workforce has lots of benefits. It has also opened new avenues for business growth.
But how you as an employer need to take care of your company's confidential information? Some common threats that companies have been facing are the leakage of company secrets online. That is not only bad for company repute, but also raises concerns among employers regarding dishonest employees.
If you will be given choice of a monitoring app that can tell you the activities of your employee's phone, then many would go for it. Among a list of reliable monitoring apps, the name of StealthGenie stands out. It provides key insights of your employee's phone in real time. The best part is that it is undetectable.
The business communication being made plays a vital role in building your repute. So, you have to make sure that all kinds of communications meet your company vision. As an employer, you need to look at the incoming and outgoing emails.
In case you don't know the key benefits of Mobile workforce, I have listed down few.
Better work-life balance
Increased productivity
Increased customer service
More workflow flexibility

What Else You Can Monitor?
The list is long, but few basic monitoring features that you can get are
Monitor Internet Activities
View GPS Location
Check Instant Messengers
It is always being said that "Change is the only constant thing in life", it covers all the areas ranging from business to personal life. The future of businesses is mobile and you need to change your approach and have to think, keeping the threats in mind. If you are going online, then how you can secure yourself is a must too.
According to another survey, following are the mobile platforms that employers have planned to support.
Before you finally give your decision of choosing a monitoring app for your business, here is one case for you. The cost of data leak can cost you more than your imagination. According to one news story, insider data theft costs Bank of America $10 million and that is huge. As the technology is providing flexible working hours and generating more mobile workforce, you have to tackle the challenge by making wise decisions for you. With a monitoring app, you can not only manage a mobile workforce, but can develop a loyal team of employees with utmost ease.

Inside of publishing, there is tremendous concern around the declining number of physical bookstores and limited shelf space. And for good reason—authors and publishers want to sell more books. As such, they need visibility and distribution to do so. Bookstores are also communities where readers naturally congregate, discover new books, and connect around content. Without them, publishing is clanking along like a dryer full of army boots.
Despite the fact that Barnes & Noble will soon shutter one-third of its stores, the future is anything but bleak. There's a case to be made that great books and authors will ultimately get MORE visibility in the digital space. Agile publishers will have MORE distribution outlets and partnership opportunities than ever before. To do this, we have to see ebooks for what they really are. Rather than thinking of ebooks in the same vein that we view physical books, we need to look at them as valuable content that should not be bound by the same marketing, distribution, and promotional rules that apply to physical books. Just like their price point changes, so does our ability to distribute and sell them.
As new platforms emerge, new opportunities unfold. Corporations and organizations that never viewed physical books as a channel to market, now embrace ebooks as part of their future due to their ability to increase sales, strengthen brand awareness, increase customer loyalty, improve employee morale, and more at a much lower cost.
Humor me while I oversimplify some of the opportunities. (Note: company names are just examples so we can freely imagine the possibilities.):
– Imagine Nike or Under Armour giving a consumer a free ebook about marathons with each purchase of shoes $100 or more. All consumers who redeem the book could automatically be added to an online community of runners who also bought similar shoes and are reading the book to spark more conversation. Heck, the author or an athlete could also participate in the book conversation.
– Imagine getting an ebook on How to Build Tree Houses Like a Pro the next time you buy lumber at Home Depot or Lowes. Instead of getting instructions, clueless dads everywhere could read and ask questions of one another around the book and related topics.
– Imagine buying a Costco or Target branded ebook gift card while standing in the checkout line. Each card could be coded to associate the book purchase with a specific store and provide the retailer valuable knowledge about its customers.
– Imagine scanning a code on the kids' meal bag at Chick-Fil-A or McDonald's and getting a free ebook on the mobile device of your choice. You could build a library of kids' books on your phone so your young readers could take their books anywhere. Sure beats the plastic toy that breaks a day later.
– Imagine watching the movie World War Z at the theater and seeing a code on your ticket or other movie-related promotions that allows you to buy the ebook on your device with a discount since you paid for the movie.
– Imagine buying a physical copy of Dwayne Wade's book on fatherhood and being asked upon checkout if you'd like to receive the ebook for $1 more with access to Dwayne's interactive online group of fathers and basketball lovers. Would you pay a little more to get a lot more?
These are just a few of the possibilities available today, with many more to come that will push the boundaries of creativity and innovation. These new marketing and distribution channels benefit not only brands, but also the entire publishing ecosystem. Authors gain more visibility and relevance through the association of ebooks with physical promotions. Publishers open up thousands of new distribution outlets and partnerships, creating new revenue streams, and readers start buying more books nearly everywhere they go.
Yes, it will be a shame that there are fewer traditional bookstores where we can shop, but their closing will not be in vain. They will fertilize the ground for a plethora of new opportunities that everyone can enjoy.
In his recent news article, Good e-Reader Editor-in-Chief Michael Kozlowski expressed the opinion that Barnes & Nobles' disappointing economic performance has been due, at least in part, to the company's decision to stop the pirating of Android apps. Barnes & Noble did this by blocking the ability to install apps from "Unknown sources." As a result, Nook Tablet owners could install only apps purchased from the Barnes & Noble dedicated app store. I believe, however, that the decision was driven by profit, not principle. Barnes & Noble chose to value short-term profit more than long-term customer satisfaction and any impact on app piracy was, at best, an unintended consequence.
I was an early purchaser of the Nook Tablet and heartily engaged in some of the forum discussions Michael mentions in his post. Based on what I read at the time, I would argue that the decision to block side loading was an attempt to supplement slim or negative device margins through the sale of apps in the company's walled environment. There were several points that lead me to this conclusion.
Barnes & Noble has never, to my knowledge, stated that the decision to block side loading was an attempt to stop app piracy. Instead, the decision was explained as an attempt to increase device security and keep rogue apps from accessing customer account information stored on the device. Another indicator that the goal was to push app store purchases is that, in addition to blocking apps from unknown sources, Barnes & Noble made other OS changes that required users to buy apps not needed on other Android devices. For example, Barnes & Noble removed the Nook Tablet email app's ability to access a Microsoft Exchange account. Why would they do that except to force customers to buy a pricey app to replace the function?
I believe that Barnes & Noble took a calculated risk by making decisions that it believed would directly impact only a small number of device owners. After all, most people would buy the Nook Tablet to read books and magazines and would not care about the ability to load apps not purchased in the company's app store. By the way, these are not necessarily pirated apps, but apps that the owners already purchased from Google or Amazon and could have been reloaded without charge if the Google or Amazon app stores would run on the device. What Barnes & Noble seemingly failed to realize is that the small percentage of potential customers who did care about this issue could have a profound impact on those who didn't. In a world of other choices, the quality of the Nook hardware could not overcome the negative impact of the company's business decisions.
The forums, in addition to criticizing Barnes & Noble, also offered ways out of the problem. It would have helped build loyalty and sympathy by simply admitting that they needed their customers to buy from the walled store to help offset losses on the hardware. Other forum members suggested that the company sell a device-specific unlock code for a price that represented Barnes & Noble's loss on the hardware or what they hoped to make on app sales. This is similar to Amazon's later decision to sell cheaper ad-supported tablets. If customers don't want ads supporting the cost of their device, they pay more. If Nook Tablet owners wanted to sideload apps, they could pay more. I would have happily paid for an unlock code and would have remained a Barnes & Noble customer.
There are, no doubt, a host of reasons for the continued decline of Barnes & Noble's Nook business. I pin the losses on poor business decisions and I think one of those poor decisions was deciding to block sideloaded apps. That decision is, to me, just one example the company's underlying business philosophy in dealing with customers and it is the company's inability to satisfy its customers that will ultimately lead to its downfall. Barnes & Noble is not a casualty in the war against app piracy, its wounds are self-inflicted.
The recent ruling in the United States, where a jury awarded Apple $1.05B USD in damages from Apple's suit against Samsung, was the largest patent settlement in history for willfully infringing Apple's patents. The damages related to the look and feel of smart phones and tablets, with such features as the "pinch and zoom" and "bounce back" patents, along with the trade dress and icon designs. This case generated a tremendous amount of discussion on whom the winner really is from this outcome.
On the surface, the size of the damages awarded to Apple suggest it maybe the winner. However, given Samsung's fourth straight record quarterly profit of $7.4B USD, and its global market share of 31.3% for smartphones, opens a debate about current and long term implications for this ruling. Although the settlement appears to be severe, a case can be made for effectively and efficiently replicating existing technology.
A similar scenario may be occurring in the electronic book market. There is no doubt that over the past few  years that there has been a dramatic shift toward people preferring to receive and consume their information in digital form rather than print. The explosion of the tablet market in recent years has strengthened this trend tenfold. After 79 years in print, even Newsweek shifted towards a digital only strategy. The state of California recently signed into law a proposal to allow students to download digital textbooks for free. Newspapers are experiencing shrinking print advertisement revenue as readers prefer getting their news online.
The big question is how will companies adjust to this shift and what is the revenue model going forward?  Are consumers willing to pay a flat fee or a subscription rate to have access to books, magazines, and textbooks, or do digital media consumers prefer a subsidized model where they receive their information free in exchange for being exposed to advertisements?  Two start-up companies, Flipboard and Pulse, appear to testing this theory in real time.  Flipboard is committed to generating revenue through advertising, while Pulse is focused on a subscription based model.
Ultimately the answer to this question is going to be determined by market forces and consumer preferences. We are seeing fierce competition in the United States with patents being filed at rapidly increasing rates. However, it is not just American companies that are leading this battle. A small company in Singapore may have an influence on the global ebook advertising market.
Singapore based E-Book Systems was founded in 1998 and has been issued 22 US patents. The company was a pioneer in the industry, in the sense that its patents might be some of the earliest that cover the range of innovations needed for navigating electronic books and serving advertisements to the end user. For example: simulating a page flip, organizing a display of books and subset of books, and dynamically inserting advertisements.
The E-Book Systems portfolio includes US Patents: #6,496,803, #6,701,301, #7,367,582, #6,725,203, #7,165,039 related to inserting advertisements into electronic books.  Both families have a relatively early priority date (October 2000) given the infancy of the market at the time of the filings.
The following is a brief summary of some of the features included in the patent families:
Dynamically inserting advertisements into specific locations within electronic books.
Targeting advertisements based on received electronic book class codes.
Targeting advertisements based on demographic information such as: gender, age, education level, interests, occupation, geographic  location, income level and spending habits.
Gathering demographic information and matching it with a targeted audience.
Defining the advertisement parameters: identification, category, display duration, ad dimensions, position, start time, stop time, repeat rate, ad rate.
Billing an advertiser for an advertisement.
Generating a debit notice to debit an advertiser.
Many of these techniques covered by the patents seem to be appearing in the market through various forms.  Overall adoption has not taken place, but the trend toward generating revenue through ads in electronic books continues while eventually we will wait for companies like Amazon, Google, and Microsoft to create and establish the de facto industry business models.
Ironically many of the techniques and ideas originated in a small company in Southeast Asia and the main investor in E-Book Systems is Mr. Kai Wa Ng, who was one of the founders of a more recognized Singapore based company, Creative Technologies, which brought to the world such innovations as the Sound Card and MP3 player.
Creative is also well known for winning a milestone 100 million dollar lawsuit against Apple, yet it is Apple that went on to become the market leader for personal MP3 players due to clever marketing and focus on consumer-centric design. We see a similar situation take place years later in the Apple vs Samsung case, as explained earlier. The lesson here could be that being the innovator doesn't always guarantee market capitalization. What matters is who applies the technology best and which company is able to get the correct market timing. Are we about to see history repeat itself in the world of ebooks?
This blog post was contributed by Mark Ashworth, an innovation enthusiast with a keen interest in technology from emerging markets. You can read more about patents from emerging markets at Mark's IP Blog.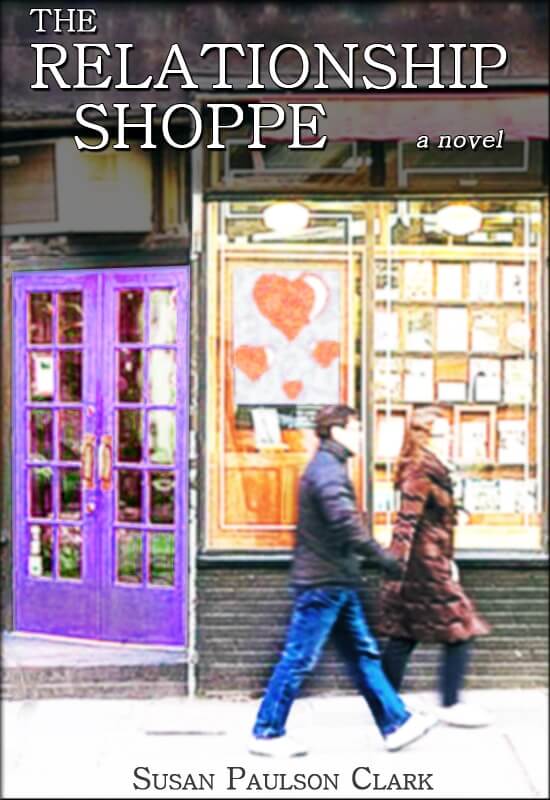 So, your ebook is ready to publish and now you need a cover. Before you get started: are you sure it's ready? Has it been edited and proofread? Have you read it out loud? Great! Just checking. Because a good cover cannot "cover up" bad writing or grammar.
That said, it sure can influence people to buy it.
BRING IN A PROFESSIONAL
I'll just come right out with it: unless you're a graphic artist, please don't create your own cover.
Say you have an eye for art, you're an oil painter or sculptor, but you've never created digital art. It's not the same skill set, so it won't look professional. Or say you're a computer expert and think, no sweat, you can figure out any graphic design program. Have you ever seen a geeky-looking website created by a person you could just picture in too-short pants and Coke-bottle glasses? You know what I'm talking about, and you don't want your cover to look anything like that.
I researched book cover creators and found options that ran from choosing the lowest bidder on Elance.com to hiring an a seasoned artist who's represented by an agent and charges thousands of dollars. After much investigation, I ended up putting a free ad on my local Art Institute website. I found a talented recent graduate who charged me a reasonable price. (Ruth Siddiqi: http://ruthsiddiqi.blogspot.com.) Another resource is the Author Toolkit on the World Literary Café website: http://www.worldliterarycafe.com/content/author-resource-toolbox. Click on the PDF at the bottom of the page.
As you consider which designer to use, study their online portfolio or have them email images. Make sure the designer has experience with book covers.
BE THE ARTISTIC DIRECTOR
You need to take the reins and provide management for your project. It is highly unlikely that you give the designer carte blanche and love whatever they come up with. So spend time preparing for your first meeting. And, throughout the process, remember the most important thing about an ebook cover: it has to look good small for retail pages or your own website/blog. In other words, it can't have too much detail.
Go to Amazon or BN.com and study covers in the same genre in which you write. Though there are exceptions, certain types of books tend to have similar covers.
What I found in my category, women's fiction, is that many covers portrayed people, but not detailed pictures of their faces. No, these were images of a person turned away, or their hands, or a shadowy profile. Also, covers in this category tend to use muted colors. (By the way, women's fiction is more literary than romance; romance book covers usually sport busty women and bare-chested men.)
Science fiction books often feature bright covers with fairly distinct images of heroes or creatures. Children's books, since most of them are illustrated, use artwork from the illustrator who created the inside pages. Many non-fiction books use bold type treatments (large, distinctive fonts on a simple background) and, if the author is an authority on the topic, their picture.
You can also use Google Images to search for your genre; for example, look up "detective novel book covers."
While you're looking around, take note of fonts and colors that you like and the types of covers, (photography, hand-rendered illustrations, or type treatments, for example) that you prefer.
Ask yourself what kind of mood you want the cover to convey. Will it be cheerful, scary, sentimental, or cerebral?
Finally, prepare your cover text. The title, of course (subtitle if applicable) and the author name or pen name. Notable authors usually have their name sized more prominently than the title. Debut authors should make the title more prominent than the author name. If you have a good review, you might use a quip from that.
GET THE BALL ROLLING
Now it's time to conduct your first meeting. It's important and in your best interest to talk to the graphic artist in person—or Skype—to make sure you're on the same page.
Bring print-outs from your research so that you can communicate what you're looking for. A designer can take your idea and finesse it. Or they may suggest that it needs some tweaking.
In my case, after spending hours poring over photos of bookstores (part of my novel is set in a boutique bookstore) I found a few good photos to show my designer. She selected the one she thought might work the best. We got permission from the photographer to use the photo and ended up manipulating the colors and using a blurred effect. You may also purchase inexpensive stock images. A site like Dreamstime.com offers high quality royalty-free images or images for as low as twenty cents.
Make sure you agree with the designer up front about how many first draft versions you will choose from—usually two or three. After you receive those drafts, choose one and let them run with it. It may take a series of back and forth until you finally come up with the final product.
After the cover is complete, you'll need it in different formats (number of pixels and size dimensions) for sales and marketing purposes. Smashwords, Kindle, and Pubit! use different specifications. You may also want a few lower-resolution images to use on your website or for email signatures.
Now congratulate yourself; you've just completed the best cover possible that represents all the hard work you put into your book!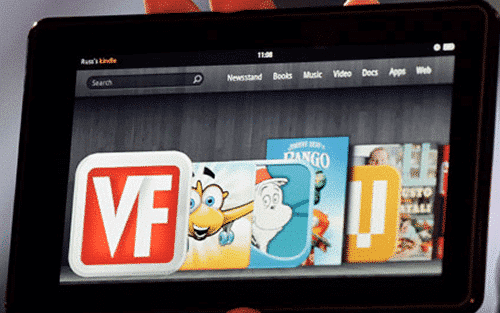 The Amazon Kindle Fire was hailed as an alternative to the more expensive iPad from the makers of the first wide-spread e-reader. Unfortunately, many people have expressed concerns about its performance. There are privacy concerns as well about not being able to keep information secure, as anyone who picks one up has full access to the owner's search history, pictures, and social media accounts.
These privacy concerns are even more worrisome to parents, who have found the Kindle Fire has extremely limited parental controls. Parents are able to prevent in-app purchases, but not the purchase of apps or other media and have no way to block accessing mature material. This means that if a child is on the Kindle Fire and looking for a cartoon movie or book, they can still watch adult themed movies or images, or see the latest searches their parents or siblings have performed.
Even parents that have not searched for or downloaded any questionable material are worried. With a clear wireless signal and a burning desire to see the latest movie or get the latest app, a child can spend large amounts of money. Since the Kindle Fire comes with all the Amazon account information pre-loaded, children may not even realize they are making a purchase because they will not be prompted for a password. Even little children can rack up a huge bill simply by accidentally entering the app store or hitting the wrong part of the screen.
Amazon has announced that there will be a major update for the Kindle Fire available in the near future to address many user complaints, but parental privacy concerns or controls have not been mentioned as part of the update specifically.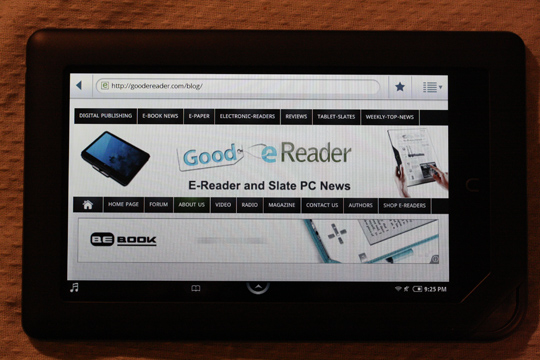 The Barnes and Noble Nook of e-readers is one of the most successful ventures by a company introducing an electronic book reader to the market place. The company does suffer from a number of lingering issues that have been failed to be addressed. The company could even be accused of trying to do too much too soon and many users are claiming a myriad of problems.
One of the main problems is the inability for customers outside of the USA to procure and use the device. Barnes and Noble does not ship its e-reader outside of the USA and will not do custom orders outside. This means if you are an international user you are basically out of luck unless you buy it from EBAY or our retail partner SHOPEREADERS.COM. There are many other companies that carry the Barnes and Noble Nook line of e-readers in a retail setting, such as Target, Walmart and Staples. These companies do not ship outside of the USA either, remarkably diminishing availability.
Because the Nook is not sold outside of the USA, you cannot register the device and shop the ebook store unless you do a few things. We recommend registering your device to a fake USA address or an existing one such as an Art Gallery or Post Office. If you have moral qualms about doing this, you can take out a PO BOX or use various proxy companies in the USA that allow you to use their virtual office as an address. Once you do this for your billing and shipping address when you are registering your device you can use your local credit card to pay for purchases. So if you live in Canada, Mexico, Europe, Australia, or any other country, you can use your real credit card and name. Just make sure to use a real email address, because this is the only way the company sends you purchase confirmations. Barnes and Noble will never ship anything to your registered address, only your email account.
One of the most other common problems we hear about at Good e-Reader is the LENDME functions that allow you to share select ebooks you purchase from the Barnes and Noble eBook store. If you have an email address that is associated with your B&N account of your friend you can lend a book out for a duration of two weeks. One of the most prevelent concerns is that books can only be leant out ONCE. When you lend a book out you cannot ever lend it out again and many users are not aware of this.
Barnes and Noble implemented a update earlier on that allowed you to read full versions of books on your device when you are in a physical book stores. This feature is very buggy for a number of reasons. We have heard reports that when you open up a large percentage of books it immediately kicks you out of it when the book loads on your screen. It then says that your reading time has expired even though you just opened it. One of the reasons why this occurs is if you visit more then one different Barnes and Noble retail setting. If you try and load up a book that you are reading at the store, quit and then go to another location it will often crash when you load that particular book up.
Many people often complain about the screen ghosting or flashing when you are turning pages. The Nook Simple Touch, WIFI and 3G versions all use e-Ink as the display technology which provides the true book experience. This technology often has refresh rate issues which result in sometimes a bit longer load times or ghosting of images/text on a screen. The Nook refreshes the pages every 6 pages so you can eliminate this problem by scrolling forward in a book. Alternatively if you notice the screen sometimes flickering and sometimes not, it is because you hit the six page threshold.
Finally there is a small input screen found normally on the back of the device which is your hard reset button. If your device ever stops refreshing the screen or locks up you can insert a small pin and hit the reset button. This will manually reboot your device and normally fixes all of the problems.

If anyone is experiencing problems not listed here, please let us know and we can help you resolve them.

When I joined my family's chiropractic office in 2001 I felt overwhelmed learning the procedures of the office, which ranged from the intake forms, patient files, and ideal workflow to properly help each person who entered our office. Over the next few years the paperwork became extremely tiresome and monotonous so I began to explore other options to help our clinic.
This exploration lead to our office being one of the first fully networked chiropractic offices in the state of Washington. We were now free of the majority of extraneous paperwork and any literature or patient data we needed was available in every room. However, in spite of the many benefits a serious unforeseen problem did occur.
With each patient interaction, we found that we were no longer fully and effectively engaged the way we were when we had paper files in our hands. It seemed that with the introduction of the computer system in each room, our backs were facing the patient as we entered information, and this limited our ability to effectively communicate. As a family operated office we also found it down right rude to be discussing a pertinent health issue while being seemingly distracted by a computer. Not only this, but our attempts to take and enter the information from a through history, physical and neurological exam was now taking us longer than it did when we had paper files.
At this point I began to look at options to bring in tablet personal computers into our office. Due to the astronomical cost of each unit, and the limitation of our office management software at the time there was no practical option for us. It was extremely frustrating, and our relationship with each patient suffered because of it. At this point we briefly changed to a Palm operating device with failed miserably.
While we were able to work our many of the kinks of procedures to make them maximally effective, the recent improvements of tablets and e-readers has been a game changers. It seems that our office was just a little ahead of its time, and now that our practice management software includes support for tablet computers, we have been able to complete our transition to a fully networked, paper free office.
Now that I have been in full time practice as a chiropractor in Seattle for over a decade, I realize how amazing the change from paper files, to computer, to a tablet has been.
The way we now interact with a patient while using a tablet PC has given us the ability to:
1. Easily and comfortably take in patient data.
2. Communicate more effectively with each patient.
3. Accessible and immediate messaging with colleagues and staff.
4. Diagnostic imaging data right in the palm of our hands.
5. Create a stronger relationship with each patient by effectively listening in face to face meetings.
What many health care providers may not realize at this point is that they are now under the gun as they are federally mandated to switch their patient data to Electronic Health Records by 2015. If this forced upgrade to certified Electronic Health Record technology does not occur, they may be fined 1%-5% reimbursement of various health programs available to U.S. citizens. This also means that each hospital, medical clinic, and chiropractic office will face the same communication breakdown that we did.
In a time that many have become used to people multitasking with their smart-phones, iPhones, and iPads, the last this people want is their health care provider doing the same. However, if each professional takes the time to invest in an appropriate tablet, Ipad, or e-reader, the transition can occur without noticeable consequence, and give the patient the face time they so desperately want when they are in need.
About the author:
Dr. Graeme Gibson is currently in full time practice at Queen Anne Chiropractic Center in downtown Seattle, WA. In addition to being a Seattle chiropractor, he loves to spend time with friends, family, and playing sports. If you would like to read more from Dr. Gibson please visit his regularly updated chiropractic blog.
As eBooks gain momentum, we should lend an ear towards the humble audiobook, which has been around for decades and was originally designed for those who could not read.
When Apple launched the iPod nearly ten years ago, it opened many ears to a whole new way to listen to music, but the iPod proved to be useful for far more. Audiobooks occupy just as important a place in my iPod universe as music. Every day I spend between one to two hours listening to audiobooks and podcasts.
I have always enjoyed audiobooks and podcasts, mainly in the car (especially on long trips). My son and I used to overdose on Harry Potter and Tom Clancy as we drove all over the province on long fishing trips. In the early days we brought along cassette versions of the books, but as more content became available in digital form, the iPod took over.
While my consumption of audio books was heavy in the summer fishing season, the rest of the year it was on the back burner – until a new  puppy came into our family and I inherited a new role, that of dogwalker.
Now I walk between one to two hours a day, and my consumption of everything audio has spiked! I keep up-to-date on technology news through podcasts and keep myself entertained by adding audiobooks to my rotation. My daily walks are a quality way to spend time with my  dog, get some fresh air and exercise, and listen to great content.
If you are just beginning to explore the world of audiobooks and podcasts, then you will need to visit a few different sites. Without question, iTunes is the best place to go for podcasts. Audiobooks are an entirely different animal, and while iTunes has a good assortment available, Audible.com is the leader in this space. They have a vast library of titles available as well as some some great subscription options.
The iPod is not the only medium for audiobooks. Most of our smartphones, tablets, and even our in-car GPS units can act as a player. I will discuss these options in detail in future posts.
For now,  drop in to iTunes, have a listen to a podcast or two, and maybe take a look at the book offerings. Music is great, but listening to a good book is a joy!
Steve Dotto is the host of Dotto Tech, a weekly radio show and podcast on technology,

Literature lovers collect copies of exclusively autographed bounded books and treasure them as precious jewel. Each book with the signature of their special favorite author who wrote their favorite tome holds a special place of honor on the book shelves. Technology has launched the most fascinating introduction – eBooks!
eBooks have become more viable form of literature in today's world. eBooks and the devices used for reading this digital medium are being improved and upgraded continually with the aim to serve the readers. eBooks is becoming more convenient and affordable form of literature which can be easily accessed to endless amount of books without moving in the comfort of your home. But these eBooks readers were having the limitations of not able to get their eBooks autographed by the author of the fascinating story in those lilliputian eReader devices. People have a sentimental charm for paper books and value them more especially when they hold the autograph of their favorite author's signature. When you stand in line of hours to meet an author to have them write a custom message for your books, has a huge allure about it. This made Mr. Waters, a senior consultant for United States Special Operations Command Headquarters to come up with something.
Gone are the days when people used to carry heavy bounded books but now they are holding tones of their favorite books as library in their fascinating iPad, Nooks and Kindles. And this piece of technology is going to break the limitations that the eBook readers were experiencing. The pain of not having to get the personalized signature of the favorite author in his or her own ebook is going to be erased with the amazing invention that is going to be introduced by Mr. Waters at the Book Expo America in New York in the month of May – Autography!
Autography is an amazing tool that allows inserting a photo which is signed by the author, in to the eBook itself. Let us see how this works –
If you are the fan of the author and desperately want to get the autographed eBook, then you need to first take a picture with the author, and the image automatically appears on the iPad that the author holds in his or her hands. The author signs on the photo with a stylus and if they want to personalize it more, then they are allowed to add a little message. Then the author will press on a button that will send an email to the fan's id with the link to the particular autographed image. The fan can easily download this link to his or her eBook. The personal message is then inserted into the fresh new copy of the fabulous eBook that the fan has purchased and transmitted then to his eReader device. Then the ebook downloaded by the person is replaced with the new copy along with the notification that it has been now signed. All this autography process will take merely around 2.5 minutes. Isn't that awesome!
The author can have a privilege tour around the globe and start providing his digital signature by just sitting on the couch in his sweet home. This device will create comfort to both the fans and the author incredibly. This application can be used also to sign on anything such as the photo of the comic book, baseball card, concert and much more.
To learn more about Autography check out their website.

The iPad 2 is now available and there is much to salivate over. On the surface they look quite similar but there is a lot going on under the hood.
The processor in the iPad 2 is a 1GHz dual core Apple A5. This is a big jump beyond the 1GHz Apple A4 found in the previous generation. With more processing power expect to see more robust apps being developed to take advantage of this. The new unit is also lighter than all of the previous iPad's incarnations. The iPad 1 came in two weight categories – 680g and 730g (3G model). The iPad 2 weighs in at 613g (AT&T), 607g (Verizon) and 601g (wifi only).
The iPad 2 features a gyroscope which the iPad 1 did not have. You also get two cameras. One is located on the front and the other on the back. The front camera is a VGA webcam while the camera on the back allows you to record video in 720p. This is a good compliment to the HDMA out for HD video display. Whatever you have on your screen can be streamed in HD. The connector to make this possible will cost you $39. Cellular radio has been added as well. The iPad 1 came with EDGE plus triband HSPA. The iPad 2 gives you EDGE plus triband HSPA OR CDMA / EV-DO Rev. A.
With all of these new features one might expect the iPad 2 to be bigger than the iPad 1 but is not the case. The iPad 2 is 8.8mm thick while the previous iPad was 13.4mm thick. The new cover for the unit uses magnets to automatically turn the device off and on when it is used. Even though the iPad is still black you now have the option of a white bezel.
Not everything on the iPad 2 is completely new. Some of the specs owners of the previous iPad will already have been familiar with.  The display and resolution remain the same at 9.7 inches LED backlit IPS LCD with 1024 x 768. The storage options are also the same with 16GB, 32GB and 64GB options. The wifi is still 802.11 a/b/g and Bluetooth remains at 2.1 + EDR. The accelerometer is still 3-axis.
The iPad 2 packs a lot of punch is a slightly smaller device. It ships at the same price that the iPad 1 once ran for so new buyers should be really pleased. The dual core processor, enhance IOS 4.3 and gyroscope will give developers more tools to take advantage of in their applications. This equates to a more feature rich experience for the end user.

Plugin by Social Author Bio