kevin
On Social Networks
Following the big announcement of the launch of Barnes & Noble's self-publishing portal PubIt! yesterday, we have more news today, of an another big player in the self-publishing world.
This one hails out of Germany. The service is called XinXii. It is Germany's largest self-publishing-to-ebook platform — but they are trying to expand. A spokesperson from XinXii contacted us today to tell us they are now going to offer books in the English and French languages. The company has been around for two years and now they are going to try to move out of just the German market, and into a more international one.
"This step is a logical result of the outstanding response in Germany," Dr. Andrea Schober, founder and head of PR and marketing for XinXii, said in a press release. "Our goal is to become an international leader as a do-it-yourself platform for the digital publication and online sale of authors' own writings."
Potential authors may be interested to hear that XinXii offers up to 70% cut of the sale prices for ebooks, which is quite better than the average, which is often closer to around 40%-50%.
Have any brilliant manuscripts kicking about, just waiting for a readership? Well now you have another route to getting your work published. Barnes & Noble have launched the latest self-publishing effort. Though a little behind schedule — the service was slated for a summer release — the new PubIt! (as it is called) is a further attempt to weaken the strong grip that the traditional publishing houses have maintained over the distribution of literature, allowing for the middleman to be cut out, so to speak, in the writer-to-reader relationship.
Though the name does not seem to be a big hit throughout most of the tech blogosphere, the service itself does seem promising. It looks incredibly straight-forward to have your possible-book converted from pretty much any popular file format (RTF, DOC, TXT, etc) to the ePUB format (which is compatible with a wide selection of e-readers, not just the Nook), and from there, posted in the Barnes and Noble eBookstore, within only 24 to 72 hours later. You can check out the PubIt! website portal for yourself here.
"We're delighted at the enthusiastic response we've received from thousands of independent writers and publishers who are eager to introduce their exciting works to a broader audience of readers," Theresa Horner of Barnes & Noble was quoted saying. "The launch of our PubIt! platform further reinforces our long-standing commitment to authors and writers, and offers a significant opportunity to provide an even greater selection of reading material to our millions of customers."
One of the much-toted selling points of the new PubIt! is Barnes & Noble's promise of no hidden terms or fees. Writers can set any price between $0.99 and $199.99 for their work, and they'll receive between 40% and 65% a cut of that sticker price.
Another neat feature is LendIt!, which allows anyone to lend one of their PubIt! ebooks to a friend for up to 14 days (but only once per book).
The biggest newsto come from this year's Research In Motion's DevCon event has been, of course, the release of the new Playbook tablet (see below). But that hasn't been all the big news.
RIM has also been happy to talk to developers and press about three important new software 'plays' that'll be brought to most RIM devices. The three new developments are: WebWorks (an app creation tool served online), expanded support for commercial services through apps,and a new version of BlackBerry Messenger.
Let's start with the new BlackBerry Messenger information release, as this is probably the one of the three you are most interested to hear about. The capabilities of Blackberry Messenger are going to expanded wide open for developers, as Research In Motion has extended the possible Messenger functions that can be now be embedded into other applications. Following the social-web direction towards which everyone seems to be going, RIM is trying to position Messenger as the new ground level of a social platform, creating a platform that other applications can intersect and extend from. Now developers will have the ability to easily interface Messenger abilities — such as sending invitations, or sending files — into their own applications. For example, a new Blackberry game coming out could use Messenger to facilitate the multiplayer components — one second you're chatting to your buddy in Messenger, and from there, you easily can initiate a MP game.
As for expanded support for commercial services, this basically boils down to two key things. First, RIM is introducing a payment service software development kit, which will take care of all the nuts and bolts of a digital payment system (such as through Paypal, or your credit card, etcetra) for app makers. This should encourage app development for the company, as it one major less thing to worry about for software developers. Additionally, there will also be a new advertising service deal offered. Research In Motion will allow app-makers to put in visual or textual ads, somewhat similar to, say, Google Adsense, and the revenue will be split 60% to the developer, 40% to RIM. This will only take up 3 lines of code in the applications, the company says.
Finally, we have the announcement of Blackberry Webworks. This is a large dev platform offered, released already in beta, which operates with web languages (HTML5, CSS, Javascript) and is served up over the web. So if you are a savvy web developer, it would be a pretty easy piece of cake to make a Blackberry/Playbook ready application through the Webworks service.
All of these, when added up, equate to a pretty substantial amount of encouragement for developers to start working away on new programs for RIM devices everywhere. And with over 23 million Blackberries out there, the market certainly is large enough to accommodate all new apps.
Overall, the development conference has been filled with positives for Research In Motion — and it isn't over yet. Research In Motion has been a big player in the scene for a while now, and it looks like they are doing what it takes to stay relevant and hold on to that market share in a increasingly competitive arena.
Seems like every industry player is anxious to launch their new tablets.
The most recent manifestation is Dell's Looking Glass tablet. It was showed off by Mr. Dell himself, CEO Michael Dell, at the Oracle Openworld conference, taking place in San Francisco earlier this week. Though Mr. Dell was not limiting the pictures taken of the new device, he was keeping mum on the technical specifications, not really revealing anything beyond the basics. For now, the only thing we can say for sure is that it is an Android OS tablet, currently features a 7″ screen (possibly to butt heads with Samsung's upcoming Galaxy tablet), and a volume control on the top of the unit, beside a headphone jack.
The Looking Glass shown was prototype unit. So they may change things up — however, we don't expect any massive changes, as they are probably rushing to get to market before falling behind of the competition, which all seems to have new tablets up their sleeve, such as the Blackberry Blackpad and the new Asus / HTC tablet. That being said, it didn't seem like much was running on the prototype unit — the only functionality shown was changing an image to another static image, and this basic task took Michael a few tries to accomplish before he quickly put it away. Taking a guess from these small details, we imagine the hardware is mostly decided on, but the software still needs work.
Check out the link here for video coverage of the tablet's showing at the conference.
Not to be outdone by the likes of the new Asus-Android tablet rumoured to be materializing momentarily, Research in Motion's BlackPad has also said to be dropping by any day now.
BlackBerry's BlackPad is said to be making its first public appearance next week in a developer's conference in San Francisco. Only the most basic specs are pinned down in the rumour mills: this device will probably feature a 7-inch touchscreen display and a camera. This rumoured first-showing date coincides with earlier predictions that the BlackPad would be out in this final quarter of the year.
By the time the holiday buying season heats up, it looks like tablet (and e-reader) shoppers are going to have more options to consider — both in stores, and what's just over the horizon.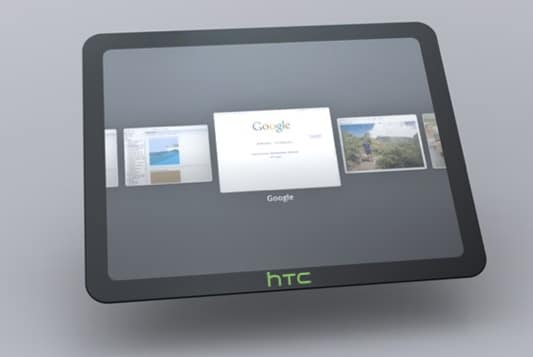 HTC has been rumoured to be working on a new Android tablet for some time now, and today, another rumour was been added into the ever-building vortex of tech blog mystery. According to secret sources over at Digitimes, Pegatron Technology — a division of worldwide superpower hardware company AsusTek (Asus) — has been pegged to be the builder of the new Android tablet that will be sold bt HTC.
High Tech Computer (HTC) has high hopes for the new tablet. The yet-unnamed new tablet will match up against iPad and other heavyweights in price and performance, if rumors are correct. Price of the new tablet should be around $800 (USD). The tablet will use Nvidia's visual-computing friendly — and power-efficient — Tegra 2 platform, with a 32GB SSD and 2GB of RAM. You will of course have a multi-touch panel (1280×720), and Wi-Fi, Bluetooth, GPS, and software support from both the Android library, and Chrome\Google cloud-computing apps.
While some rumours you can dispel, other rumours which make a lot of sense — especially when large quantities of money are involved — often prove to pan out. All indicators point to these rumors of the HTC Android tablet as bearing credence. Asus has the market power to really make a bold thrust into the tablet market, just as they almost single-handedly created the entire netbook craze with their eeePC two years back.
Keep your eyes on Good E-Reader for more news of this interesting new tablet as it becomes available.
A deal was sealed today that will bring masses of new books — mostly self-published titles — to the Kobo e-reader. The agreement, penned between Infinity Publishing, and Canadian-based Kobo Inc., will help expand Kobo Book's potential library to over 2.2 million books.
"This agreement opens up an important global distribution channel for Infinity [Publishing] authors, significantly increasing the exposure of Infinity eBooks to new audiences worldwide," Arthur Gutch, the CEO of Infinity Publishing, was quoted as saying. "As a device-neutral platform, eBooks purchased through Kobo's eReading service can be read on various eReaders, which is a level of flexibility that benefits our authors as they seek to grow their audiences of readers," went on Mr. Gutch, expounding the virtues the company's decision to embrace open standards such PDF and EPUB.
If you are not familiar with the Kobo e-reader, it is perhaps because it has only been on the market since earlier in May of this year. The e-reader is no-frills, inexpensive (about $150 USD) gray-scale unit, with 1GB memory (with an SD slot), and weighing in at a light 200 grams. Indigo Books & Music is one of the main financiers of the Kobo e-reader, so it is no surprise that you will find the Kobo at Indigo and Chapters bookstores in Canada. It is also being sold in New Zealand, in the Whitcoulls chain, at Angus & Robertson stores in Australia, and at Borders in the United States. (You can read our full review of the Kobo here.)
Infinity Publishing will be charging hopeful authors about $200 to self-publish their own titles, for sale through Kobo Books, and other digital libraries.
The market analysis firm In-Stat made a healthy prediction for the e-reader market today: the company believes that by 2014 sales of e-readers will just about triple. The company states that about 12 million e-readers will have been sold this year, and by the end of 2014, sales will have grown to a healthy 300%.
While e-reader sales have grown strong over the last few years, there have been some major changes to the market, which have significantly altered the consumer landscape. Developments such as the release and success of new tablets, lead by Apple's iPad, and the quickly dropping retail price of e-readers, have introduced new variables for market anaylsts to consider.
Nonetheless, even against the foreseeable new tablets, In-Stat believes that e-readers will continue to maintain a market space of their own, and even become more common on household tables worldwide.
All this is great news for consumers: a future scenario where we have a wide selection of sub-$100 e-readers being sold (and in a broader selection of places) seems a strong possibility, judging on these predictions for market growth.
Today Sony has announced a new trio of e-readers which will be hitting stores next week. However, they will not be headed to all stores; for now, two of the three new e-readers will only be available in Australia. We can expect that it will not be long before the new Reader Pocket Edition, new Daily Edition, and new Touch Edition find their way into other markets.
The new Pocket Edition has received a touch-screen powered by an infrared sensor that can read stylus-moves or finger motions without the need for the screen to be touched. Sometimes touch-screens produce unwanted glare, so this is a welcome change. Of the Pocket Edition, Daily Edition, and Touch Edition, the Pocket Edition is the least expensive, and will sell for $229 AUS (about $210 USD). The display is also getting an upgrade — going from eight shades of gray to sixteen (like the Kindle).
The Pocket Edition's memory is also being expanded, going from 512MB to much a nicer 2GB. As you probably know, that is room for many books indeed.
Though the screen size remains 5 inches diagonally, the new Pocket Edition is smaller in size with fewer buttons, giving it a simpler, less cumbersome appearance.
The changes made to the new Daily and Touch Edition e-readers are less numerous, but nonetheless just as significant. Both editions will gain the upgrade to 2GB of on-board memory as well, and the improved 16 shade gray-scale e-ink screen.
Sony is upgrading its larger-screen Reader models as well. Both the Daily Edition and the Touch Edition will now have the same touch-screen technology and e-ink screen as the new Pocket and 2 gigabytes of built-in memory. And though specific numbers have yet to be released, Sony reports that the Touch is gaining some battery life as well.
Though Aussies will be treated to the first crack at the Pocket and Touch Edition e-readers, the new Daily Edition will not be hitting stores down under. The new Daily Edition, which utilizes 3G and Wi-Fi, will not be offered; instead Australians will have to be content with a Daily Edition that uses a USB connection to download books (with either a PC or Mac).
It'll be interesting to see how much market penetration the new Pocket e-reader can muster. Though priced a bit higher (about $50 USD) than the top-dog, entry-level Kindle, the new infrared sensor is a nice 'touch', which could give the Pocket an edge in some peoples' comparison of the two.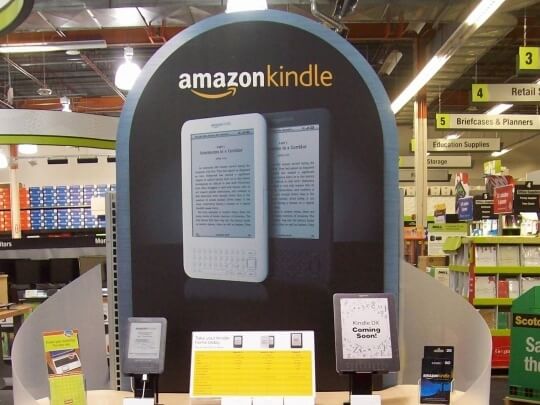 Amazon has made a major move in improving the availability of its ever-popular Kindle e-reader. The company has announced that coming this autumn, Kindles will be carried in Staples stores. With over 2000 Staples stores worldwide, this will no doubt be a huge boost to the visibility of Amazon's popular e-reader, perhaps helping to promote the product to untapped market segments.
This move follows on the heels of Kindle's arrival (earlier this year) into Target stores. Previously, Kindle e-readers were primarily only available through Amazon. Despite only being available online, Kindle has grown to become a premier option in the e-reader market. Now, with penetration into brick-and-mortar stores, Amazon's position can only strengthen in the ever-raging e-reader wars. Even with the blossoming popularity of e-readers, there are no doubt many folks who have yet to try one; having demo Kindles in-stores for people to try for themselves will go far in generating exposure and interest among these new consumers.
Along with three Kindle models, a variety of Kindle accessories will also be sold in Staples stores.
Plugin by Social Author Bio