WordPress database error: [You have an error in your SQL syntax; check the manual that corresponds to your MySQL server version for the right syntax to use near 'AND p.post_type = 'post' GROUP BY p.post_author HAVING COUNT(post_author) > 1' at line 1]
SELECT u.ID, count(post_author) as posts FROM wp_posts as p LEFT JOIN wp_users as u ON p.post_author = u.ID WHERE p.post_status = 'publish' AND u.ID != AND p.post_type = 'post' GROUP BY p.post_author HAVING COUNT(post_author) > 1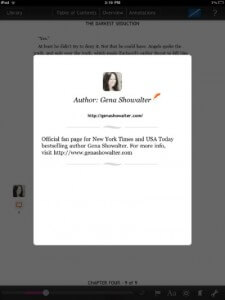 Kobo is launching a new service for authors that allows them to enter their thoughts and memories surrounding the creation of a specific character or circumstance in their books. You can learn how the author crafted key aspects of their work, like what they were thinking when writing a specific chapter. This basically allows authors a better way to connect up with their readers in a whole new and social way.
The first books to employ this new techology are Gena Showalter's The Darkest Seduction for the USA and in the United Kingdom  JoJo Moyes' Me Before You.  When you purchase these books, there will be a picture of the author appearing periodically while you are reading. If you click on the author's picture, you will get a nifty little interface where the author shares their thoughts. This should provide a deeper connection between the writing process and the readers.
Not only can authors share their thoughts on critical aspects of their narative, but they have more freedom to promote themselves. One of the systems in place right now is the ability to look at an authors biography within the digital book. They can also share their Facebook and Twitter links and take users directly to their various accounts.
I think this whole idea has tons of potential. If used sparingly, it could give us an introspective on the entire creative process and let us gain insights into our beloved characters.