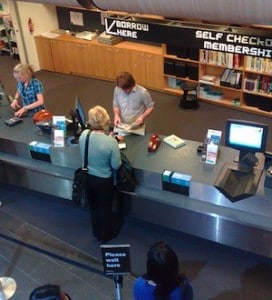 3M's Library System loves to show up at a packed conference and show off something new and innovative for the world of library ebook lending, such as at last year's ALA Conference when all the buzz was about the dedicated e-reader designed specifically to be checked out from local public libraries. Today, 3M once again didn't fail to impress at the ALA Midwinter Conference when it gave out details about its cloud-based ebook lending program.
Visitors to 3M's booth were treated to demonstrations of the app that allows cloud-based borrowing, a program that is currently in beta testing in several mid- to large-sized public library systems around the country. The 3M e-readers were also on hand, devices that are designed for public library patrons who do not already have a digital reading enabled device to enjoy the convenience of ebook lending.
Some of the innovations that attendees of the ALA conference have responded to include the updated terms and agreements that 3M can offer to libraries, one of the most popular of which is the year-to-year licensing agreement that libraries can have, rather than locking themselves into a multi-year commitment with 3M. The digital lending company also informed attendees on its cloud-based digital borrowing platform that requires no sensitive information from users other than a valid library card number.
Also in the discussions was the policy on ebook licensing rights that allow libraries to retain ownership after purchasing a digital title for their catalogs through 3M, even if opting to select a competitor for ebooks later on.
"Our stance is that ownership of e-content should not be treated any differently than physical content," said Kansas state librarian Joanne Budler in a press release issued today. "We are excited to transition to the 3M Cloud Library, which supports us in this philosophy and will be a valuable partner as we continue building our digital collection."
3M will be on hand next week at Digital Book World, where GoodEReader will talk with 3M's digital marketing manager Tom Mercer about how ebook lending and recent news involving audiobook downloading will affect patrons at the local public library level.
Mercy Pilkington is a Senior Editor for Good e-Reader. She is also the CEO and founder of a hybrid publishing and consulting company.