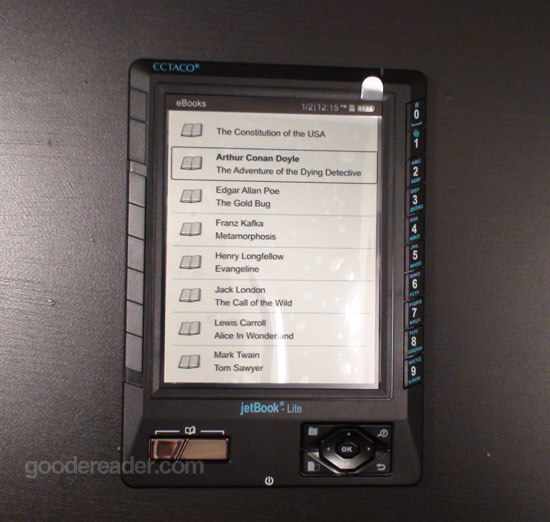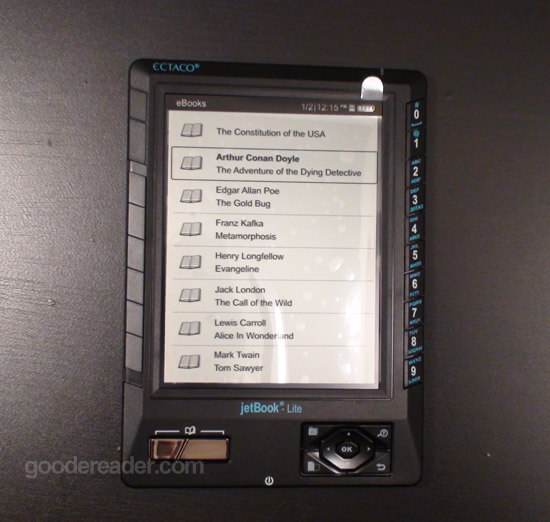 Welcome to another Good e-Reader review! Today we take a look at one of the best e-reader offerings from Ectaco, the Jetbook Lite! How does the Jetbook Lite compare with the companies other offerings and against other e-readers on the market? We shall soon find out.
Hardware
The Jetbook Lite features a 5 inch TFT LCD screen with a resolution of 640×480. Although it is not E-Ink it does use a monochrome based technology allowing it to be read in various lighting conditions. One of the great aspects of the screen they use is that there is no flicker as pages turn. Entry level e-readers are well known for the delay in page refreshing when you turn pages or access different menus. The Jetbook Lite fairs very solid in the respects of its screen.
The Jetbook Lite has 100 MB of internal memory to read books and can be further increased via SD card, up to 32 GB. This is a great upgrade compared to the Jetbook Mini, which has a paltry 1.4 MB of internal storage. Literary you can store thousands of books on your electronic reader.
Most Electronic Readers have an internal battery used to power it, not so with the Ectaco Jetbook Lite. It runs on 4 AA batteries that gives you around 20 hours of constant usage. The one great thing about using tangible batteries is that it brings the cost down significantly, although in the long term your end cost is increased having to buy batteries. We recommend buying some rechargeable batteries to make this device a viable way of charging it. Another great benefit is how accessible batteries are worldwide. Many different countries use different voltages for charging devices, where as a AA battery anywhere in the world would be compatible with your e-reader.
There is a Mini USB port on the device that you use in order to hook it up to your computer and directly copy pictures and ebooks. This also serves as copying Jetbook Lite firmware update files which greatly enhance your e-reader. Some benefits of loading in the firmware updates include the ability to load in DRM-EPUB content.
The design elements of the Lite make it very slick and intutive to use. There is a D-PAD that you use to scroll up and down in menus. There are also other buttons devoted to turning a page forwards and backwards. Also, there are numerical buttons on the side, these are used to launch programs and settings. For example, some setting menus have six or seven options, instead of having to scroll all the way down, each option has a numerical value. If the option you want to hit is near the bottom, instead of scrolling on the D-PAD, you can simply hit the number key and launch the setting. We found this very convenient and something entirely unique to the Jetbook Lite, against any of its competition.
This e-reader has the ability to flip between landscape and portrait mode, unlike many of its direct competition.
Finally, the Jetbook Lite does not have WIFI or 3G, so there is no way to connect up to the internet. Ectaco does not have an eBook store, so they leave it in your hands to be able to locate and download the books yourself.
Software
The Ectaco Jetbook Lite runs a Linux based operating system, which is very stable and has yet to hang or crash. The main main has three main options, to view pictures, settings and read books.
The Ectaco Jetbook Lite is a great e-reader in the respects of its ability to read many types of ebook formats. It has direct support for ePub, Mobi, PRC, RTF, txt, pdf, and FB2. It also is one of the few Ectaco readers that are able to display pictures, it supports jpg, gif, png and bmp formats.
Not only does the Jetbook Lite support many type of ebook formats, but has direct support for many different languages as well. It has direct support for eBook contents in Albanian, Catalan, Danish, Dutch, English, Faeroese, Finnish, French, Galician, German, Icelandic, Italian, Norwegian, Portuguese, Spanish, Swedish, Croatian, Czech, Estonian, Hungarian, Latvian, Lithuanian, Polish, Romanian, Russian, Slovak, Slovenian and other European languages. It also has menu and settings languges to be able to be localized, including; English, German, Spanish, Polish, and Russian.
There are 100 free classic ebooks that come with the device, along with the user manual and CIA World Factbook. So there is enough on the e-reader to get you reading as soon as you buy it.
You have the ability with this device to be able to look up words using the built in dictionary. The dictionary itself is available in many different languages, so if English is not your main spoken tongue, you do have options. The one great feature about the built in dictionary is that it gives you the bare essentials to know what the word means. It does not over-complicate the feature used to give you the meanings. There is the direct pronunciation and 3 quick half sentences that tell you the different meanings.
There is a number of font selections you can employ on this particular e-reader. The Ectaco e-Book Reader provides multiple choice of sizes and types to suit your reading preference.
We mentioned prior that Jetbook does not have a content distrubution system, but does read a ton of different formatrs for ebooks. This is a mixed blessing, for people new to e-readers they might have a complicated time finding ebooks to download. If you want to buy an eBook from another store, you have to make sure its only in ePub format. A ton of stores sell books in this format including Kobo, Barnes and Noble, Borders, Smashwords and iBooks.
Our Take on the Jetbook Lite
Compared to the prior offerings of Ectaco the Jetbook Mini and the original Jetbook this is the most superior device they have launched to date.
Some of the factors that led us to arrive at this conclusion was the fact that it has very solid organizational structure. The main menu has three options, Books, Pictures and Settings. When you select Books you see your current library of books, with the book title and authors name. Pictures are very basic just showing you the title of them. The settings menu was our pleasant surprise. All of the main settings are broken into main categories and then launch corresponding sub categories. This serves not to overwhelm you with the sheer amount of options to select, like the Jetbook Mini does.
We also really liked its ability to read every major ebook format that is easily downloaded from the internet. The internet is rich in being able to download a ton of free content. Project Gutenberg and Google Books has a ton of classics that you can spend your entire life reading. There is also plenty of websites that sell ebooks in ePub format that you can easily load into your e-reader via Adobe Digital Editions. If you are a person that loves their torrents or private sites, you won't have to do tons of formatting and conversion to be able to read the books.
All in all, the Jetbook Lite is a worthwhile investing if you live outside of North America. We are blessed in Canada and the USA to have such an extensive selection of e-readers at our hands, both in stores and online. Outside of North America the pickings get very slim and prices dramatically increase. To give you an idea, the Kobo e-Reader sold in the USA retails for around $99.00, in Canada it retails for $149 and in Australia $220.00. You can see the dramatic gulf in price and allot of e-readers do not even ship outside of the USA, such as Barnes and Noble.
The Jetbook Lite retails anywhere between $99 and $170 and if you decide to pick one up you are getting a solid device for your money. We recommend this one to people who are independent and tech savvy enough to be able to locate books on your own, without being locked into a specific ebook store. If you are interested in purchasing the Jetbook Lite, check out our retail partner Shop e-Readers! They ship all over the world at cheap affordable prices.
[cincopa AEGAdfK1XiMx]

Michael Kozlowski is the Editor in Chief of Good e-Reader. He has been writing about audiobooks and e-readers for the past ten years. His articles have been picked up by major and local news sources and websites such as the CBC, CNET, Engadget, Huffington Post and the New York Times.