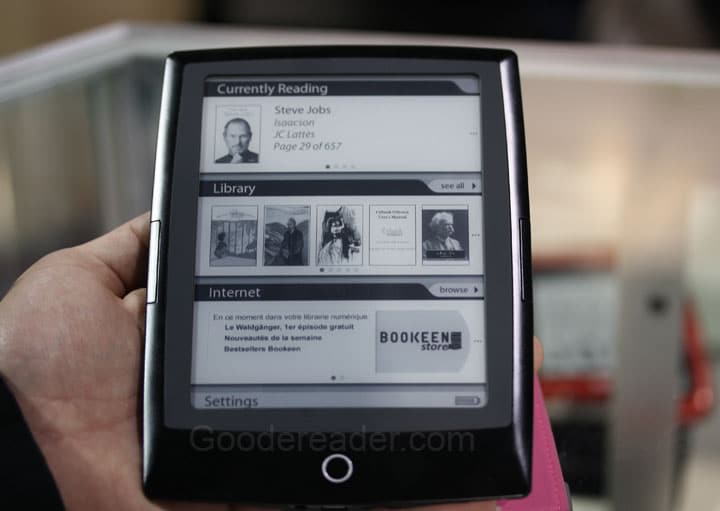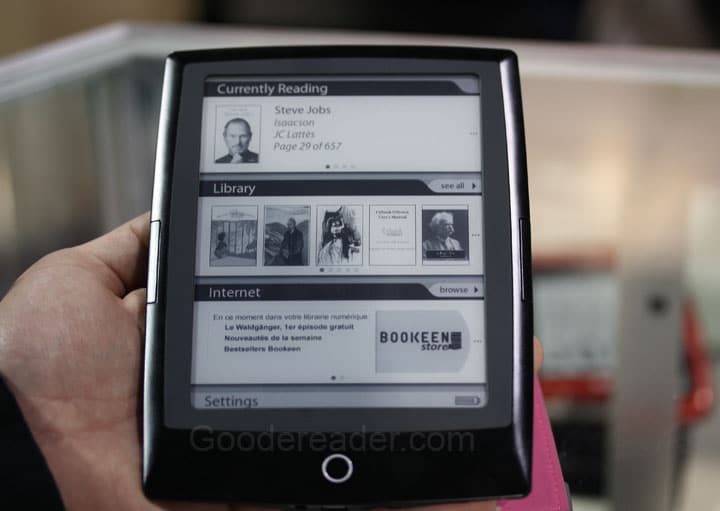 We are live on the scene at CES 2012 at Las Vegas and we just got our hands on the new Bookeen Cybook Odyssey and is it amazing! This is simply the most responsive e-reader I have ever used. It uses new technology called HSIS, which has been in development for over a year and is a product of the company's two year relationship with Texas Instruments, who made the processor. The big hyping factors are the animated and scrollable menus that allow you to do amazing things.
The first thing you are greeted with when you turn this device on for the first time is the homescreen. It shows you the last book you have been reading at the top and features scrollable menus that have the books you are not currently reading. You can gesture left and right and see all of the books you own. Normally with e-ink you would not be able to get away with real time animations, but Bookeen managed to pull it off.
When you open a book it plays another small animation of the cover art that starts off small and then takes up the whole screen. When you turn book pages, there is hardly any flickering or e-ink based screen updates. We managed to instantly turn 15 pages within the span of 5 seconds and did not see any glaring problems. One of the benefits of the overall reading experience is that you can tap the touchscreen to turn a page or use the manual buttons that are placed on both the left and right sides.
One of the things that I really liked when reading books is how you can change font size and typeface on the fly. There are 6 built in fonts and 8 sizes. Everything is updated in real time, so you can check out the sweet spot before you commit to any particular changes. If you are not a fan of the default fonts, you can simply load in your own! This means you can use Windows Explorer or any File Manager to copy over Times New Roman, Ariel, or whatever you want! There is also options to take notes and annotations, and then save them in your book. If you want to export these you can do it as an XML file, which is compatible with most major platforms. Bookeen told us that when Adobe releases their new update for Digital Editions you can save the notes and export them to other e-readers or even your PC.
The main library shelf is a thing of beauty and allows you tremendous flexibility in managing large collections. You can pinch and zoom to get various perspectives and there are 5 different options to change. By default, 10 books appear on your main shelf in chronological order. You can then increase the sizes of the cover art or even make it so 20 books appear in two different rows. You can then browse between different shelves or collections by tapping on the screen or hitting the page turn buttons. This entire library shelf system is also animated and everything loads super fast.
The Bookeen Cybook Odyssey does its magic while the unit is idle and this is how it manages seamless animations and manages to avoid the e-ink based refresh problems plaguing most other e-readers. Instead of refreshing the screen instantly, like most e-readers, it refreshes things in the background when you are idle, reading a particular page, or browsing the internet.
This new e-reader is the most responsive one I have ever used and it even surpasses the Nook Simple Touch in speed and the e-book experience. It allows you to really craft everything you want to change on the fly and has no lag at all. It was really amazing. It has recently passed FCC certification, but is not yet available in the USA. The company is, in essence, at CES to find industry partners in North America to carry and distribute their devices.
[cincopa AsAAnx66S_P2]

Michael Kozlowski is the Editor in Chief of Good e-Reader. He has been writing about audiobooks and e-readers for the past ten years. His articles have been picked up by major and local news sources and websites such as the CBC, CNET, Engadget, Huffington Post and the New York Times.