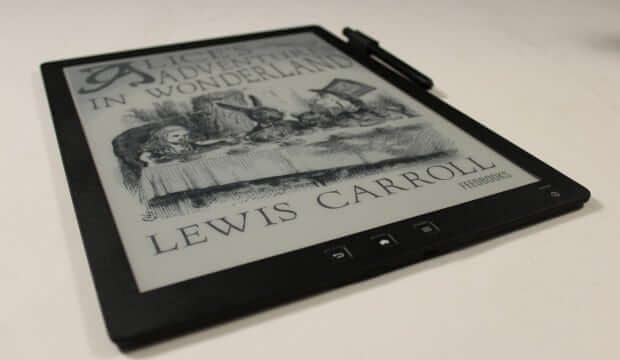 The Good e-Reader 13.3 inch Android e-reader is the first large screen device that allows you to take notes, make highlights, read e-books and install your favorite apps. This support channel will address common questions and concerns, in addition to our official FAQ. Customers who have purchased the Good e-Reader 13.3 will be able to talk with each other and share their experiences.
FAQ
Help, the settings menu crashes – You will have to download and install THIS FILE to your computer and plug your e-reader into your PC. You can copy the file to the root drive and open up ES File Explorer and navigate through your local menu and find the file. Once you install the file, you will be able to access the Settings Menu, where you will be able to enter your Google Account information.
User Guide – This is our user guide that shows you the key features about the e-reader.
What to do if the e-reader freezes – If the Good e-Reader 13.3 freezes and becomes totally unresponsive you can do a hard reset. You simply need to take a paperclip because it is blunt and will not damage the internals. You can insert the clip into the little hole next to the SD and USB ports. You can take a look at THIS PICTURE as a visual aid. When you are done with your e-reader for the day, make sure there are no open apps and you are on the main home screen, this will reduce the chances of the device freezing.
I hear a small rattling inside the e-reader – A very small handful of users have reported they hear a small rattling inside of their device when they tilt it into a specific direction. If you are one of these people people email Peter and provide the serial number of your e-reader. It is on the box it was shipped in and also on the back.
How to copy e-books and PDF files to the SD Card – Many of the leading e-reader apps allow you to import or read PDF files or e-books directly from the SD Card. If you want to learn how copy e-books to the SD Card, please watch THIS VIDEO.
The e-reader is stuck in a boot loop – If your e-reader is stuck in a boot loop you can follow the instructions HERE and do a factory reset.
I did a factory reset and Google Play Disappeared – In rare cases when you do a factory reset Google Play will disappear. You need to download Google Play and Settings.APK from the Good e-Reader App Store. These two files are in the E-Ink section.
How to Move Apps to an SD Card
Visit Settings Menu
In Settings will see Applications as an option.
Tap on the Applications,will see Manage Applications.
You should again tap to open then a new window will be appeared in that will see All the apps which you have installed in the Good e-Reader 13.3
Tap that APP which you want to Move to external Memory or SD Card.
Once tapped,a new window appear in that below will see Move To SD Card.
You simply need to tap on that & app will be moved.
If this process does not work for you, open up the Good e-Reader App Store on your e-reader and search for the app "App2SD" this will allow you to easily move apps from the memory to the SD Card.