Archive for Toshiba
Toshiba has launched a new tablet in Japan that sports decent specs, which explains its not too indecent price tag. Dubbed Regza AT501, the tablet does look a lot like the AT500 that the company had launched last year. Build around a 1.3 Ghz Tegra 3 quad core chip and a 1 GB RAM, the new AT501 sports a 10.1 inch 1280 x 800 pixel display and runs Android Jelly Bean. The tablet has also been provided with a 3 megapixel camera at the rear, which however is a disappointment for shutterbugs considering most mainstream tablets offer 8 megapixel webcams.
This apart, the tablet is Wi-Fi and Bluetooth enabled and offers 10 hours of battery life. The tablet is slated to go on sale in Japan from 15th Feb for 40,000 Yen. That translates to a quite affordable $425, though it's hard to believe why anyone would opt for the Toshiba tablet when there is the Nexus 10 that comes with a much better display while still priced at $400.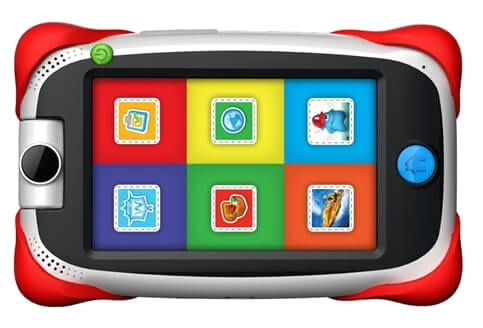 Coby developing new 7, 8, and 10 inch tablets
Coby is readying itself for a fresh onslaught on the tablet market, and the budget electronics company is in final stages with a new line of 7, 8, and 10 inch tablet devices. All the tablets will come with a dual core Amlogic AM8726-MX ARM Cortex-A9 processor and will have 1 GB of RAM. Internal storage will range from 4 GB to 8 GB and the devices are likely to run Android 4.0 Ice Cream Sandwich or even its later versions when launched. Price is still anybody's guess right now, though they should be quite affordable.
Toshiba to launch Excite 10 SE tablet for $350 this week
There is a new budget tablet available: the Toshiba Excite 10 SE. With a 10 inch display, a Tegra 3 heart, and Android 4.1 Jelly Bean as the OS, the tablet sure makes for an exciting proposition for a price point of $349.99. On-board storage amounts to 16 GB with a micoSD card slot as well for further expansion. The Excite 10 SE also boasts of an USB port along with a 3 megapixel camera at the back and a HD webcam at the front. The display though has a resolution of 1280 x 800 pixels which may be a far cry from what the Nexus 10 or iPad 4 boasts of but can be enough for all practical purposes. However, for just $50 more, one can opt for the Nexus 10 which comes with the highest pixel density on any tablet money can buy right now.
Nabi Jr. tablet for kids for just $99
The Nabi 2 tablet from Fuhu has just come out with a junior version — Nabi Jr. Being junior naturally translates to all things being downsized, and that does apply to the Nabi Jr. The display area is now reduced to 5 inches while the price too has now come down to just a shade below $100. Guess toddlers aren't too critical with the amount of screen real estate they have at their disposal, nor should they be too critical of 800 x 480 pixels that lights up their display area.
An NVIDIA Tegra 2 dual core processor ensures snappy performance while 4 GB of internal memory should be enough for the kids. If not, there is a 16 GB version of offer as well that costs $129. The Android ICS on-board the Nabi Jr has been customized heavily to make things colorful and kid friendly. Then there sure are a lot of games and educational apps to keep the young minds engaged. Add to that the colorful rubber cladding all around and the tablet does look a cheerful looking device at a price that should bring cheers to the parents as well.
Galaxy Tab 2 10.1 getting Jelly Bean update
The 10 inch Galaxy Tab 2 is now smelling of fresh Jelly Beans. This is applicable to only the Wi-Fi versions of the tablet and is confined to the UK as of now. Of course more regions around the world will be covered though its users from the UK that are the luckiest right now. The Jelly Bean update was earlier made available for the company's popular 7 inch Galaxy Tab 2.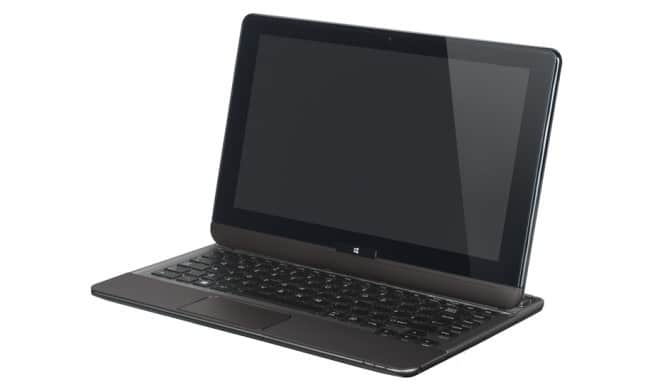 Toshiba is showing off a convertible tablet running Windows 8 at the ongoing IFA event in Berlin. Called Satellite U920t, the tablet offers a 12.5 inch display with a resolution of 1366 x 768 pixels. The keyboard remains hidden underneath the display when not in use, but can be pulled out easily using a slide out mechanism when needed. The display (when locked in an upright position) transforms the device into a netbook or an ultrabook whichever way you look at it. Also, the keys are well laid out and backlit to further aid in typing.
As for behind the screen, the Satellite U920t contains an Intel core i3 or i5 processor along with a 4 GB RAM and 128 GB SSD storage. The tablet is expected to ship around the same time Windows 8 is officially released, though at a price which is likely to be slightly more than $1000.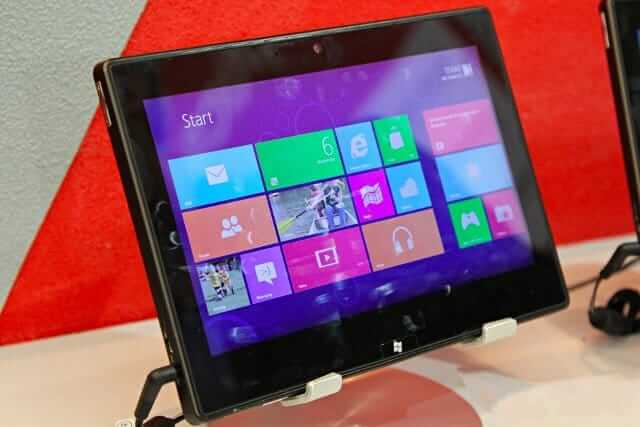 Toshiba has stated that it is putting its Windows RT based tablet plans on hold, making it the second company after HP to throw in the towel. Toshiba has attributed the cancellation to the delay in procuring the ARM-based processors from Texas Instruments that it had planned to develop the tablet around.
"Toshiba has decided not to introduce Windows RT models due to delayed components that would make a timely launch impossible," Eric Paulsen, a U.S-based spokesman, said in the statement. "For the time being, Toshiba will focus on bringing Windows 8 products to market. We will continue to look into the possibility of Windows RT products in the future while monitoring market conditions."
HP is the other company that also cancelled its Windows RT based tablet plans, though that seems to be because Microsoft developed its ARM based Surface tablet more than anything else.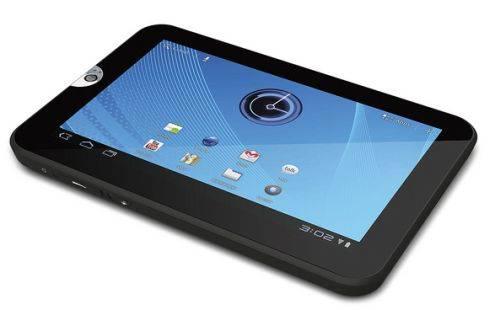 Toshiba has pushed back the Android 4.0 Ice Cream Sandwich update for the Toshiba Thrive series of tablets. We can expect the update to be available in the fall instead of spring as was earlier scheduled.
"We are working hard to bring Android 4.0, Ice Cream Sandwich to our Thrive tablets. While we originally estimated it would be ready this spring, we now estimate the update will be delivered to all Thrive 10" and 7" tablets by early fall. Apologies for any inconvenience and thank you for your patience," revealed a Toshiba rep on their community forum.
The Thrive tablets from Toshiba were thick with a rubber cladding at the rear. It featured full size USB ports and came loaded with Android 3.2 Honeycomb right out of the box. The tablet's weren't exactly bad, though it suffered from niggling problems while better devices (in the form of the Galaxy Tab) were always available. Toshiba has since taken to developing sleek and slim devices such as the Excite.
Meanwhile, with no specific dates made available for the update to be released, we have no idea how long we have to wait for Android ICS to make its way onto Thrive tablets.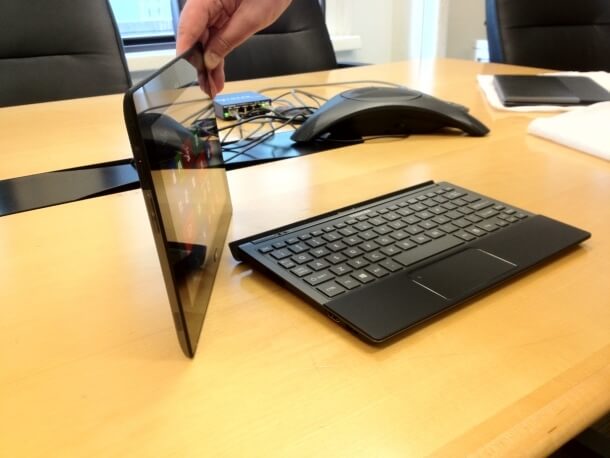 While it was expected that Windows 8 would be the star attraction of Computex 2012, what did come as a surprise was the number of convertible tablets that manufacturers put up on display. Toshiba also has a convertible tablet to show off (predictably running Windows 8), joining others such as Acer, Asus, and Samsung.
Toshiba seems to be a little more secretive of its device. It is in no mood to reveal what is inside, though it resembles the Transformer Prime, in being attachable to a separate keyboard. The keyboard in turn houses a separate battery unit while also offering three USB ports as well as an HDMI slot. The keyboard is therefore not only serving as an input device but also a power source and connectivity hub.
Another tablet Toshiba displayed comes with a keyboard that is not removable but instead can be slid beneath the display. This reminds us of the Asus Eee Pad Slider and while the concept is good, the keyboard can add to the weight when the device is used purely in tablet mode.
However, while the device Toshiba introduced does not break any new ground, the company, for its part, said: "At this point, we will not be providing any additional information or specs on these products."
via cnet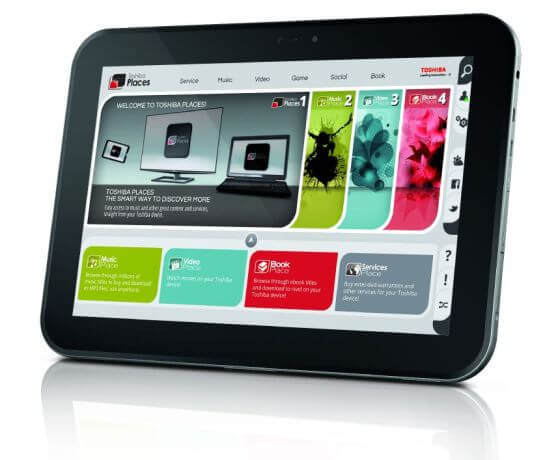 Toshiba has announced its AT300 tablet will be ready for an English debut by the end of June. There will be two different versions available in the form of a 16 and 32 GB of internal memory.  The announcement was made in a Twitter update with further details held back for a future post.
Both versions will feature a 10.1 inch display and powered by the Tegra 3 quad core CPU that operates in conjugation with a 1 GB of RAM. The tablet will have a resolution factor of 1280 x 800 pixels and includes a 2 and 5 megapixel camera along the front and back of the device. These apart, another unique aspect with the AT300 is its form, which at 8.95 mm makes the tablet one of the slimmest around. It is also running the latest Android 4.0 OS, so it should feel rather current.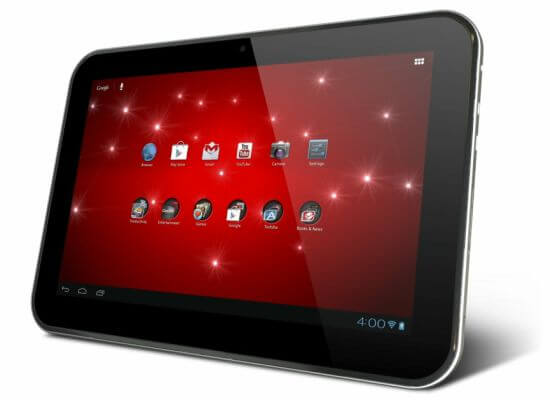 Here is some exciting news from the Tohsiba camp! The company's latest tablet, the Toshiba Excite 10, is now shipping with the base model priced at a quite reasonable $450. There are two other versions with 32 and 64 GB, priced at $530 and $640 respectively.
The Excite line of tablets will offer the latest Google Android 4.0 ICS OS and have powerful processing power with the Nvidia Tegra 3 quad core setup. The base model boasts of specs such as a 1 GB RAM along with 16 GB of storage space. Further space can be added via full sized micro SD card,s while a 2 and 5 megapixel camera adorn the front and rear of the tablet. The 10.1 inch display has a resolution of 1280 x 800 pixels with a layer of Corning Gorilla glass for added strength. As for battery life, Toshiba is claiming it to be no less than 10 hours, which isn't bad. A miniUSB and microHDMI ports complete the connectivity options for the Excite 10 tablet.
The Excite range of tablets is quite stunning with the aluminum case adding to the style quotient. The tablet is also a delight to hold and operate with a lightweight frame (1.3 pounds) and a super thin profile (0.4 inches thick), which is a far cry from the thick and rubberized Thrive range of tablets that Toshiba promoted.
Other tablet devices forthcoming from Toshiba include a 7.7 inch and a massive 13.3 inch device, which are expected to debut next month.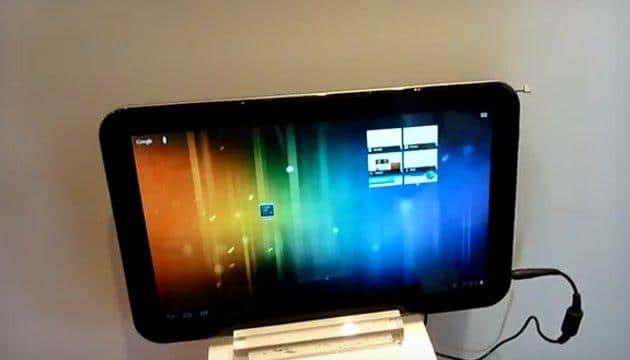 Remember the 13.3 inch tablet from Toshiba that we talked about a while ago? Well, it seems Toshiba is serious about it in spite of apprehensions from some quarters about a tablet that big being commercially viable. The tablet has been christened AT330 and was present for public introduction at the Toshiba World 2012 event held in Germany.
From the tablet's features revealed during the event, the massive size (which pitches the AT330 almost in notebook territory) isn't the only USP of the tablet. It's one of the very few to come pre-installed with a TV tuner card, complete with a built in antenna of its own. The antenna is housed within the top bezel and can be pulled out for better receptions. The massive screen size (at least by tablet standards) will come in handy for watching TV programs, though it will also be interesting to see if the extra screen real estate can make for a better e-book reading experience.
The rest of the specs include a Tegra 3 heart along with Android 4.0 ICS as the OS. The tablet will also include a SIM card slot, a SD card slot, and an HDMI port. Toshiba has not revealed when the tablet will be released or what it will be priced as.
Meanwhile, in other Toshiba tablet news, the company has launched a 7 inch budget tablet in Italy named LT170. Specifications of the tablet include a 1 GHz Freescale i.MX53 ARCM Cortex-A8 chip, 512 MB of RAM, and 8 GB of storage. The 7 inch display has a resolution of 1024 x 600 pixels with Android 2.3 Gingerbread as the OS. The LT170 will also have access to the Google Play store. The tablet is priced just 299 Euro, which can't exactly be considered a bank breaking amount.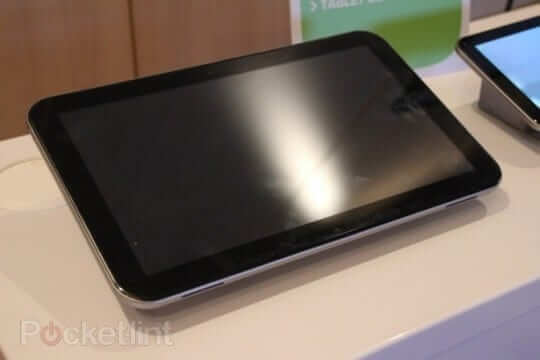 How about a tablet device that's thin and light along with a screen size of 13.3 inches. Toshiba recently showed off just such a device at the Toshiba 2012 conference held in UK and the device in question did look sleek and beautiful. It wasn't a working prototype though it did seem to pack in all the necessary hardware inside. Also, while details of the tablet are being kept under wraps as of now, what seems a possibility is that the tablet will pack in a Tegra 3 chip. However, its not also known for sure if the tablet will at all make it to he market, and if does, of what use a tablet that big will be of. Also, a 13.3 inch sized tablet might not be the cheapest around which means, the tablet will have a niche market to itself. As such, volume sales will not be a possibility with a tablet with a 13.3 inch display.
via pocket-lint
Here is one more reason to go for the Toshiba AT200 tablet device. The tablet will now be playing host to the Wild Tangent games store in Europe and will be available via Toshiba Places on the tablet.
Speaking on the occasion, the senior vice president at WildTangent, Sean Vanderdasson, said: "Toshiba is one of the leaders in technology and its new AT200, the world's lightest and thinnest 10.1-inch tablet, will be perfect for game players."
"Our rapidly growing, curated games service has the most popular games and, without question, provides the ultimate choice for consumers to play games, whether it's playing for free, renting or buying games. We look forward to providing Toshiba's AT200 owners in Europe with great games in a simple to use, safe, affordable games service."
Each of the games will be available to be tried out free once to incite interest. If users feel tempted enough, they can either rent the game or buy it outright. Charges can be as low as just 9p for a session each time the game is played.
via pocket-lint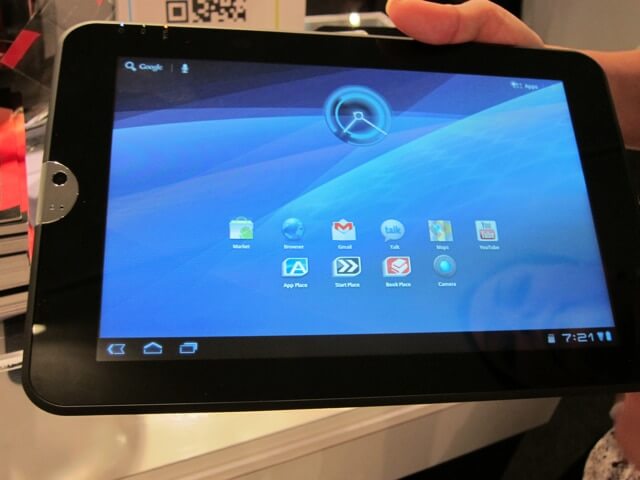 Android 4.0 Ice Cream Sandwich is the talk of the town with every other tablet maker worth its salt making a bee line to be on-board the ICS bandwagon. Toshiba though can be considered a latecomer here as its only now that it announced the ICS update is coming onto their Thrive devices but not before June this year. The update would be applicable to both the 7 and 10 inch Thrive devices though there are no specific dates mentioned.
via androidcommunity