Archive for wiley
Copia hails itself as one of the best known names in the field of digital classroom solutions, and has announced its association with the LearningField project in Australia that aims to provide a complete digital makeover to education in that country. Led by Copyright Agency (described in Wikipedia as "an Australian company incorporated under the Corporations Code for the purpose of providing institutions, especially educational institutions the use of copyright material, in print or electronic form"), LearningField also enjoys the backing of several industrial houses in Australia and is targeted at students aged 7-10.
"LearningField is like the 'Spotify' for secondary education, allowing teachers to tailor exactly the content they want to the specific needs of their students, as they can select any chapter of any text in the catalogue," explained Ben Heuston, director of LearningField. "We have achieved the delicate balance of a model that is flexible and affordable for schools, while ushering in exciting, new revenue models for publishers in the digital age."
The entire project is built around a per-student based subscription model comprising of two tiers, $160 which covers the subjects of English, Mathematics, Science, History and Geography, and $250 that covers all 45 subjects. Both the teacher and the student will have at their disposal the entire course material that has been designed as per the Australian, New South Wales, and Victorian curricula. The course material has been devised with input from various publishers which includes Cambridge University Press, Wiley, Oxford University Press, Pearson, and Cengage.
Some of the inherent advantages of the LearningField project are that teachers will have complete control over the entire process, be it assigning texts and assignments or keeping track of student progress. Students will have a lot of tools to draw upon, which will help them to engage in group studies or consulting with their teachers, even in private.
"A Copia-powered LearningField can be a model for integrating technology, education and publishing around the world," said Ben Lowinger, executive vice president of Copia. "This initiative creates an environment that provides personalized differentiation to enable meaningful instruction for students at various learning levels. Combined with immediate access to a broad selection of relevant materials from the leading educational publishers, Australian secondary school educators using LearningField will be the first in the world to use this innovative platform. Copia is excited to be part of such a forward-thinking approach."
"Schools have been hoping for a 'one stop shop' across multiple resource providers that works on multiple devices," said Mark O'Neil, executive director of Cambridge University Press. "We currently provide 72 titles to LearningField, a ground-breaking solution that meets the digital needs identified by some of our customers."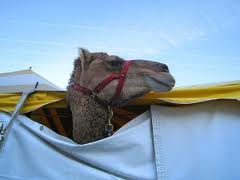 There is an old Arabian proverb, "If the camel once gets his nose in the tent, his body will soon follow." It may apply to Wiley & O'Reilly creating another important crack in the DRM wall. O'Reilly Media has always been a vocal supporter of DRM-free ebooks. The company is beginning to convince other important publishers that DRM-free is the way to go.
Today O'Reilly and Wiley announced that O'Reilly will become an online distributor for Wiley's technology ebook program.  This includes famous brands like For Dummies, Wrox, and Sybex. All told, nine imprints are covered with over 3,000 individual items.
"Partnering with another publisher, one that shares and embraces similar digital content ideals—where content is made available to customers in multiple digital formats, all without DRM—is particularly gratifying…"
When something as big as the For Dummies series goes DRM-free, then it may become the proverbial camel's nose.


John Wiley announced today a new collaboration with TED, the non-profit devoted to Ideas Worth Spreading, to create and supply instructor materials for the recently launched series of "TED Studies."
Many schools and educational institutions love to incorporate TEDTalks into their curriculum. It adds a new dimension to lectures and course study material, and it's about it get kicked up a notch. To support the demand for integrating TEDTalks into classroom coursework, TED created TED Studies – 21 collections of curated talks, organized into popular academic subject areas. Wiley will commission instructor materials to accompany TED's offering to educators. These materials will be offered at no cost with TED's video content on iTunesU, Wiley.com, and other platforms around the world.
Many academics who are very specialized will be developing the instructor materials for Ted Studies. Each set of instructor materials will include contextualizing essays, assignment questions and activities, key debates, experiments, and glossaries relating to the TEDTalks. Links to related content from Wiley and other publishers will be included for lecturers to share with students, or for lifelong learners to interact with directly.
"Combining the TEDTalks series for academia with Wiley's high-quality, customized educational materials and expertise creates a powerful new resource for effective, flexible, and personalized teaching and learning," said Stephen M. Smith, Wiley's President and Chief Executive Officer.