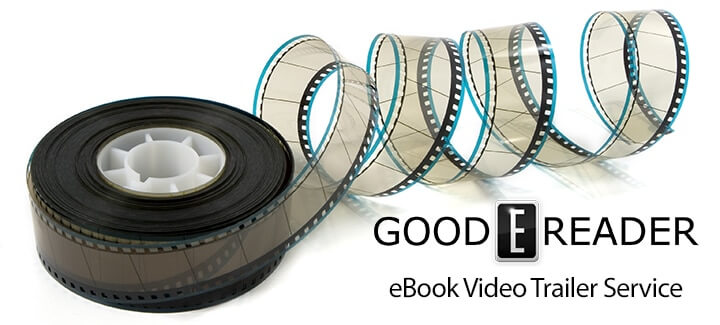 Good e-Reader is very pleased to roll out our new eBook Trailer Service for indie authors! Our comprehensive service allows you to promote your eBook in new and innovative ways.
Authors often discount many popular promotional method to get more sales of their books. Book Trailers or not just something that companies such as Penguin and Harper Collins offer. eBook Trailers are the perfect method to promote your book on your blog, website, Facebook and Twitter. It allows you to be disincentive in the market and is the perfect edition to your Amazon book listing. Statistically the more visual elements you offer your reads to get a sense of what your book is about, the more likely they are to purchase the book.
Our new service gives you a one minute video that showcases the main premise of your book.  It is fully animated and we provide atmospheric music that suits your particular eBook. We can also embed links to your website, blog or other promotional medium that you regularly use. If you are unfamiliar with Youtube embedding, we will show you how to add the end result to your websites and eBook listings on Amazon, Barnes and Noble, Kobo and many more!
The Good e-Reader eBook Trailer Service costs $199.99 and you can play an active role in the development of your trailer. We employ skilled video editors and graphic artists to provide a video that is a million times better then ones made with Windows Movie Maker.  We take the hard technical work out of the equation, so you can focus on marketing your eBook and getting more sales!
As an author, how many of your peers have a book trailer for their eBook? Chances are, none of them. This is the perfect solution to really stand out in a crowd and use for your press kit that you use to promote your literary works. As a self-published author you want to be in control of your own destiny. Normally Good Book Trailers are only available to authors signed to a major publishing label. We remove the need for you to rely on a traditional publisher and empower you with a major benefit of signing up with one.
When you sign up for a book trailer  you need to provide us with the following via Email to sales@goodereader.com
1) Your eBook Cover Art
2) Your Pen Name
3) The Basic Premise of your Book
4) Summary of your Book
5) Links to where your book is sold online or offline (if any)
6) Social Media Links – Twitter, Facebook, Youtube
7) Reference videos or other book trailers you really like.