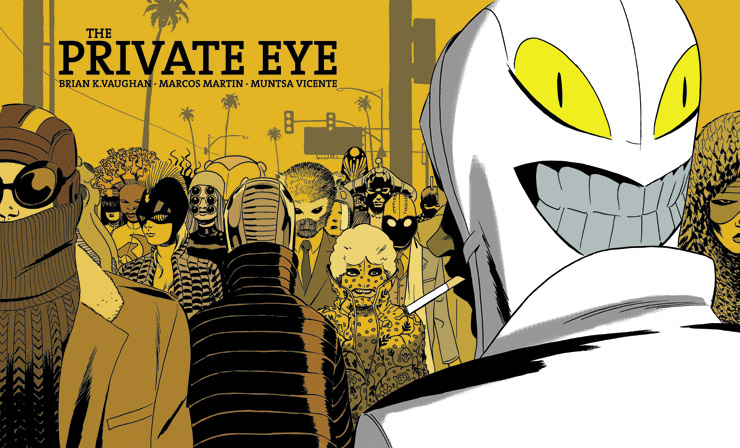 "When I told Marcos I was thinking about a comic set in a futuristic U.S. that no longer uses the internet, his first suggestion was that we should make the story exclusively available online," writes Brian K. Vaughan in the afterword to the first issue of The Private Eye. "This is what it's like collaborating with Marcos Martin."
Not only did they decide to create a digital comic, Vaughan and Martin took the road not taken: The comic is available not through the traditional storefronts like comiXology or Kindle but as a direct download from their site, Panel Syndicate, in PDF, CBZ, or CBR format (and your choice of English, Spanish, or Catalan). The price? Whatever you think it's worth, although the creators suggest that 99 cents would be an appropriate price. That's what I paid. They take credit cards and PayPal; I chose PayPal and the transaction was smooth and hassle-free. The PDF works in a number of different readers—I prefer the Adobe reader, but there are a number of products on the market—while the CBZ and CBR files are compatible with comics-specific readers such as ComicZeal.
The comic itself is an intriguing story set in a future where people use secret identities to experiment with other lifestyles and shield the real facts of their lives (from who is not clear). Nothing is 100%, of course, and the story opens with a photographer spying on a woman as she removes her costume, then selling the information to an old friend. Clearly, there is a booming black market in information in this society. A bit more of the premise comes through in a scene where an old man is trying to make his iPhone work; his grandson gently explains that all went away when "the cloud" burst and everyone's information was made public: "Every message you thought was safe, every photo you thought was deleted, every mortifying little search you ever made. It was all there for anyone to use against you."
Martin's art is lively, clear-lined, and just detailed enough to bring this world to life. The costumed characters are freakish yet believable, and he puts in lots of little touches, such as real book titles and album covers, that help define the characters and create a sense of the era. The art is done in a horizontal format, and Martin makes full use of the page, often breaking it up into panels in interesting ways to vary his storytelling style.
Vaughan is the writer of Y: The Last Man, Runaways, and the immensely popular Saga; Martin's credits include Batman and Captain America comics as well as a run on The Amazing Spider-Man. Both are pros who are doing very well in the world of mainstream comics, whether in print or on the standard digital comics services such as comiXology, so it's interesting to see them take this step into a different mode of distribution, selling their comics directly to fans and letting the fans choose the price.

A former book editor and newspaper reporter, Brigid Alverson started MangaBlog to keep track of her daughters¹ reading habits and now covers comics and graphic novels for Comic Book Resources , School Library Journal, Publishers Weekly Comics World, Robot 6, and MTV Geek. She also edits the Good Comics for Kids blog at School Library Journal. Brigid was a judge for the 2012 Eisner Awards. Send her an email to wordballoons@gmail.com