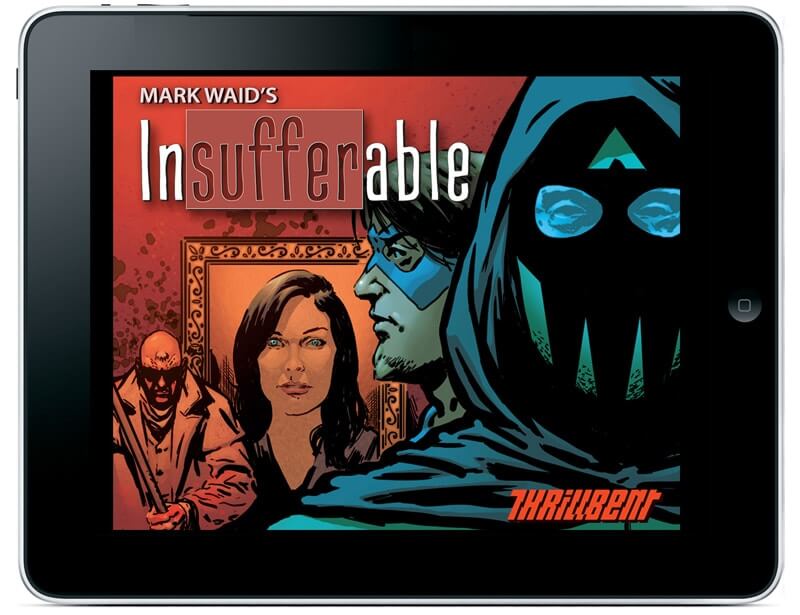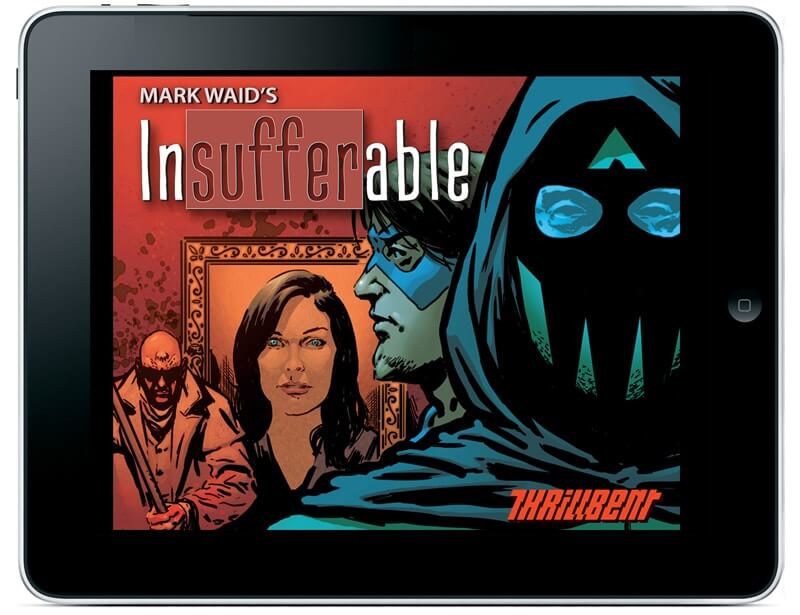 Mark Waid is finding comiXology irresistible.
Waid, the writer of the Eisner award-winning Daredevil as well as the acclaimed comics Irredeemable and Incorruptible, attracted quite a bit of attention earlier this year when he launched the digital comics site Thrillbent. Waid doesn't just write comics, he thinks hard about making them, and Thrillbent is both a place to read comics and a place to talk about the digital comics model. Waid freely admitted from the beginning that he was experimenting and that the model would probably change. The site launched with Insufferable, his third alt-superhero comic, and he has added several more since then. The content on the site is free, and Waid even made it available as a downloadable PDF to stop torrenters.
Yesterday, he added another twist to the model by signing on with comiXology, the largest dedicated digital comics platform. The first three issues of Insufferable are available there, issue 1 for 99 cents and the other two for $1.99 each—cheaper than a Marvel or DC new release, but more expensive than "free," which is what it costs to read the comics online. Will readers pay for content that is free (at least for now) on other platforms? Although Waid deliberately formatted Insufferable to be read in a web browser—the pages are designed in landscape format—it should work fine on an iPad, and unlike the website, comiXology will allow the reader to download the comic not just as a PDF, but with animated transitions intact.
ComiXology had another big announcement yesterday. The company has signed a deal with Andrews McMeel to carry Dilbert, Doonesbury, and Big Nate on its platform as well. Obviously, getting two of the most iconic comic strips in America (plus a popular children's property) is a coup, and readers in the field of newspaper comics have already demonstrated that they are willing to pay for collections of comics they read for free on a daily basis. "We're looking at strips as a place to expand our content library," comiXology co-founder and CEO David Steinberger told the Washington Post. "Our general vision is [to attract] anyone who might be interested in graphic storytelling, graphic novels and strips — to get anyone connected to the comic they like."
And that's not all. On Tuesday, comiXology announced a new "Continue" feature that allows readers to sync a bookmark across all their devices. So if you're reading on your iPad, you can mark the page where you stopped and then pick up from there on your iPhone or other reader. This is, of course, exactly what the Kindle app does for prose books, and it's nice to see it available for comics as well. The blog describes this feature as "nearly platform-wide." Apparently it's not available for the web yet, but will be soon. At the same time, comiXology announced an improvement to its Twitter, Facebook, and email sharing tools. Readers can now access them from any page of the comic, rather than just the last page.

A former book editor and newspaper reporter, Brigid Alverson started MangaBlog to keep track of her daughters¹ reading habits and now covers comics and graphic novels for Comic Book Resources , School Library Journal, Publishers Weekly Comics World, Robot 6, and MTV Geek. She also edits the Good Comics for Kids blog at School Library Journal. Brigid was a judge for the 2012 Eisner Awards. Send her an email to wordballoons@gmail.com