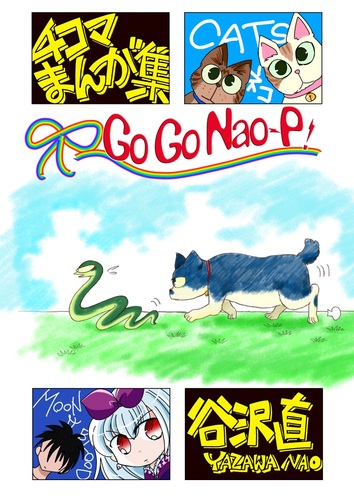 Either way it's a good deal, but if you're seeing this on Sunday, May 5, don't waste any time: Nao Yazawa, the creator of Wedding Peach and Moon and Blood, is offering her 77-page manga Go Go Nao-p! for free on Kindle today; at midnight (Pacific Standard Time) the price goes up to $2.99, which is still pretty reasonable for a 77-page graphic novel.
Go Go Nao-P! is a 4-koma (four-panel) gag manga about Yazawa's life as a manga artist and slave to three cats: Moki, Chibi, and Kochibi. Although the cats are adorable, this is not a cute-cat manga like Chi's Sweet Home. Instead, it's an affectionate but unvarnished look at life with three aging cats, complete with discussions of trips to the vet, cat food preferences, poop and litter boxes, and the disruptive effect that lounging cats have on the work life of an overworked manga artist. The comics are funny and touching but may elicit the occasional "Eeeeeeww!" from more squeamish readers who don't have cats.
Even if you aren't a cat-lover, though, this comic is fascinating for the glimpses it provides into the life of a manga creator. We get to spy on Yazawa as she meets with her editors and hunches over her drawing board. There are also some very Japanese moments in the book, as when one of the cats makes a hole in her paper-screen door and uses it as a cat door.
Yazawa speaks English, and she translated and lettered the comics herself. The translation is rather rough, with misspellings and malapropisms, but somehow she gets her point across. Her drawings are loose and cartoony.
The comics read from top to bottom and right to left. Even if you're not used to that, it's fairly easy with a 4-koma manga because the panels are arranged in a vertical column so you only read one at a time. The pages also turn from right to left. I read this in the Kindle app on my iPad and it worked very nicely. On her blog, Yazawa explains (in English) that she used the Kindle Comics Creator tool to make the comics into an e-book. The strips originally appeared as a webcomic on her blog, where they are still available in Japanese.
Yesterday, Yazawa revealed that the book had been downloaded 57 times in English and 318 times in Japanese. She also announced that she will publish another manga, Nozomi, via Kindle in the near future.
(Via Anime News Network, who got it from Okazu.)
A former book editor and newspaper reporter, Brigid Alverson started MangaBlog to keep track of her daughters¹ reading habits and now covers comics and graphic novels for Comic Book Resources , School Library Journal, Publishers Weekly Comics World, Robot 6, and MTV Geek. She also edits the Good Comics for Kids blog at School Library Journal. Brigid was a judge for the 2012 Eisner Awards. Send her an email to wordballoons@gmail.com