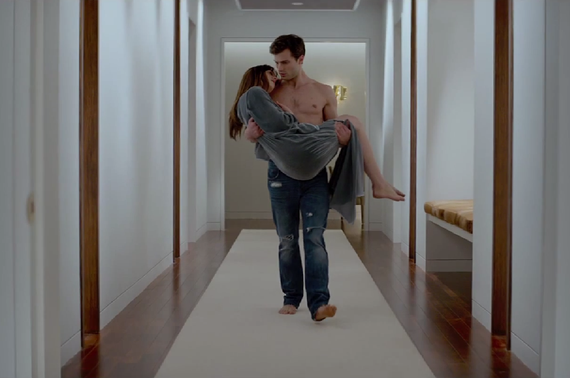 Fifty Shades of Grey has crossed an important milestone recently, when it recorded its 100 millionth book sale back in February. Random House originally picked up the book and published it in 2011 to massive popularity. 50 Shades made so much money that the publisher gave everyone a Christmas bonus of $5,000 bonus because of the book's stellar success. Are we going to see a resonance in demand for the book?
Hold on to your handcuffs and blindfolds, 50 Shades of Grey has just released the first official trailer for the movie that comes out in February 2015. Likely men all over the world will be dragged out to the film or girls may populate it in droves as a night out.
The clip features the moment Mr Grey, played by Jamie Dornan, meets Anastasia Steele, portrayed by Dakota Johnson. The book has been accused of being amateurish full of cliches, but the trailer is anything but. It even has a reworked version of Crazy in Love, by Beyonce.
50 Shades of Grey was originally supposed to be out at the end of the month, but it was going to compete against The Guardians of the Galaxy by Marvel. Instead, this gives the bookselling industry enough time to launch a massive new campaign to promote the trilogy of books. Likely, you will see EL James do key book signings and expect many new titles "if you liked 50 Shades, buy this book."