The global bookselling industry has been experiencing many trials and tribulations over the last decade. Indigo books in Canada has been losing 20 million each quarter for the last year, Borders Books in the US went bankrupt and everyone else is feeling the pinch of Amazon. Are eBooks destroying our bookselling culture.
The Canadian bookselling industry is dominated by Chapters Indigo. You can get a good indication on how many people are buying print books by looking at their overall financial profitability. The bookseller announced a loss of $10 million last November and a massive$20 million decline in June. The latest figures published a few weeks ago have their resources shrinking further, with a $14 million loss and C$180.8 million in total revenue. One of big reasons the losses were not nearly as profound as they could have been, was primarily due to the fact seven bookstores closed.
On February 16, 2011, Borders applied for Chapter 11 bankruptcy protection and began liquidating 226 of its stores in the United States. It liquidated 399 retail outlets on July 22, with the last remaining stores closing their doors on September 18, 2011. Rival bookseller Barnes & Noble acquired Borders' trademarks and customer list.
Bernard Terrades is a bookseller in Paris and recently said Amazon is dominating in France, and is robbing the country of its culture. "It's completely empty," Terrades said. "There is no connection with customers. People have lost the curiosity to go out and find books."
The battle in Europe is as much cultural as it is financial. In France, the government moved to protect independent bookstores, as it has for years, because books hold a revered spot in a country that's produced literary giants such as Voltaire and Proust. Last year the French government enacted a new law that prevents the free shipping of physical books online. Amazon countered by charging a simple penny for shipping, which is a token amount and still causes problems.
According to a recent feature in the Seattle Times, the paper said "Many French see bookstores as the heart of that culture. They aren't just shops to pick up the latest best-seller, but a civic space that helps keep its citizenry engaged and informed. To many, preserving bookstores isn't merely about saving an industry; it's about perpetuating ideals integral to being French."
Many of the top publishers, such as Random Penguin, Hachette and Simon and Schuster derive around 25% of their global revenue from eBooks. It is a rising segment that is helping them make extra revenue due to the affordable nature of creating and distributing them.
Amazon is battling cultural currents globally,  as demonstrated by their recent behaviorisms. Whether its stiff Hachette negotiations or battling German warehouse workers. The UK government has publicly chastised them for diverting their revenue offshore, resulting in a huge tax dodge.
eBooks have their downsides, aside from disrupting the traditional bookselling industry. A recent study had 28 copies of the same book distributed half in paperback format and the other half on the Amazon Kindle.  Anne Mangen of Norway's Stavanger University, a lead researcher on the study said "The Kindle readers performed significantly worse on the plot reconstruction measure." The readers struggled to make sense of the key 14 plot aspects. The researchers suggest that "the haptic and tactile feedback of a Kindle does not provide the same support for mental reconstruction of a story as a print pocket book does".
"When you read on paper you can sense with your fingers a pile of pages on the left growing, and shrinking on the right," said Mangen. "You have the tactile sense of progress, in addition to the visual … [The differences for Kindle readers] might have something to do with the fact that the fixity of a text on paper, and this very gradual unfolding of paper as you progress through a story, is some kind of sensory offload, supporting the visual sense of progress when you're reading. Perhaps this somehow aids the reader, providing more fixity and solidity to the reader's sense of unfolding and progress of the text, and hence the story."
Bookstores a place where like minded souls conglomerate for the love of literature. The average person is shopping for books, chilling on a couch and skimming through a magazine or socialize. The minute you walk into a bookshop you are engulfed by sensory immersion. Shopping for eBooks do not offer a social experience, but a solitary one.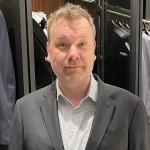 Michael Kozlowski has written about audiobooks and e-readers for the past twelve years. Newspapers and websites such as the CBC, CNET, Engadget, Huffington Post and the New York Times have picked up his articles. He Lives in Vancouver, British Columbia, Canada.