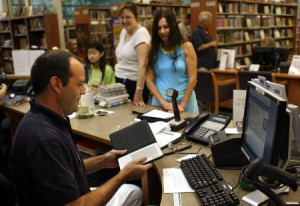 One of the really interesting dynamics about public libraries is that, even as patronage appears to be dropping, more and more Americans claim that libraries are vital to the health of a community. Data from a new survey by the Pew Research Center's Internet Project polled over six thousand Americans about their library use, as well as their attitudes about the need for widespread library access.
"In a larger sense, Americans strongly value the role of public libraries in their communities, both for providing access to materials and resources and for improving the overall quality of life in their communities. Many library resources are particularly valued by those who are unemployed, retired, or searching for a job, as well as those living with a disability and internet users who lack home internet access," according to the report.
Some of the specific percentages from the Pew study include:
95% of Americans agree that the materials and resources available at public libraries play an important role in giving everyone a chance to succeed.
81% of Americans ages 16 and older say that public libraries provide many services people would have a hard time finding elsewhere.
48% of Americans have visited a library or bookmobile in person in the past year, down from 53% in November 2012.
30% of Americans have visited a library website in the past year, up from 25% in 2012.
Taken together, this means that 54% of Americans have used a public library in the past year.
However, the survey found that, while the number of people visiting a physical library location may have dropped by a few percentage point, library website use is up, possibly due to increased access to ebook lending to personal devices and library subscriptions to streaming videos, music, and research tools.
The complete survey and its results are available through Pew Research Center's Internet Project.
Mercy Pilkington is a Senior Editor for Good e-Reader. She is also the CEO and founder of a hybrid publishing and consulting company.