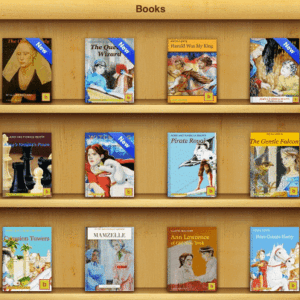 The early reports from the world of digital publishing once indicated that teenagers and young adults were the demographic who was least likely to adopt digital reading, choosing instead to keep their academic lives and their entertainment lives wholly separate. That tendency is changing, possibly because there just wasn't dynamic content before that lent itself more to digital reading than to typical paper.
Crushed Lime Media, whose interactive book platform Beebliome is aimed specifically at that once-elusive young adult digital reading market, focuses on developing content that gears itself towards teens, parents, authors, and teachers alike. Its current line of products includes individual history titles with pop-up annotations, maps, key facts, and more. From its initial launch of thirteen titles, Beebliome has plans to add titles on a weekly basis. Its current catalog includes Mamzelle, Ann Lawrence of Old New York, and Meg's Fortune by Gladys Malvern; Here Comes Harry, Harold Was My King, and The Gentle Falcon by Hilda Lewis; and Holdfast, The Royal Dirk, Pirate Royal, Master Rosalind, Campion Towers, Witch Dog, and King's Knight's Pawn by John and Patricia Beatty.
"Our 20th title will publish next week, and our sales are primarily in the US, UK, Canada, Australia and Netherlands, in that order, though as of last week, we are now on all 50 iBookstores globally," said a company spokesperson.
Beebliome joins other companies who are working at increasing not only the reading traffic of student readers, but the enjoyability and readability of many great books through this interactive focus. Similar to the recent Trajectory launch of the Classics Illustrated line of app books, Beebliome stands to increase awareness and devotion to great historical fiction through a heightened involvement with the book. Beebliome titles are available for iPad in the iTunes store.
Mercy Pilkington is a Senior Editor for Good e-Reader. She is also the CEO and founder of a hybrid publishing and consulting company.