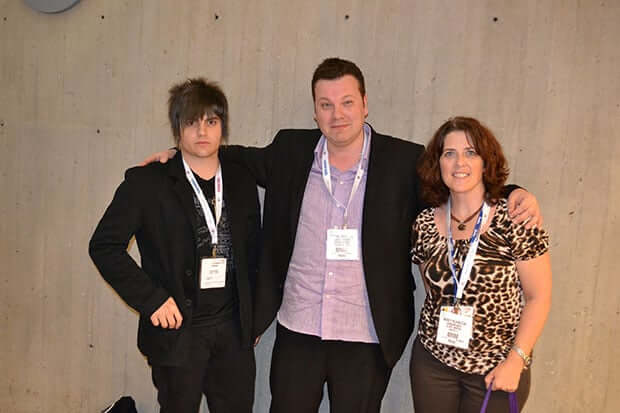 Book Expo America 2012 has come and gone and this was one of our first trips where we had all hands on deck! Mercy, Peter, and myself were all live on the scene and covered IDPF and the entire BEA conference.
If there is anything that is abundantly clear, it's that digital books and technology played a very minor role at the conference. Scholastic, Harper Collins, Harlequin's Karina Press, and many of the big six publishers had a non-existent digital presence. In many cases when we talked to some of the executives, they did not even have anyone from their ebook division at the conference. It goes to show, as much as these companies hype the fact that digital distribution is the future, they really did not show it.
Here are our thoughts of the best things to come out of the Book Expo and the most noteworthy news we covered during the entire week long event.
Kobo
We were invited to a Thought Leaders Breakfast on the eve of Book Expo, where the company unveiled its Writing Life Platform. They had popular authors such as Kevin J Anderson in attendance to give us their experiences in beta testing the platform.
On the first day of BEA, we talked with Michael Tamblyn, Vice President of Content, Sales, and Merchandising, about Writing Life. This new program basically allows you to self-publish with Kobo and sell your books in all of the markets that the company has a presence. The big hyping factor is the real time sales and statistical information it provides you. Many self-publishing companies give you data at the end of the month or every quarter. With Writing Life, you can experiment with price, cover art, and marketing to see what works. If you go on a book tour to San Fransisco and don't notice a spike in your sales, the information can help you decide if further trips might be worth it.
Writing Life will be available in a few weeks and roll out internationally soon thereafter.
Amazon
I would have thought Amazon would have had a larger presence at BEA, but only Createspace and Kindle Direct Publishing were in attendance. I really wanted to speak with someone from Audible, or Kindle Singles, but there was no one there. Amazon used the conference to announce their new program that helps you use your Createspace books and submit them to Kindle Direct Publishing.
Barnes and Noble
B&N did not have an official booth at BEA, but they had sent a number of high ranking executives to the conference to meet with us and talk shop with other publishers. We met with the Director of Business Development, Stephen Mcdonell, who is basically the man in charge of Android Development. He gave us some key points that really set the record straight in terms of why B&N held the London Event in April and what sections of the store do very well. It seems that the London event was to meet up with the UK developers and get them to submit their apps to the Nook App Store. We can expect to see such notable games as Flick Golf hitting the app store soon. He also told us that Kids Apps and Lifestyle apps are doing really well.
Next, we met with Jim Hilt, Vice President of eBooks at Barnes & Noble. He gave us a great interview on the success of the Nook Glow, what we can expect from NFC, and more synergy in their retail/digital environments.
Disney
We got invited to an exclusive Disney event with only 20 other people from the industry in attendance. The representatives showed off the new iPad app based on the movie Brave and some new Marvel apps. The most important thing we took away from this company's presence at the show was how they are able to produce such high quality apps. It seems Pixar, Marvel, and Disney all share art assets with each other. When they decide to make an app, they have access to the feature film video, character art, their entire sound library, concept art, and tons of other assets. They said, the average high quality app takes around five months to make, and Disney is able to do more in less time because they share assets with all of the departments.
Overdrive was at the show, and we landed an interview with the Chief Marketing Director David Burleigh. We talked at length on the aquisition of Booki.sh and how the online HTML5 reading app is a game changer, for ease of use. We also talked about the new touchscreen terminals that will make searching for books and sending them to your device via QR codes much easier. He shared some very interesting statistics on how digital book lending is looking in all of the different markets Overdrive is in. We also talk about publishers' reluctance to share books with the company.
We spoke with Tom Mercer, who is really the man in charge of the 3M Cloud Library. He shared what exactly they do that is different and gives some history on the evolution of his company and how they intend on Combating Overdrive. The main things we took out of talking with them is the hardware investment that libraries have to make to do business with 3M. Libraries would have to fork over around $3500 for their touchscreen discovery terminals and then more for their official e-reader to lend out to patrons. The e-reader they have is not provided by Txtr, but instead is the Pocketbook 612 e-reader that is rebranded as their own. Txtr played a role in developing 3M's Android app.
eBooks and the fragmentation of formats
We talked to every major company involved in ebooks! Smashwords, Karina Press, Disney, Kobo, Intel, and tons of others. If one thing is clear, ebooks have a wild west feel and no one can agree on a universal standard. We have EPUB, EPUB3, EPUB4, Kindle Format 8, HTML5, PDF's and standalone apps to deliver content. There were copious amounts of companies, such as LULU and Bookbaby, hyping their ebook conversion services and many people were disappointed that there is no universal standard for ebooks. The lack of any standard is creating walled gardens, where if you want to tailor your content for Amazon, it is hard to make an Android App out of it. Seldom do people even know the differences between all the different iterations of EPUB and what the advantages are. The one thing the industry as a whole needs to address is a universal standard for text based books and books that have video/audio and multimedia content. Companies spend too much time trying to adapt to the technology, and in doing so they are losing focus on the actual content.
Summary
BEA was very light on digital, but the people we met up with were totally amazing! It was very refreshing to put faces to names and talk shop with them before we did the format interview. I would like to thank Barnes and Noble, Kobo, 3M, Overdrive, Disney, Smashwords, and many others for taking to time to do video interviews with us and talk shop for hours. It was electrifying to be among peers where their eyes do not glaze over when you talk about the current state of affairs of digital publishing and the future of ebooks and distribution.
[cincopa AAEAX4qMIaJ3]
Michael Kozlowski is the Editor in Chief of Good e-Reader. He has been writing about audiobooks and e-readers for the past ten years. His articles have been picked up by major and local news sources and websites such as the CBC, CNET, Engadget, Huffington Post and the New York Times.