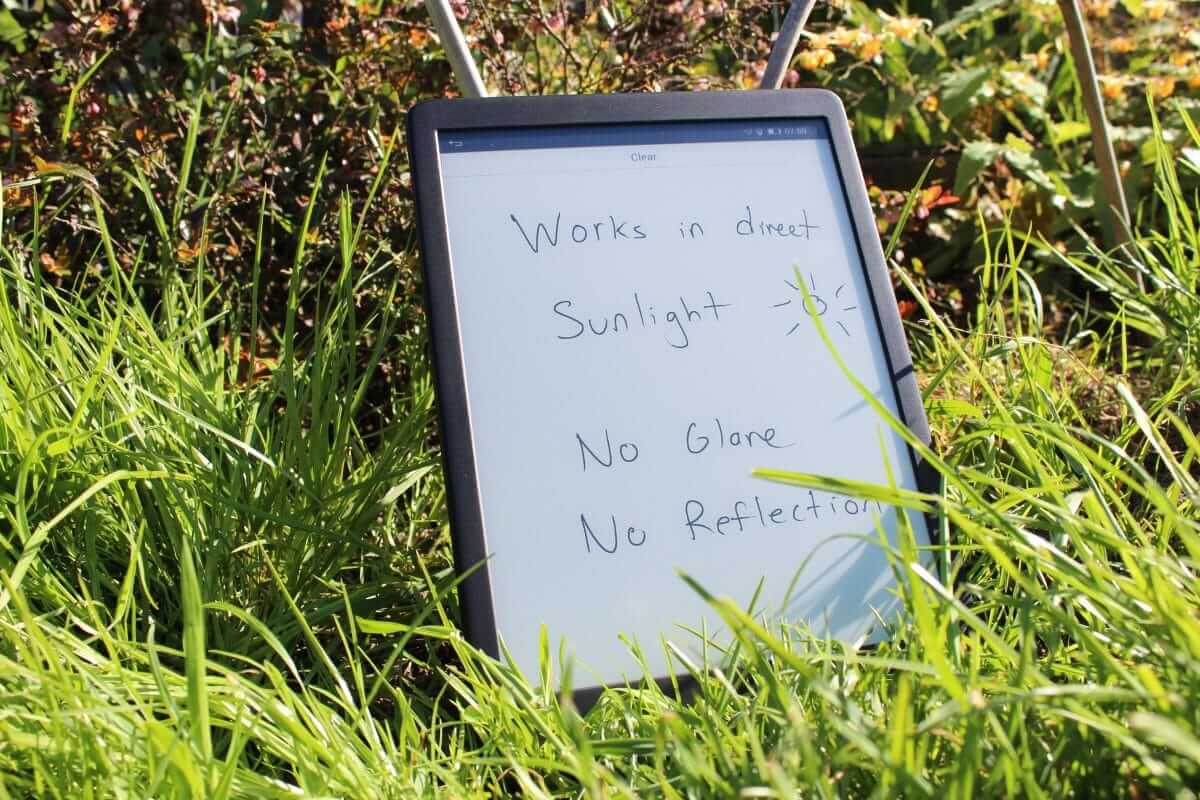 Good e-Reader is proud to launch our first 10.3 inch Android 6.0 e-reader with front-light and a color temperature lighting system. It has Bluetooth 4.0 so you can use accessories such as a keyboard or a foot pedal for musicians. It is available now on Kickstarter for $649 Canadian, which is $498 USD. This makes it $100 less than the Remarkable and Onyx Boox Note, and $200 more affordable than the Sony Digital Paper.
Hardware
The Good e-Reader 10.3 features an E Ink Carta HD screen with a resolution of 1872x 1404 and 226 DPI. It has a capacitive layer and a WACOM layer,  you can interact with the touchscreen with 4 point multi-touch or take notes via the stylus. We have palm rejection technology so it is easy to rest your hand on the screen while freehand drawing. It also has a gyroscope, so you can rotate the screen 360 degrees.
Underneath the hood is a Freescale IMX.6 Sololite 1GHZ Processor, 1GB of RAM and 8GB of internal storage. You can enhance the internal storage via the Micro SD for an additional 64GB. The device has a USB-C port that allows you to fast charge it and transfer eBooks and PDF files directly to the Good e-Reader 10.3
This e-reader has Bluetooth 4.0 so you will be able to listen to music or audiobooks with a pair of wireless headphones or a portable speaker. It also has USB 2.0 Host Controller so you can plug in a keyboard or mouse.
You can read all week long with our 4000 mAh battery! You can read over 17,000 pages of text before you need to recharge it. The battery will drain faster if you always have the light on or use Android apps.
The Good e-Reader 10.3 is perfect for people who want a replace paper in their office or use higher education. Beneficiaries of Good e-Reader 10.3 include lawyers, governmental agencies, policymakers and legislators, professors and researchers in higher education, and executives. Easy to use right out of the box and optimized to accommodate A4 documents, our device achieves a breakthrough in handwriting and editing PDF documents. Once all of your notes are saved you can email them to a business college or just upload them to the cloud.
The Good e-Reader 10.3 is $100 cheaper than the Onyx Boox Note and the Remarkable and $200 more affordable than the Sony Digital Paper DPT-RP1. You could say the Good e-Reader 10.3 provides the most bang for your buck.
Software
One of the big problems with the Remarkable and Sony Digital Paper is that you cannot install apps or browse the internet. The Good e-Reader 10.3 has a built in internet browser to surf the web to your hearts content.
The Good e-Reader 10.3 is bundled with Google Android 6.0 and the UI has been optimized for reading eBooks and taking notes. We have the Google Play framework and the Google Play Store, so you can download over one million apps, including paid apps. If you already paid for apps in in the past, you can easily install them on this e-reader.
The Good e-Reader App Store for E-Ink is also available for customers to use and it is the only app store in the world that has been 100% optimized for an E Ink screen. There are over hundred thousand apps available with an emphasis on eBooks, manga, magazine and newspaper apps. You can register an account and get notified whenever an existing app has an update, but registration is completely optional and not mandatory.
You can begin reading eBooks as soon as you open the box and power the Good e-Reader 10.3 for the first time. The stock e-reader app  supports PDF, TXT, EPUB and MOBI. It has plenty of options to increase the linespacing, margins, font type and font size to craft your own reading experience.
If you have a favorite e-reading app like Amazon Kindle, Barnes and Noble Nook, Kobo, Moon+ Reader, FBREADER or Aldiko, you can install the e-ink optimized variants from the app store.  The 10.3 supports A2 mode which negates animated page turns and makes all e-reading apps more robust.
The Good e-Reader 10.3 has minimal bloatware. It has a hand writing app, app store, news app,  file manager and an eBook reader. There is no additional software and all the apps can be uninstalled. We believe in users being able to craft their own experience.
Stylus functionality
Just like writing with pen on paper, use the stylus to write fluidly and directly on the panel, easily highlight text and erase notes. You have the same ease of movement, plus the surface rejects your palm, so functionality is never disrupted.
The stylus has pressure 4096 degrees of pressure sensitivity, the harder you press down the thicker the lines will be. There are dozens of different pen settings and features for you to freehand draw or take notes. Select from hundreds of backgrounds so you can write on standard A4 paper or write sheet music.
We are constantly improving our handwriting experience and looking at new enhancements. The community will decide what key features they would like to see.
Things you can do with the Good e-Reader 10.3
Listen to Audiobooks
Take notes
Instasll Install apps via Google Play
Read eBooks at night
Edit PDF files
Buy the 10.3 Today!
The Good e-Reader 10.3 is a breakthrough in digital note taking and eBook reading. We are the only company in the world offering a portable device that not only has a front-lit display, but also a comfortlight.
A wide audience can appreciate the Good e-Reader 10.3. It is great in the office, job sites or at the beach. Our E Ink screen technology does not get glare from the sun like smartphones and tablets do. This is because e-paper screens reflect light it does not emit light.
Good e-Reader has been one of the most popular news websites in the world since 2007. We have been chronicling the industry since the first Kindle came out and have been following it closely ever since. Every day we write numerous stories and talk to all of the key executives. This has given us a unique perspective on where gaps exist in the market.
Over the past three years we have been involved in the hardware and brought to market a 6.8 and 13.3 e-reader and digital note taker. They were huge successes and we shipped out over one thousand devices. I feel there is a need for a 10.3 inch that is relevant in 2018. The biggest advantage we have against Onyx Boox Note, Remarkable or Sony Digital paper is that we are way more affordable AND provide a front-light and comfortlight. We also provide a unique user experience that is similar to our competition, so you will feel right at home on the Good e-Reader 10.3.
We have a number of cool stretch goals planned, such as Android 8.1 and a totally revised UI and handwriting experience.
Purchase a 10.3 today and we should have them at your door by November 2018!
Michael Kozlowski is the Editor in Chief of Good e-Reader. He has been writing about audiobooks and e-readers for the past ten years. His articles have been picked up by major and local news sources and websites such as the CNET, Engadget, Huffington Post and Verge.