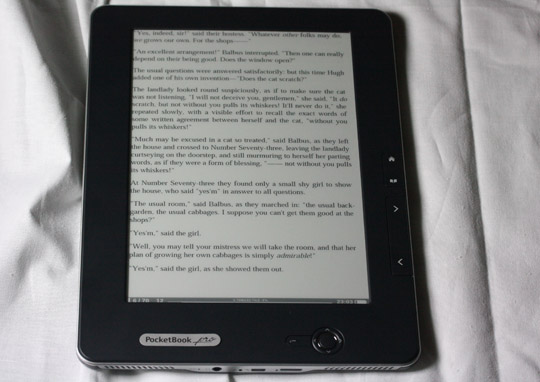 Welcome to another Good e-Reader Review! In this edition we take a comprehensive look at the new Pocketbook 902 PRO 9.7 inch Linux based electronic reader! This is the largest offering that Pocketbook has released and is much akin to the Kindle DX in terms of screen size and abilities.
Hardware
The Pocketbook PRO 902 is a 9.7 inch e-reader with a resolution of 1200×825 and 166 DPI. At its core it features a Samsung, 533 MHz processor and has 256 MB of internal RAM. It also has 2 GB of internal FLASH memory and you can further enhance it for up to 32 GB via the micro USB port.
Internet connectivity of the new Pocketbook 902 is done via WI-FI, and will connect to open and secure networks. We found connecting to longer password protected networks with a combination of upper and lowercase letters to be very hard to get correctly. There is no way for passwords to be visible as you are typing, so it is very easy to make mistakes.
This new device battery life is around 7000 book turns, or around 40 different novels. You interact with it via the D-PAD, as it does not feature any type of touchscreen technology.
You have the ability to use the accelerometer and flip it into a 360 degree arc, so this insures that left and right handed people can use it very well. The accelerometer technology implemented in the 902 is a little bit sub-standard. Often when you switch it from landscape and portrait mode you have to hit the back button or any button in order to prompt the system to re-draw the lines of pixels in the new mode.
The Pocketbook PRO 902 has a 3.5mm twin stereo speaks and headphone jack in order to listen to music or audio books in mp3 format. It also has blue-tooth capabilities.
Charging the Pocketbook e-reader is done via the wall charger, it is not possible to charge the unit via the Mini US.
Software
This large screen e-reader runs on a Linux 2.6.28 operating system and the applications tend to load pretty quickly. By default you have a fair number of applications that come with the e-reader including a web browser. The web browser only seems to launch though when you visit the Bookland site, there is no short cut or independent program to launch the internet browser.
On the default homescreen you have a clock, calender and dictionry widget that is placed to allow you to always know whats going on and so when you get lost in a book you can make yourself aware that hours or days have passed! Also on the homescreen is a huge navigation array that allows you to launch all of the applications, without hiding them away on sub menus. You have options to launch your eBook Library, Notes, Applications, Dictionary, Music Player, Photo Gallery, Search, Configeration and your favorites directory.
Your library contains all of the ebooks that come bundled on the device, which is around 1000 in different languages. It also reads a TON of ebook formats, which is quite redeaming. We found that Pocketbook leads the e-reader arena in formats supported, such as; CHM, DJVU, DOC, DOCX, EPUB, FB2, FB2.ZIP, HTML, PDF, PRC (Mobipocket), RTF, TCR, TXT and PDF. It will even read content protected by Digital Rights Manegement, such as PDF and ePub.
When you read a book on the Pocketbook PRO 902, you can switch between landscape or portrait mode at any time, and lock in your preferred prospective by tapping on the power button. You can launch a number of options while reading a book, such as the ability to take notes, look up words in the dictionary or record voice notes or your thoughts as you are reading. You can also bookmark the page you are reading, in-case you come back to it in the future, as well as zoom in on specific content.
In the settings menu you can do everything from switching the boot logo and background art to customizing your fonts. Font selection is actually quite extensive with support for around 30 different fonts.
The Pocketbook 902 PRO has a fair number of built in applications such as a calculator and clock. It even has some popular games such as Chess, Kosynka, Snake, and Sudoku. The games actually do not look too bad when you play them and via the e-ink has tremendous resolution.
It is through this resolution that pictures really shine in e-Ink. Often the pictures we take and video we do, does not really do it justice. The new 9.7 inch e-reader comes with around 10 built in photographs and has support for BMP, PNG, JPEG and TIFF.
Content Distribution System
Pocketbook delivers its content via its service called Bookland, often it is not as it sounds. It is not a mythical land of books with a large amount of selection. It mainly features free books by project Gutenburg and a few paid books, but the selection is very sparse.
The redeeming factor is the large number of ebook formats it supports, so you can do business with other stores whom deliver their paid content in EPUB or PDF and the 902 will read it just fine.
Often people just download ebooks from the internet that does not have DRM or from sites such as Smashwords and other ebook stores. You can easily sideload in ebooks by connecting it to your computer via the micro USB cable. Copying data to the e-reader is a breeze if you use windows explorer, but we will shoot a video that teaches you how to do this.
Our thoughts on the Pocketbook PRO 902
This new e-reader is solid in the respects that it reads a ton of different ebook formats and allows you do business with other stores, and be a device that easily reads ebooks from any other site.
Its price of around $399 is a little bit daunting, for that price you can get a higher range tablet computer that will do a fair ton more for you. If you are fixated on e-readers like we are, you can see the advantage of a 9.7 inch display to be able to read textbooks for school or university science reports.
This e-reader will obviously draw parallels between the Kindle DX in terms of its large screen and is in the exact same price range. If you were to choose the two, the Kindle DX would make good purchase if you were willing to do business exclusively with Amazon. If you want to be more independent with your ebooks or possess a little bit more tech know how the 902 might be a better investment. The Kindle wins in the page turn speed department and the large community it has, and don't forget Amazon dominates the ebook market with around 75% of all sales.
Generally the Pocketbook line of e-readers are put together very well, the design is heavy and ascetically it is pleasing to the eye. It comes in Dark Gray or White for color options and the back of the unit can slide off to give you access to change the battery or to remove it.
You can buy the Pocketbook online directly from Pocketbook or soon from our Retail partner Shop e-Readers

[cincopa AYCA8Z64LWQg]

Michael Kozlowski has been writing about audiobooks and e-readers for the past twelve years. His articles have been picked up by major and local news sources and websites such as the CBC, CNET, Engadget, Huffington Post and the New York Times. He Lives in Vancouver, British Columbia, Canada.