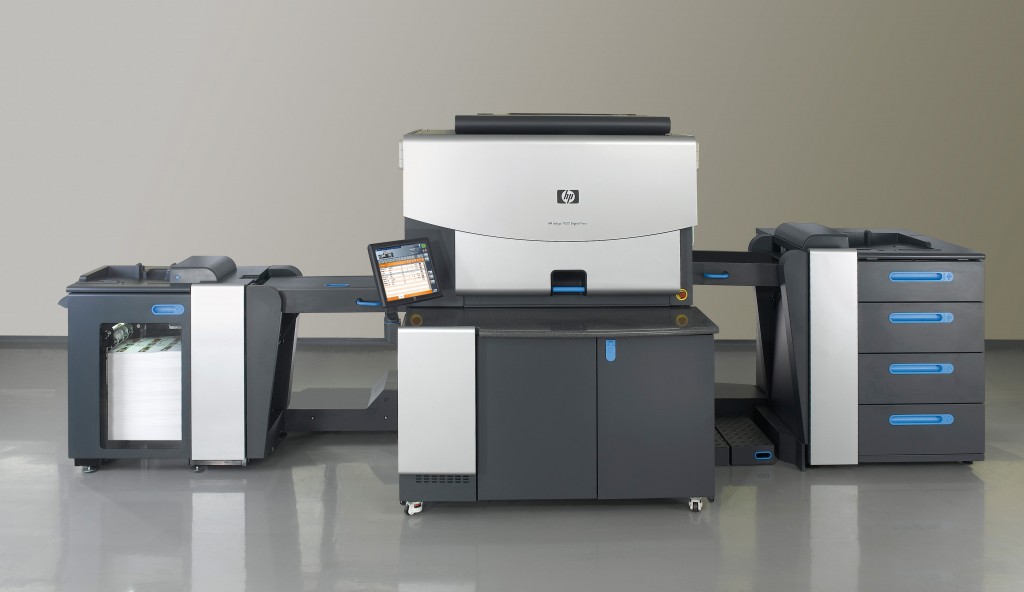 The early predictions for almost every facet of digital publishing have proven to be as beneficial as once believed, especially in the areas of digital textbooks, widespread access to self-publishing possibilities, and even the gains made in ebook library lending. But one of the earlier promises for digital publishing was the concept of the stand-alone kiosk-based book printer, which was predicated to allow every corner store and bookshop to produce books at the point of purchase. Unfortunately, the costs associated with owning and maintaining those machines, coupled with the extremely expensive licensing of books, has kept POD printing from reaching as vast a market as once hoped.
HP, however, will be demonstrating its printing capabilities at the upcoming London Book Fair next month, unveiling a new line of machines that will enable publishers to print even the most color-rich, high resolution coffee table books one at a time and in a cost effective way. HP demonstrated its book printing ability to GoodEReader nearly three years ago at BookExpo America, but at that time the emphasis was more focused on scanning, preserving, and printing rare and ancient books.
Now, HP's Indigo and HP Inkjet Color Inkjet Web Presses are enabling publishers to produce high-quality content at a much faster rate while still focusing on the cost saving measures required for limited printings. HP's goal will actually be to demonstrate for publishers how its press and its software will allow them to print effectively while still watching their cash flow. HP devices are currently in use specifically for book printing by approximately 250 international publishers.
"Today's publishers face rapidly changing market and economic conditions," said Paul Randall, market development manager, Publishing Segment, EMEA, HP, in a press release. "Publishing solutions based on digital printing from HP can help reduce the risks that publishers face when bringing titles to market, including overstocking, incurring storage costs and, ultimately, having to pulp unsold books."
Mercy Pilkington is a Senior Editor for Good e-Reader. She is also the CEO and founder of a hybrid publishing and consulting company.