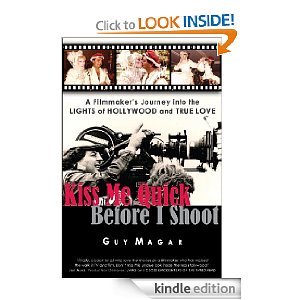 Digital publishing is affording authors and readers new benefits every day, from lower price points to reducing the wait time for books on current topics to reach the market. But one of the as-of-yet unsung benefits to indie publishing and digital publishing is that people who are experts in their career fields are now turning to self-publishing to tell the often-amazing back stories that come from years of experience on the front lines in their given careers.
One such writer is Guy Magar, a Hollywood film director and producer, who has written and published his career memoir, Kiss Me Quick Before I Shoot. Part love story surrounding his romance with his wife of 26 years, part behind-the-scenes look at the film industry complete with over 100 photos, his book gives readers an inside look at show business.
"As a director with over 100 credits in film and TV," said Magar in an interview with GoodEReader, "it's been a wild and crazy journey which the memoir details, including how my first producer turned out to be a Mafia assassin, how I almost decapitated a young Drew Barrymore right after ET, and how I came close to derailing James Cameron's illustrious career. People are fascinated by behind-the-scenes stories of making movies and TV shows, and this memoir shares the roller coaster ride of a film making career with a look-see behind the curtain."
There's more to his self-published work than just Hollywood tales, though. The process of the publication itself is as interesting as the material.
"To some, self-publishing can be a scary proposition especially the first-time around. For a filmmaker who creates big projects and is used to seeing them through, taking on such a new endeavor was a welcomed challenge. I can now say that writing and publishing a book is as detailed and as involved a journey as making a movie, and in this case, it took even longer than any movie I ever made. It took me four months to write the book but then an additional fifteen months to rewrite and rewrite over twenty versions until I got it where I wanted it. I come from screenplays where rewriting is mantra. I have read so many ebooks where I can tell people published without the process of careful rewrites which is the key to good writing. Writing is rewriting as they say, and when you don't have an editor polishing the work as they do at most publishing houses, then the quality of the writing is degraded if you don't have the discipline of making it the best it can be when you self-publish."
Magar relied on a boutique publisher for the print edition, then had the manuscript converted to digital in order to make sure the formatting and the graphics were aligned. But one of the aspects of creating this book that Magar has been especially proud of is the control over the outcome for the memoir; specifically, Magar is donating all of the proceeds from sales of the book to City of Hope, a cancer treatment center where his wife was a patient while undergoing care for leukemia. That kind of control would not be possible if the book had been traditionally published.
"There are few leading cancer centers where clinical trials and new cutting-edge therapies are leading the fight against cancer, and City of Hope is one of the very best in the world. During my research, we had discovered other research centers in Minnesota and Seattle, but in the end, we met a world-class oncologist at City of Hope, near our home in Los Angeles, who agreed with my research and invited Jacqui to join their clinical trial. We had great faith in this wonderful doctor and I give him all the credit for healing Jacqui. Since part of my memoir is about Jacqui's journey at City of Hope, and since we wish to do all we can, whenever we can, to help raise funding for them, it was natural for me to decide to share the proceeds from the book."
Magar's memoir is available through Amazon by clicking HERE.
Mercy Pilkington is a Senior Editor for Good e-Reader. She is also the CEO and founder of a hybrid publishing and consulting company.