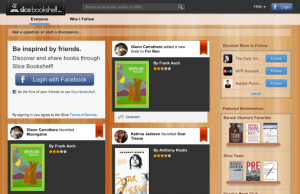 At the O'Reilly Media Tools of Change conference in New York earlier this month, one sparsely attended breakout session led by a very soft-spoken person who may have revolutionized the online world of books presented some startling data about consumer behavior. Otis Chandler, founder of the widely popular interaction site Goodreads, discussed the results of Goodreads massive consumer book survey. One of the most shocking pieces of data was the news that even in the virtual and digital age, the single most effective source for discovery of new quality books is still friends' word-of-mouth.
Slice.com's Bookshelf feature, which is still in beta while working out its portal and targeting its already growing numbers of users/followers, has found a way to capitalize on that information to further the all-important–and often elusive–book discovery. By still relying on readers' friends for recommendations, Bookshelf has expanded the definition of a friend to include users' Facebook connections. By seamlessly integrating the Likes clicked by each Bookshelf users' friends into categorical bookshelves, members can instantly see which books have resonated with which of their online friends without having to upload, rate, rank, or review.
Thad Hwang, the Head of Product Management of Slice, spoke to GoodEReader about this method of incorporation and what it can mean for helping consumers find great content.
"With Bookshelf, we took a look at the landscape. We're all to varying degrees readers ourselves and we took a look at what was out there and certainly there's products and services out there. The premise behind Bookshelf is that we found the best way to discover books was through your friends. We want to focus on that facet of social media."
"As we got feedback, a lot of what we wanted to focus on was a simple way to discover, organize, and talk about your books. A lot where we came from was with really big visuals and book covers, to create a nostalgic feel."
The visuals of Bookshelf do feel more like an online bookshop rather than a text heavy user-generated portal.
"Other sites had the experience of starting out as a utility and then trying to go social, so we have the benefit of starting out as a social platform from the beginning."
Bookshelf, while still in beta, is accepting new users and accounts and begins by immediately pulling in books that the user has read or shared socially. Users are asked to generate their own bookshelves within their accounts for organization and information sharing. New users can sign up for Bookshelf at Slice.com/bookshelf.
Mercy Pilkington is a Senior Editor for Good e-Reader. She is also the CEO and founder of a hybrid publishing and consulting company.