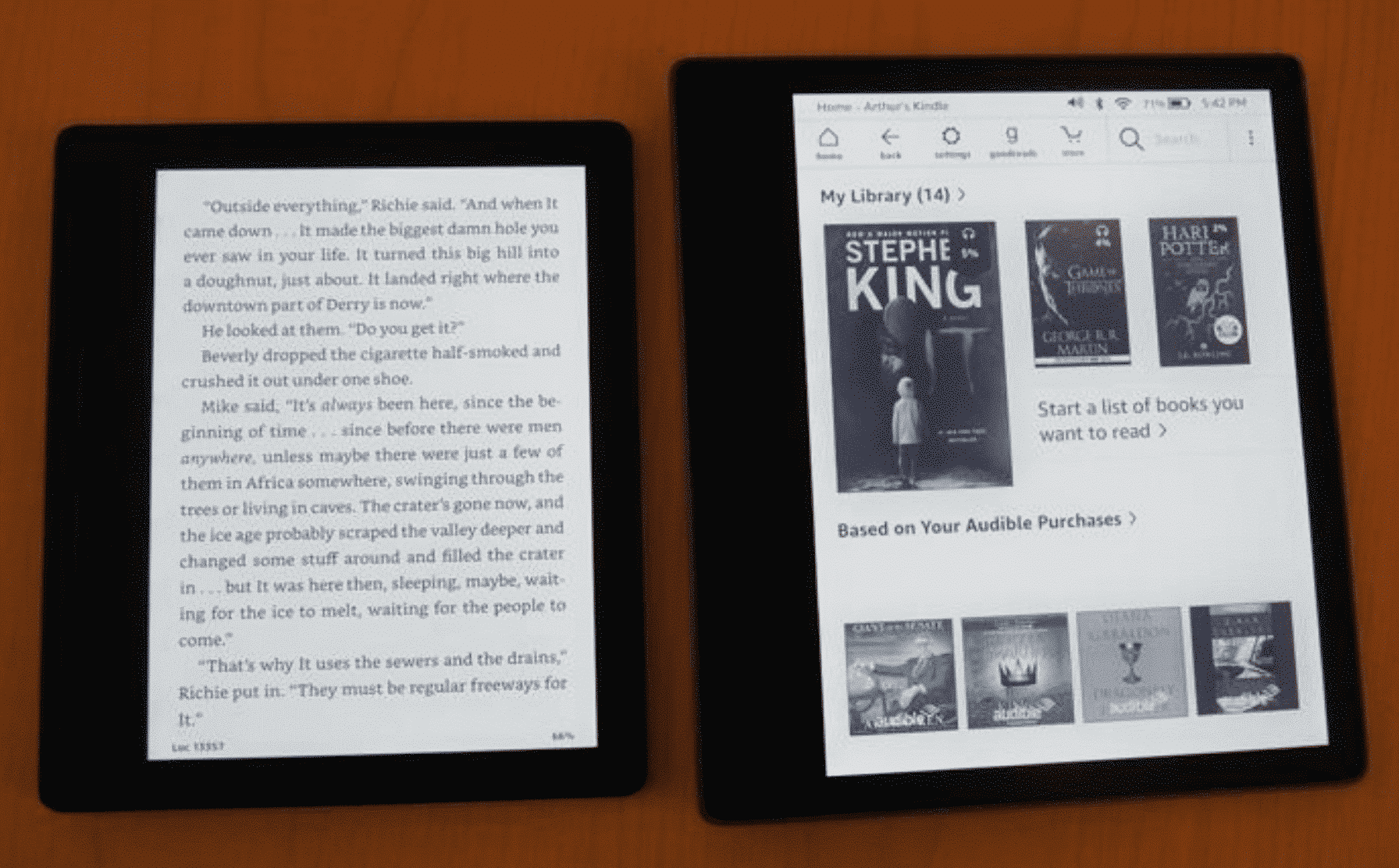 When it first launched, Amazon's Kindle offered direct competition to the established publishing industry. The close-to-trillion-dollar company had already enjoyed great success in the early days of the internet as a simple online book shop. The firm has since expanded dramatically and now you can have just about anything delivered to your door by the online retail giant.
Part of this expansion included the launch of the Kindle – an effort to bring the convenience of modern electronic devices to the world of literature. The device sought to put a library in its users' pockets and in doing so would swipe the rug from further beneath existing high-street book traders.
Whilst there is still a strong argument to be made for the physical book – the feel, smell, and authenticity, for example – the Kindle offers readers an altogether different experience. They can shop for, try out, and read books on a device just a little larger than the palm of their hand. For Kindle converts, there is little point in ever visiting a real-world bookshop ever again!
With subsequent upgrades to the Kindle device, the user experience has evolved once again. Readers can now enjoy a much deeper experience with works of classic literature, graphic novels, and everything in between. One of the most important updates to the Kindle has been the integration of HTML5. So, just why is the inclusion of an additional programming language such a big deal for Kindle users?
What is HTML5?
HTML5 is a programming language used to bring webpages to life. It was launched as a stable language in 2014 and builds upon the HTML standard used for as long as internet browsing has existed.
HTML stands for Hyper Text Markup Language. It is used for creating web pages – these days with other programming languages such as JavaScript and CSS. These three languages are behind almost everything you see online.
You can think of HTML as being like the foundations of a webpage. Headers, bodies of text, images, breaks in text, lists, and other features are added to websites using HTML tags. HTML is also used to embed other programs into webpages. With HTML5, new elements have been added to the original language. These include the ability to handle multimedia and image content.
How Does Kindle Use HTML5?
So, what does all this mean for Kindle users? Well, since Kindle integrated the language, a whole new set of options have become available for designers of Kindle books. With the update to Kindle Format 8, full HTML5 support is available on the reading devices.
According to Amazon, publishers of books will now be able to create much more visually appealing offerings. The inclusion of rich formatting has allowed publishers to experiment with fixed or floated elements, embedded fonts, more advanced images, numbered and bulleted lists, and many other features. According to the almost-trillion-dollar company, there are more than 150 new ways to make Kindle books look great!
Those genres mentioned explicitly by Amazon include children's books – now able to use much more vibrant imagery and popups; comic books and graphic novels – Kindle Panel views will transform the experience of reading these heavily visual forms of literature; and text books – can incorporate an extensive set of features such as tables and boxed elements.
What's more, the more advanced Kindle Fire also supports the latest version of HTML. This opens a whole new range of possibilities to further blur the line between traditional printed texts and online publishing. Books can now feature videos within them. Additionally, users who need a break from reading can access a loaded application store full of games and other useful programs. Evidently, with such advancements, Amazon is not only going after the publishing market but also that of the largest application stores today – namely Apple and Google.
The inclusion of HTML5 on Kindles does not completely transform them into an oversized mobile phone, however. There are still shortcomings in that respect and certain features of the most modern and interactive websites are not supported – HTML5 rich sites such as online casinos and travel sites, for example – NoDeposit365 has features that are not fully supported yet. You can access the no deposit bonuses but the games require advanced HTML5 features.
Does HTML5 Allow for too Much Interaction on the Kindle?
For some Kindle users, the ability to browse modern websites, play games, and watch videos is great. However, others might feel that the inclusion of such features transforms the device into something they were seeking to escape.
Personally, I love to take my Kindle out to the park and unwind with a good read. I need to do this to escape from the countless web-browsing devices I already have at home. With my Kindle, there are far fewer distractions and I can really get engrossed in the title. I'll often leave my phone at home just for the extra isolation from the modern world.
With Kindle now becoming more like an oversized mobile phone, Amazon are slowly but surely integrating the features many of its users are seeking to find respite from. For most of our lives we are surrounding by gizmos that allow us to communicate with the rest of the globe in seconds. Whilst this is obviously amazing and liberating for humanity, 24-hour connectivity can be exhausting.
There is no denying how great the Kindle is for the avid reader; however, Amazon should keep this original market sweet. Although the device's integration with HTML5 has the potential to make the reading experience much fuller, it also can easily turn a three-hour private reading binge into a session on Candy Crush Saga and YouTube. For many of us, this is exactly what reading is supposed to be an escape from!

Markus lives in San Francisco, California and is the video game and audio expert on Good e-Reader! He has a huge interest in new e-readers and tablets, and gaming.