Description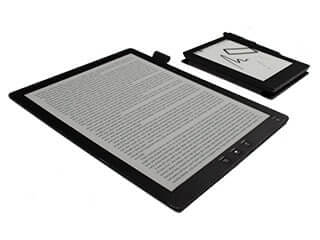 Good e-Reader is proud to unveil our first firmware update for the 13.3 and 6.8 digital notes. Google Android has been upgraded from 4.0.4 to 4.4.2 and an entire new world of compatible apps such as OneNote and Evernote are now available to use. Stylus performance has been increased by over 50%, so you now have pinpoint precision when drawing or editing PDF files. There is also a new UI, sleep animation and over 100 bugs have been fixed.
This download is for anyone that has a 13.3 or 6.8 e-reader in their possession. All new e-readers will have this update pre installed.
Installation Instructions
Add the firmware update to your cart and enter your billing details
Once you do this the file will become available to download or an email link will sent to your email address
Copy the update.zip file to your root directory or SD card with the e-reader turned on
Hold down on the power button and you will have an option called "Update"
The installation process will be automatic.