Description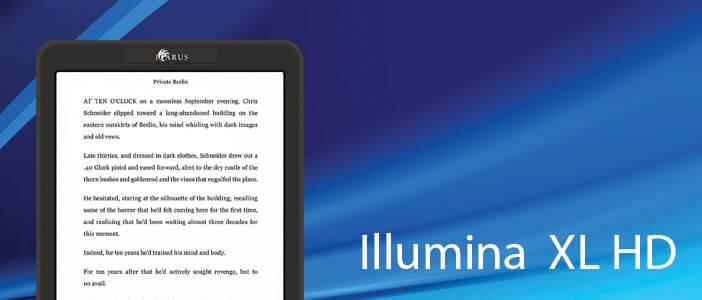 | | | |
| --- | --- | --- |
| | | With more than 75% of the screen's assets, the Illumina XL allows you to read more on one page or use larger fonts of 6 "normal e-readers." Even compared to 6.8 "e- readers the Illumina has a 38% larger screen. |
| | | With a resolution of 1872 x 1404 pixels, the screen offers crisp, sharp letters and high contrast with rich blacks and light whites.Even the smallest font size can be read perfectly, allowing you to display more text on a page than ever before. |
| | | |
| | | The capacitive touch screen is multi-touch: tap to open a menu item, drag to navigate or rotate pages, and pinch-to-zoom to change the size. |
| | | |
| | | Thanks to the front light, you can read comfortably even in low light environments. The light can also be completely off. |
| | | |
| | | Powered by Android and including Google Play, you can easily find, install and manage your favorite apps and add features to your e-reader. Use it for comics, RSS feeds, e-mail and more. |
| | | |
| | | Wi-Fi 802.11 allows you to connect to a Wi-Fi hotspot to download books or apps on the go, without the need for a computer. |
| | | |
| | | Listen to background music while playing or listen to your favorite music with the dedicated music player. |
| | | |
| | | 16GB of internal memory is enough for thousands of books. |
Read comfortably day and night

The e-reader comes with an integrated front light. This means that you can read comfortably during the day and at night. The intensity of the light can be adjusted and the light can be completely extinguished too. In a dark environment, we recommend using moderate levels of brightness to keep the contrast pleasant to the eyes. The highest light settings can be used in light environments to increase the "whiteness" of the screen.

Thanks to Wi-Fi wireless connectivity, you can browse content on the go and web access. With Android 4.2, you can install your own apps, from your favorite reading app for social media or productivity apps. This makes the Illumina XL – the first and only 8-inch e-reader with Android – the most versatile 7.8-inch e-reader on the market. Add Dropbox to read the books stored in the cloud or check your email on the E-Ink screen. Many libraries have their own reading app, giving you access to thousands of books for only a small fee.

With the Illumina XL-HD you are not tied to an ebook ecosystem: you can freely choose where you get your books and have access to more ebooks than any other e-reader on the market.

Supports all relevant book formats, even audiobooks!

Naturally, ICARUS Illumina offers support for all relevant e-book formats and has many options for adjusting the layout of your books. You can also listen to music or audio books or background music while playing.

Ideal for PDF

Naturally, the Illumina XL HD has great support for PDF, PDF reflow, many document setting options and fast cornering pages. And PDF documents look better on the larger screen than on typical 6 "e-readers.
Advanced features
Bookmark Management
Contents
Go to page
Text search
Setting the font size
Font Type Setting (in ePub documents)
Adjusting Page Margins (in ePub documents)
Own font installation
Screen rotation
Automatic page turning
Refresh Mode Set
Add to favorites
Book information
---
Specifications:
| | | |
| --- | --- | --- |
| Screen | | 7. 8 "E-Ink Carta HD | 1872 x 1404 |
| Memory | | 16Gb of internal memory |
| connectivity | | USB 2.0 | WiFi 802.11 B / G / N |
| Book formats supported | | PDF, FB2, EPUB, RTF, MOBI, TXT, HTM |
| Audio formats supported | | MP3 |
| Supported image formats | | JPG, BMP, GIF, PNG |
| Drums | | 2800mAh, up to thousands of refresh the page |
| Reading functions | | Go to Page, Text Search, Bookmarks Management, Table of Contents, Screen Rotation, Auto Page Shooting, Books, Music Player |
| applications | | File Manager, Music Player, Image Viewer, Library, Recent Reading |
| Dimensions and weight | | 145 x 200x 9mm, 275 gr. |
The 8 "E-Ink Pearl HD offers high contrast  paperback The paperback is not the best book size in the world without reason It offers the perfect trade-off between comfortable reading and compact dimensions.

The bigger screen size offers many advantages:

Bigger fonts possible
Less page turns needed
Easy to navigate user interface, with large and clear icons

The capacitive touch screen is multitouch: tap to open a menu-item, swipe to navigate or turn pages, and pinch-to-zoom for changing font size.
Thanks to the front light you can read comfortably even in low-light environments. The light can also be turned off completely.
Google Play you can easily find, install and manage your favorite apps and add functionality to your e-reader. Use it for comics, RSS feeds, e-mail and more.
Wi-Fi 802.11 allows you to connect to a Wi-Fi hotspot for downloading books or apps on the go, without the need for a computer.
Listen to your music while listening to your favorite music with the dedicated music player.
8Gb of internal memory is enough for thousands of books. If that is not enough, insert a micro SD card (maximum 32Gb) for more storage space.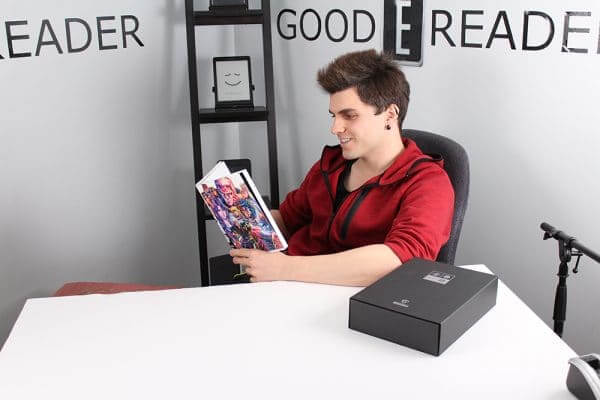 Peter is the director of ecommerce at Good e-Reader. His primary task is to make sure that everything runs smoothly and everyone receives their purchases quickly.