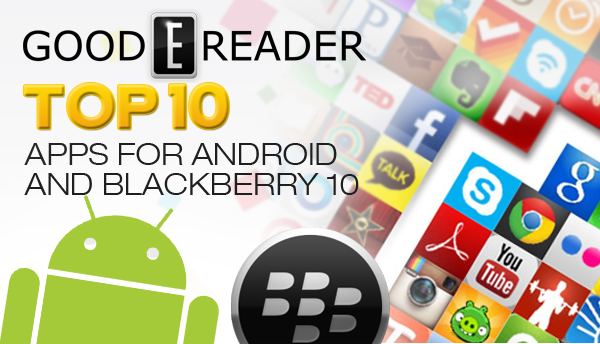 Every week thousands of new apps are released for Android and its hard to keep track of the best ones. Most people just stick to their small pool of apps and here at Good e-Reader its important to broaden your horizons. All of these apps are available from the Good e-Reader BB10 and Android App Store. We just updated our client, squashing major bugs and adding a litany of new functionality. You can download the client HERE or from Google Play HERE.
Tank Battles for Android – Get ready for Tank Battles! This is General McTankerson, the greatest tank commander in the world, speaking! Many have come to my island for the Tank Battles Tournament, but only one can be crowned the Tank King. Will it be you? Roll out and let the Tank Battles begin! Customize your tank, enter the battlefield and destroy your opponents! Tank Battles delivers one of the most exciting multiplayer experiences ever, as well as challenging solo missions – for FREE! The tanks are fast and easy to maneuver, so you'll become a master tank commander in no time!
Meltdown for Android – A run and gun based commando game. You basically get new guns and shoot your way through a ton of levels.
Dayframe for Android and Blackberry 10 – Dayframe works with your favorite photo sharing services to provide a ongoing slideshow of friends, family, and interests. Browse and share photos between Facebook, Instagram, Tumblr, Google+, Dropbox, Flickr, Twitter, 500px, and more.
Movember Mobile for Android and Blackberry 10 – Redesigned and rebuilt from the ground up specifically for Android devices, the Movember Mobile app gives Mo Bros and Mo Sistas across the globe all the tools they need to track and manage their Movember campaign on the go! Mo Bros and Mo Sistas who have already signed up at movember.com to be a member of Generation Moustache can sign straight into the app. Not registered yet? Not a problem. Sign up through the app to lead or join a team, or you can even go it alone.
Topiclay for Android and Blackberry 10 – Topiclay is a brand-new news app that helps you find articles about topics you are interested in from the news sources you love. It displays a short excerpt from the article and enables you to easily click through to the original website that posted the article to enjoy the full story.
ARC Squadron: Redux for Android – An evil race known as the Guardians is taking over the universe, ravaging planets, and killing all peaceful life forms. You are the galaxy's only hope for salvation. As an elite pilot serving in the ARC Squadron, you are tasked to take on the Guardians in head-to-head combat and bring down their empire. With simple one-touch controls, you can shoot, blast, and annihilate enemy forces to hunt down each of the nine Guardian lords and destroy them once and for all. The ultimate battle for the galaxy is nigh. Are you on board?
CLIFFHANGER for Android and Blackberry 10 – Cliffhanger is an app designed especially for TV fans, with specific attention to simplicity and a user-friendly design. This app will help you keep track of your content, let you know when & where it is available, mark episodes as watched and even add calendar events. Enjoy exploring upcoming & previous episodes using our intuitive design, backed by Trakt.tv and IMDb databases.
Crunchyroll Manga for Android and BB10 – The Crunchyroll Manga app provides users with unlimited access to a variety of the hottest manga emerging from Japan! As soon as it hits newsstands in Japan, Crunchyroll Manga users can read the latest from hit titles like Attack on Titan, Fairy Tail, and Space Brothers.
Star Wars: Tiny Death Star for Android – From Disney Mobile, in partnership with LucasArts and Nimblebit, the makers of Tiny Tower, comes an all-new mobile game about everyone's favorite space station, STAR WARS: TINY DEATH STAR! Amidst a civil war in a galaxy far, far away, the Emperor is building a Death Star level by level, and he needs your help. Intergalactic war is expensive, and space stations are, too. Do you have any idea how much it costs to build one the size of a moon? Live life on the dark side, and join Emperor Palpatine and Darth Vader on a mission to attract Galactic bitizens, run intergalactic businesses, and build an all-new Death Star! With that hard-earned money, fund the Empire's evil schemes to defeat the Rebels and conquer the galaxy once and for all!
Westbound for Android – Your wagon train has broken down on its way out west! Now you're stranded in a canyon for the winter with a motley crew of strangers. It's time to build a new home and turn it into your own beautiful western town! Saddle up your horse and come along! Treasure, mystery, and romance await as you mine the hidden canyon, discover ancient treasures, and establish a booming settlement! Be warned! There are notorious outlaws on the loose!

Michael Kozlowski is the Editor in Chief of Good e-Reader. He has been writing about audiobooks and e-readers for the past ten years. His articles have been picked up by major and local news sources and websites such as the CBC, CNET, Engadget, Huffington Post and the New York Times.