From best selling series, to blockbuster movies, now, the first stage adaption of The Hunger Games is set to debut in London's West End in the fall of 2024. The play is being adapted for stage by award winning Playwright Conor McPherson, and directed by Matthew Dunster, who received high prise for his version of Christopher Marlow's Doctor Faustus.
The live theatrical production will focus on the first book in the series, "The Hunger Games", which depicts a dystopian society that hosts lottery in which "winners" are actually the "losers", as they have to fight to the death while millions watch for entertainment.
Author Suzanne Collins shared in a statement,  "I'm very excited to be collaborating with the amazing team of Conor McPherson and Matthew Dunster as they bring their dynamic and innovative interpretation of 'The Hunger Games' to the London stage."
In response, McPherson said, "To receive Suzanne Collins' blessing to adapt The Hunger Games for the stage is both humbling and inspiring. She has created a classic story which continues to resonate now more than ever."
As reported by Variety, "a press release calls the stage version a 'gripping tale of courage, defiance, and the unbreakable human spirit'."
The Hunger Games have sold over 100 million copies globally
For book 1, The first print run was 50,000 copies
This was quickly increased to 200,000
Within 18 months of being published, The Hunger Games had sold 800,000 copies
The Hunger Games (book 1) spent over 100 weeks on the New York Times bestseller list
The first three Hunger Games movies were released in 2008, 2009, and 2010, and starred Jennifer Lawerence. A prequel, The Ballad of Songbirds and Snakes, will be released in theatres on Nov. 17th.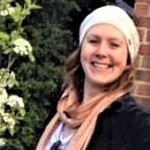 An avid book reader and proud library card holder, Angela is new to the world of e-Readers. She has a background in education, emergency response, fitness, loves to be in nature, travelling and exploring. With an honours science degree in anthropology, Angela also studied writing after graduation. She has contributed work to The London Free Press, The Gazette, The Londoner, Best Version Media, Lifeliner, and Citymedia.ca.