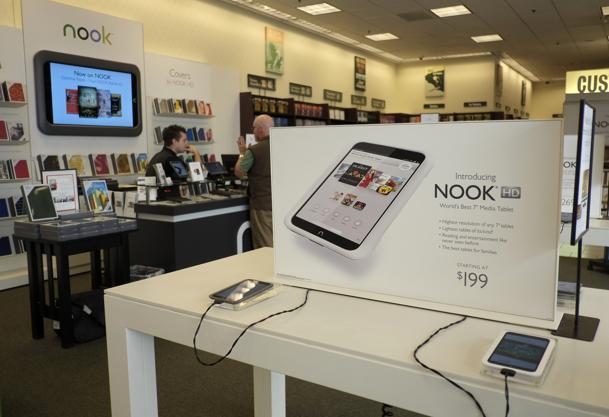 The Barnes and Noble Nook division is one of the most longstanding and successful brands in the e-reader and tablet sector. The bookseller jumped into the eBook revolution in 2009 with an online store and their own flagship device. Their first few devices sold like wildfire, but sales have tapered off with each subsequent release. Nook Media has been losing money each quarter for over a year and most of their executives in charge of books, hardware and accessories have all left the company. What if they hired me to run the show? Here is my game plan to turn Nook around.
Enhancing the Retail Experience
The average Barnes and Noble bookstore is around 26,000 square-feet in size. The Nook retail area, where devices are showcased are normally 1,000 sq ft, and larger stores have 2,000 sq ft.
This is a solid amount of space to showcase the Nook Glowlight, Nook HD and Nook HD+, which is the current generation lineup. Not to mention accessories, such as cases, and screen protectors.
The Nook display section has no consistency in overall design and customer experience. The flagship Union Square location looks way better than the store in Las Vegas. Once you start going to more rural bookstores, in smaller markets the Nook display section lacks. I have walked into bookstores and saw nothing more than a wooden table, with a blue sheet and stuff piled all over it.
If I was in charge of Nook Retail I would create a blueprint and template that all stores would have to abide by. I would mandate that all Nook areas would be close to the front entrance and by the window. It would feature a clean white overall design, with vibrant color coded areas where you would find devices, accessories and a Nook Kiosk. Having street traffic seeing a cool, hi-tech area would prompt them to come in the store. It is important to build a consistent experience, walking into a big store in New York, would be the same as walking into one in Seattle.
The Nook Kiosk would be another hardware innovation that all stores would get. It would allow customers to browse the Nook library of eBooks. They would be able to buy and send the books right to their devices, or pre-order ones that have not come out yet. If a new e-Reader or tablet is announced, customers would be able to order them in the Nook area, and make sure they are on the list. This would all be fed to a centralized Nook admin server, where stores could get extra allocated units. This would save time from the retail staff having to this manually, which is the only way to currently do it.
The average Barnes and Noble bookstore does not have an army of employes. I have witnessed that many in the store wear different hats, whether its inventory, cash, restocking or helping customers. The people in the Nook area, often are not dedicated and feature a revolving cadre of characters. I would mandate that every store location needs 3 trained people for the Nook area, two of which are full time and another that works when one the core people are sick, or on vacation. There would be regional trainers who would be responsible for each State, and would bring people into that State's flagship store for a week of training. They need to be Nook Certified.
Accessories, Accessories, Accessories
Barnes and Noble has a line of accessories for their line of tablets and e-readers, none of which are really compelling. Sure you have the ubiquitous cases, screen protectors, charging cables and even a pair of Nook headphones. They need to solve this situation to make the Barnes and Noble accessories line, more modern and current.
If I ran the accessories division at Barnes and Noble, the first thing I would do is buyout a company called DecalGirl. They make custom art and designs for the back of Barnes and Noble e-readers and tablets. You can buy a vinyl decal and attach it yourself. You can also elect to buy custom cases with hundreds of funky designs. If a customer has their own vision of what they want their device to look like, they can use the automated online tools to customize their own and have it shipped out.
This is the exact type of service and design strategy that Barnes and Noble has to employ. Amazon is the only other company to offer something like this, but they don't have a retail environment to put these in customers hands and showcase the product in a compelling fashion.
Barnes and Noble has to stop developing their own headphones and other accessories. The product line is really outdated and no new designs have been made in a number of years. Instead I would reach out to Pebble, Jawbone, Qualcomm, Fitbit, Beats by Dr. Dre and other smart accessory companies that make things like rings and necklaces. There is no denying that more people are buying these types of things from electronics stores, or companies like Best Buy. It would serve Barnes and Nobles interests to enhance their stores image with carrying an ultra modern line of accessories people are buying now in droves and will be buying in the near future. They likely would cannibalize their own accessory sales by doing this, but in the long-term they would make more money selling Beats headphones with a cool book design on it.
Nook Services
Barnes and Noble has their own app store, but it is only compatible for users living in the USA and UK. Barnes and Noble has a movie and video area, but again is only good for those two countries. The inclusion of Google Play suddenly made Nook accessible to more people, in more countries.
Many avid Nook users claim the Barnes and Noble App Store is woeful and does not feature a great selection of apps. The staff who is charge of curation and business development are under funded and short of brilliant minds. If I ran Nook Services, I would kill the App Store and Kill the television and movie rental business.
My intention is to remove all of the barriers that would hinder more international adoption of the Nook Tablet line. There is nothing worse than buying a new device and finding out nothing works in your country, and there is no way to uninstall it. It would free up internal resources to focus on more critical aspects of the business. Honestly, now that Google Play Services is on the Nook tablet, my bet is the metrics say more customers are downloading apps from Google, rather than Barnes and Noble now.
The goal is to find identity with Nook Services. Is the priority your own app store and television system or is relying on Google. You cannot do both and it is a waste of resources, management and time to do two things at once. Its one or the other, and I would bet on Google as a content distribution system.
The Synergy between Nook Press and Indie Titles in Bookstores
If there was one oportonity that Barnes and Noble is missing, more than anything else, is the synergy between Nook Press and their bookstores. Nook Press is the companies self-publishing program and is a direct follow-up to PUBIT! The platform itself pales in comparison to competitors programs like Amazon and Kobo. Heck, UK authors cannot even use Nook Press to publish in the US and UK.
If i was in charge of Nook Press and displaced Teresa Horner the first thing I would do is partner up with a service like Ingram Lightning Source. US authors would be able to self-publish books digitally and make them available for the retail stores to purchase. Ingram basically runs a giant print on demand system, where authors can have copies of their books printed, if someone places an order. This method proves to be quite popular with competitors.
There are obvious benefits of partnering with Ingram, rather then investing in a POD system from the ground up. It would save a massive amount of time and money to just bite the bullet and get in bed with Ingram. Eventually, once you figure out the logistics of the entire POD process, you can slowly roll-out your in-house alternative.
I have been following the entire eBook and e-reader industry since one year after the original Kindle came out. I have seen many major booksellers go bankrupt, some taking chances, some taking none at all. The most squandered opportunity that Barnes and Noble has missed in the last five years is getting self-published titles in their store, from their own authors. Barnes and Noble sorely needs a self-publishing super-star to carry the torch and be a walking banner for their services. They cant do that without Nook Press POD.
One of the big hindrances of Barnes and Noble international expansion for the Nook in general, is the complex publishing rights to books, magazines and other digital content. Since self-publishing does not abide by these same restrictions, Barnes and noble is in a position to expand their print on demand service and digital titles on a worldwide basis.
Nook Press would be a viable way to expand the Nook bookstore into other markets and launch with self-published titles and then make inroads with local publishers. The start of international expansion would be indie titles.
Expand or Die
Nook Media is at a cross-roads when it comes to their entire line of e-readers and tablets. The USA market, which is their core, is woefully saturated with offerings by Acer, Asus, Kindle, Samsung, LG, and a slew of others. How many quarterly loses of hardware sales do you need before you have that pivotal wake-up call.
If I was in charge of Nook Hardware, the overall emphasis would be international distribution and what do we have to do to make this a reality. Latin America, South Africa, China, Russia, Netherlands, Australia are all growing markets. Nook has to expand, there is no way the product line can continue if they dont.
The first thing I would do is make the tablets and e-readers as internationally friendly as possible. They are all running Android, it is quite easily to localize them to a foreign language. The Google Play store makes it relevant in almost every country and putting a priority on reading, is the name of the game.
The second, would require moving into  Germany, Spain, and France, first. These are the markets  that are most mature digitally and is a natural land crossing from the UK. I would hire someone with a decade of publishing experience to open a satellite office . Next, they would be able to say what stores would make sense to carry the devices.  I would select bookstores, because that is where the readers are, you don't want tech shops.  Next, the agent would hire a small team of publishing veterans to make deals with anyone who made a deal with Kobo or Amazon to get their digital content in the localized store. The store, would only be on the tablets and e-readers to start and later the website. This is the blueprint to expansion on a superficial level. This move for localized content would keep the Microsoft overlords happy, because they would be able to market more books on Windows 8.
Does anyone really wonder why Sony abandoned the USA with e-Readers and Why Kobo did too? Why did Pocketbook pull out of North America all together and most companies bypassed it? It is because its a lost cause. If you are USA-centric with your hardware, you are neglecting all of the markets that have not been the focus of other companies international strategies. Pure Google tablets are boring, everyone who has one, has one already. People want something more compelling, a device to read technical PDF documents, to read books, to read a newspaper. Nook is all of these things at heart.
Wrap  Up
This article is not meant to talk about, if Barnes and Noble should get out of the e-reader/tablet game.  For better or worse, they are basically committed to it for the long-haul. Making device recommendations is a fools errand, because technology changes so fast.
Nook has spent a copious amount of money on making devices, making bookstore, a self-publishing program, an app-store,  movie/tv services and building accessories.  There are too many things on the go, with little development happening on any one thing. Ditching the App Store, movies and television services would free up capital, talent and assets.
It is important to  make partnerships to get self-published books in all Barnes and Noble bookstores and give the book buyers recommended options for the stars of Nook Press. Put the authors on a bookstore tour and build momentum. Get in newspapers, blogs and websites. Draw attention to Nook Press, make indie authors believe this is the best Amazon alternative.
Many bookstore chains are fiercely anti-Amazon and are always looking for alternatives. This has been the key to Kobo's success, an upstart company who built a template on expansion and duplicated it many times. There is nothing holding Barnes and Noble back from doing this, other than just hard work and the will to persevere. I fear, the old management who has all left were just complacent. Living off past accomplishments, like a high-school football player dreaming of that big play they made, once. Nook is a basically a 30 something year old former football player, living off their past glories, and lost for a personal identity.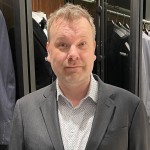 Michael Kozlowski has written about audiobooks and e-readers for the past twelve years. Newspapers and websites such as the CBC, CNET, Engadget, Huffington Post and the New York Times have picked up his articles. He Lives in Vancouver, British Columbia, Canada.