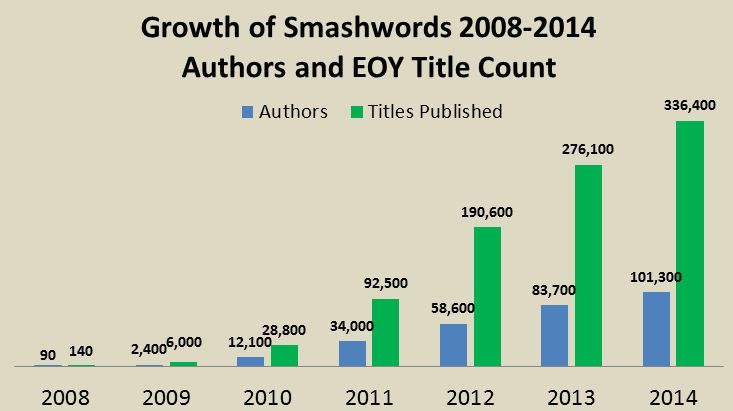 Smashwords is continuing to be a self-publishing juggernaut with 101,300 authors now using the service and who collectively published 336,400 titles, up 60,300 titles from 2013. New distribution channels were established in 2014, such as OverDrive, the world's largest ebook supplier serving over 20,000 public libraries, and Txtr, a European retailer. New partners Oyster and Scribd were brought fully online. In all of the hype on another year of success, Smashwords CEO Mark Coker continues to leverage the Amazon boogeyman to promote his company.
One of the ways that Smashwords is successful is via their massive distribution system. They will put your books in libraries, on e-Book lending sites and also Amazon, B&N, Apple and many others, as long as its formatted correctly. There is no curation team in place, and the Smashwords mantra is "all books deserved to be published."
In order to continuously grow and attract other authors to the Smashwords platform, Mark Coker actively discourages people from publishing with Amazon. Here are a number of notable quotes throughout 2014.
"Authors who fully distributed their titles with Smashwords were partially insulated from the dramatic sales drops many Amazon authors reported following the introduction of Kindle Unlimited. If you know indie authors who only upload to Amazon, invite them to diversify their distribution with Smashwords. "
"I've been speaking out against KDP Select exclusivity since the program first launched in December 2011. In my first post, I cautioned that KDP Select could trap indie authors like tenant farmers tilling Amazon soil. "
"Indies would do well to avoid Kindle Unlimited for one simple reason: it requires KDP Select exclusivity."
"The industry can cry until it's blue in the face about how Amazon is ruthless and heavy-handed, and how other retailers are kinder and gentler. The truth of the argument doesn't change the reality. Amazon does what it does because it can, because authors and publishers let them do it, and because it's in Amazon's nature to act this way. Lions eat wildebeest."
In all of these blog posts Mark makes, he constantly makes reference to his own company and how its better for authors. In one breath he lambastes Amazon and in the other portrays his company as being the savior to indie authors. There is never any mention on how Amazon controls over 70% of the e-Book market in North America, or how many titles Smashwords sells through them. The Smashwords blog is nothing short of a propaganda machine, used as a self-serving vehicle to promote the company and tear down the competition.

Michael Kozlowski is the Editor in Chief of Good e-Reader. He has been writing about audiobooks and e-readers for the past ten years. His articles have been picked up by major and local news sources and websites such as the CBC, CNET, Engadget, Huffington Post and the New York Times.