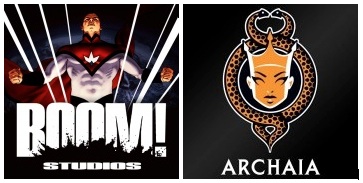 Two small-but-mighty comics publishers announced they are joining forces this week: BOOM! Studios and Archaia Entertainment will become one, with BOOM! being the surviving company and Archaia continuing as an imprint.
Founded in 2005, BOOM! Studios publishes an eclectic array of comics that includes horror, superheroes (Mark Waid's Irredeemable), action/adventure stories, and an all-ages line, kaBOOM!, that includes the Adventure Time, Regular Show, and Bravest Warriors series as well as Garfield, Peanuts, and other licensed content. Archaia has an equally varied line with perhaps more emphasis on creator-owned work; it is probably best known as the publisher of David Petersen's Mouse Guard and Jim Henson's A Tale of Sand. Although it publishes beautiful books, which have garnered a number of Eisner awards, Archaia had some tough times as well, as president and chief operating officer Jack Cummins told Comic Book Resources last year. The problems stemmed from their (print) distribution deal with distributor PGW, which didn't work out; as a result, they went for several months without shipping any books. Their digital distribution, on the other hand, was just fine.
"I can tell you unequivocally that Archaia's experience is that digital works, it helps, and it does not in any way cannibalize our print sales. Our first digital distribution was with Graphicly. That was a ground-breaking relationship, and we were exclusive with them for a year. We've since added comiXology. And I can tell you that with Graphicly, they're a partner of ours, and as they look to continue to evolve their business model, we'll continue to partner with them. We are in constant discussions with them on how to best utilize their new set of services. ComiXology has been a fantastic partner of ours. We really appreciate the attention we've gotten from David Steinberger and their company, and they've done a lights out job. We've seen our revenues in that market radically take off, and we couldn't be happier. Given the success we've had with comiXology and given the fact that we see Graphicly as a partner we want to continue to do business with, we are seeking over the next year to expand our digital offerings as much as possible. We're looking at ePub, we're looking at iVerse, and in what would be part of our deal with Diamond for distribution, we're going to be involved with them as they evolve their digital distribution options. And we're also looking to foreign markets to digital distribution as we're also looking to expand our relationship with comiXology."
BOOM! is also with comiXology and iVerse's Comics Plus. Neither publisher appears to be on any e-book platforms (Kindle, Nook, iBooks), however, although of course that could change. While BOOM! still produces a robust line of single-issue comics, Archaia is more focused on graphic novels.
A former book editor and newspaper reporter, Brigid Alverson started MangaBlog to keep track of her daughters¹ reading habits and now covers comics and graphic novels for Comic Book Resources , School Library Journal, Publishers Weekly Comics World, Robot 6, and MTV Geek. She also edits the Good Comics for Kids blog at School Library Journal. Brigid was a judge for the 2012 Eisner Awards. Send her an email to wordballoons@gmail.com