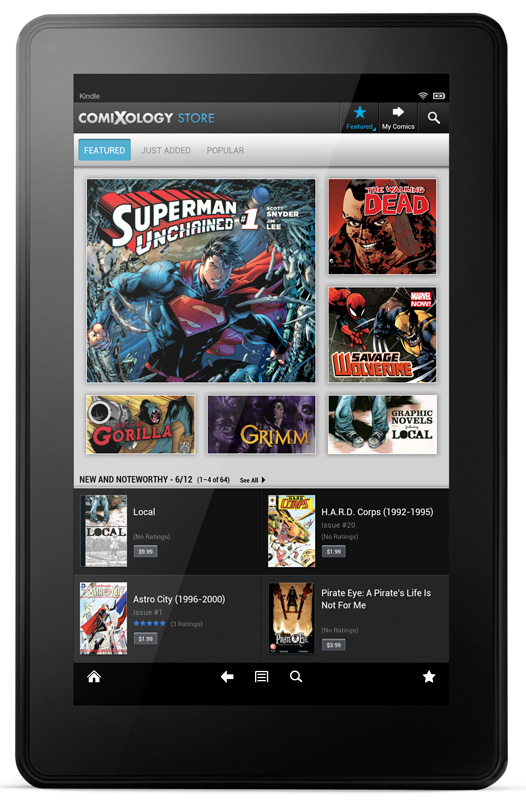 ComiXology continues to expand into the European market with the release of its Kindle Fire and Kindle Fire HD apps for European users.
This marks the first time that comiXology has been available via Kindle apps in France, Germany, Italy, Spain, and the UK. In addition, comiXology announced that DC's monthly single-issue comics will be available through the Kindle Fire apps in all those areas as well as the US. Previously, the Kindle app had only carried DC's graphic novels, although the web store and other apps carried the monthly comics. "Our vision is to bring comics to everyone, everywhere and this rollout by Amazon helps us make that vision one step closer to reality," said comiXology CEO David Steinberger. "We're also pleased as part of this debut to add the DC Entertainment catalog to our Kindle Fire app not only as part of the EU platform, but also in the US as well."
Amazon recently announced it would make the Kindle Fire available in 170 countries and the Amazon Appstore in almost 200. The Appstore allows users to buy apps directly via the web or an Android device.
Meanwhile, comiXology continues to beef up its European content with the addition of Virtual Comics, which has been publishing webcomics in three languages since 2009. The publisher launches with the English-language premiere of Air, a two-part adventure series about the second rising of the Tuareg, a nomadic people; the events depicted in the comic led directly to the current events in Mali. Beginning in September, Virtual will release all its comics on comiXology in English and French the same day as print; said publisher David Boller, "We're glad to have found a stable home for the digital publication of our growing catalog of titles. We believe in the global appeal of our content and Comixology is best suited to reach new readers all over the world."
ComiXology also announced yesterday that it will be a minor sponsor of the Eisner Awards and the Comic Book Legal Defense Fund party at Comic-Con International in San Diego next month.
A former book editor and newspaper reporter, Brigid Alverson started MangaBlog to keep track of her daughters¹ reading habits and now covers comics and graphic novels for Comic Book Resources , School Library Journal, Publishers Weekly Comics World, Robot 6, and MTV Geek. She also edits the Good Comics for Kids blog at School Library Journal. Brigid was a judge for the 2012 Eisner Awards. Send her an email to wordballoons@gmail.com