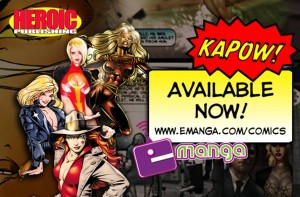 Digital Manga Publishing (DMP) is expanding its offerings on its digital manga site eManga. Here's the latest round of announcements.
American comics from Heroic Publishing: These are single-issue superhero comics, and the interesting thing about them is that they all feature female leads: Chrissie Claus, Flare, Black Enchantress. This may just be a coincidence, as Heroic does publish comics with guys as the lead as well, or it may be a deliberate choice for the eManga audience. They also publish digitally via their own site and DriveThruComics, where the prices seem to be lower, at least for now.
Genki Life Magazine: Genki Life is a free magazine aimed squarely at anime and manga fandom; the most recent issue includes articles on cosplay, dramas, and "Why I'd Only Date an Otaku," as well as anime schedules and listings of upcoming anime conventions and manga releases. It's useful for hard-core fans and the interviews and articles are well written and interesting to outsiders as well.
Vanguard Princess: Comics and gaming have been crossing over more and more, so it's not surprising that an innovative company like DMP would bring a game into the mix. Vanguard Princess is a 2D fighting game that is played on a Windows computer; it was first released as a freeware game in Japan in 2009, and this version was localized by the American publisher eigoMANGA.
DMP also sent out a cheeky press release inviting translators and localizers who were working for JManga to join the Digital Manga Guild, DMP's localization program. Translators, editors, and letterers in the Digital Manga Guild work on digital-only manga for a percentage of sales, with no up-front fee like other translators get.
A former book editor and newspaper reporter, Brigid Alverson started MangaBlog to keep track of her daughters¹ reading habits and now covers comics and graphic novels for Comic Book Resources , School Library Journal, Publishers Weekly Comics World, Robot 6, and MTV Geek. She also edits the Good Comics for Kids blog at School Library Journal. Brigid was a judge for the 2012 Eisner Awards. Send her an email to wordballoons@gmail.com