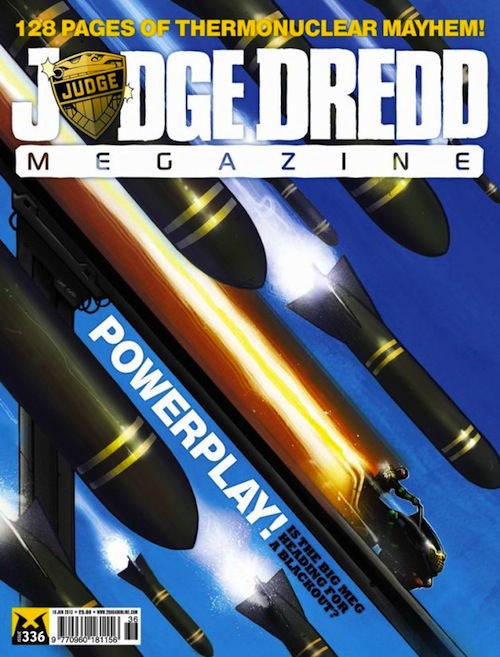 The British publisher 2000AD has upped their game by adding Judge Dredd Megazine to their iOS Newsstand app, along with a major revamp that makes their comics easier to find and sort.
When I first took a look at the app, last November, I found it to be "pretty basic"—really, just a grid of comics that you can buy, arranged in numerical order, and a subscription page. The new app is a bit more sophisticated, with a store page that sorts the comics by title and publication year. You still can't preview individual comics, but there are two good-sized freebies, a 69-page sampler issue and a 12-page prequel to the Judge Dredd movie. The update also brings in two features that have become fairly standard in digital comics apps: Bookmarking and panel zoom. (Since the app is available for the iPhone as well as iPad, the latter feature is really not optional.)
The biggest change, though, is the addition of Judge Dredd Megazine, a monthly magazine that is a thicker, richer version of 2000AD. The mix of stories usually includes some old and new Judge Dredd, creator interviews and other feature content, and a complete 64-page graphic novel drawn from the 2000AD archives.
I have been a fan of 2000AD since I jumped on with their Prog 1824, which featured four new stories. 2000AD is a great action comic that presents interesting characters in extreme situations without falling into the two greatest pitfalls of American superhero comics, sexism and overly complicated continuity and crossovers. The women in the comics I have read have all been sexy, but they are also smart, fully rounded characters who really move the story forward, and the stories themselves tend to be fairly short and self-contained. It's easy to start reading 2000AD, but it's not so easy to stop.
The app solves the biggest problem with these two comics, which has been distribution—the fan base has been limited for years by the fact that the print comics tend to show up irregularly in brick-and-mortar shops weeks after their UK publication date. The digital issues come out the same week as the UK versions, and at $2.99 for an issue of 2000AD (which is a weekly) and $7.99 for the much thicker Megazine, the prices are reasonable, although they can add up. The subscription shaves a bit off the cover price and also includes some back issues.

A former book editor and newspaper reporter, Brigid Alverson started MangaBlog to keep track of her daughters¹ reading habits and now covers comics and graphic novels for Comic Book Resources , School Library Journal, Publishers Weekly Comics World, Robot 6, and MTV Geek. She also edits the Good Comics for Kids blog at School Library Journal. Brigid was a judge for the 2012 Eisner Awards. Send her an email to wordballoons@gmail.com