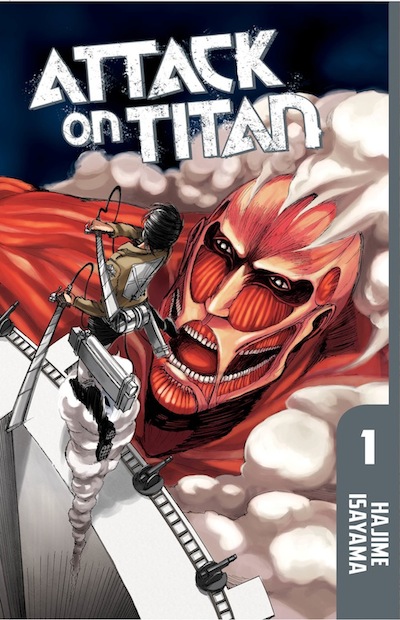 Attack on Titan has been a sleeper hit for the manga publisher Kodansha Comics, and at their panel at New York Comic Con, editor Ben Applegate announced that they had sold over 500,000 copies of the series, which is currently at seven volumes.
The series is set in a world in which giants roam the earth, eating people; to escape them, humans have retreated behind high walls. An intrepid group of teenage soldiers battle the Titans, with the help of vertical maneuvering gear that allows them to fly through the air and attack the Titans from above. The manga really took off in popularity after the anime began airing (you can see it on Crunchyroll), and last week, four of the seven volumes out so far made the New York Times manga best-seller list.
So it's not terribly surprising that at Kodansha announced the acquisition of a number of Attack on Titan spin-offs and tie-ins at their panel:
Attack on Titan Guidebook: Inside and Outside, a 400-page guide to the universe of Attack on Titan, with concept art, character profiles, information about the setting, even Titan papercrafts. This came out as two volumes in Japan, but Kodansha is publishing it as a single volume. (June 2014)
Titan Junior High, a comedy manga set in the world of Attack on Titan but featuring middle school hijinks. (March 2014)
Attack on Titan: No Regrets, a spinoff that ran in the shoujo (girls') magazine Aria, about the backstory of one of the more remarkable characters in Attack on Titan, the quietly competent, scrupulously clean Captain Levi. (August 2014)
Attack on Titan: Before the Fall, a prequel that explains how humans first figured out how to fight the Titans, set 70 years before the current story begins. (March 2014)
(Another publisher, Vertical, Inc., has licensed the light novels on which Attack on Titan: Before the Fall is based and will release them in 2014 as print and e-books.)
Kodansha had two other new licenses to announce:
The Seven Deadly Sins, the tale of a princess who must round up seven legendary warriors and bring them back to her kingdom in order to claim the throne. (March 2014)
UQ Holder, a new series by Ken Akamatsu that is set in the world of his earlier manga Negima! but with a new generation of characters. (March 2014)
All will be available in the Nook, Kindle, and iBookstore the same day as print. Kodansha's first move towards digital comics was a dedicated iOS app, but in July they announced they would stop updating it and would make their books available on those three e-book platforms instead. (I talked to director of publishing Dallas Middaugh about that in August.)
In addition, Kodansha is adding a number of other books to its e-book service: Shugo Chara, Shugo Chara-Chan, Sherlock Bones, Say 'I Love You,' My Little Monster, and Negima.
Kodansha also has two digital samplers available for Nook and Kindle.
In response to a question from the audience, Applegate said that Kodansha prices its books the same for print or digital and leaves it up to the retailer to discount them; the standard price for digital seems to be $7.99, which is currently the price in iBooks.

A former book editor and newspaper reporter, Brigid Alverson started MangaBlog to keep track of her daughters¹ reading habits and now covers comics and graphic novels for Comic Book Resources , School Library Journal, Publishers Weekly Comics World, Robot 6, and MTV Geek. She also edits the Good Comics for Kids blog at School Library Journal. Brigid was a judge for the 2012 Eisner Awards. Send her an email to wordballoons@gmail.com