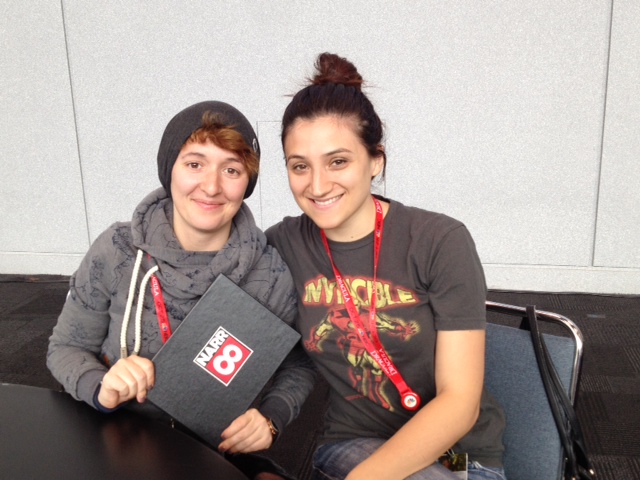 In the beginning, digital comics were just print comics scanned in and posted to digital devices, but as the medium has evolved, more and more creators are experimenting with adding features to native digital comics. NARR8 is an app that stretches the boundaries of comics, adding in motion, music, and gameplay elements. Sometimes the motion is as simple as a background of TV static, sometimes it's as complex as a scene where the camera angle shifts while the characters are moving. The comics and picture book I sampled all used the full screen as a single panel, but with each swipe or page turn something happened: Word balloons dropped in, someone came crashing through a door, a squirrel dove from a tree. Once the main action is completed, the figures have a tendency to continue to move slightly, as if they were breathing heavily or maybe undulating underwater. But if you don't linger on a page, the effect is fairly seamless.
NARR8 launched last November—I saw a preview of it at last year's New York Comic Con—and according to vice president of business development Darya Trushkina, they have already reached 1 million users. I spoke to Trushkina and NARR8 PR associate Rebecca Buttle at this year's New York Comic Con.
NARR8 launched as an iOS app, and now there are Android, Windows 8, Kindle Fire, and Facebook versions available. There are English, Russian, Spanish, and Korean versions, and it is available in 50 countries. And with NARR8's Story Builder tool, anyone on earth can create stories and upload them, Trushkina said (although NARR8 does screen the stories before putting them on the app).
"We have 20 series, and you as the user can look at two episodes of every series for free," explained Trushkina. Readers can purchase additional episodes with in-app credits. "You have to be active within the application to earn credits," Trushkina said. "You have to be posting on Facebook and Twitter, interacting with other users on the forum, checking out new series—and you also can buy them with real money. The best part is the gamification of it. We have a background in games, we do mobile and social games, and they are only freemium. We have collectibles within NARR8, so you can read an episode and collect a favorite character."
The comics and e-books on the app span a number of genres, including children's comics, mysteries, science fiction, and horror, but Trushkina said they are putting a special emphasis on educational content. Next year, children's content will take priority. "We are developing five series,: Trushkina said, "and we are also talking to the big guys, trying to get content based on their IPs [intellectual properties], so that is probably going to be a priority for the next couple of months. And sports content—it's in development." She described NARR8 as "for everybody, from 5 to 95."
Also to come in the next year are improvements to the app's rather confusing user interface. "The biggest improvement in terms of product is that we are going to structure it in a catalog more properly, so at login you see a young kids' section, a teachers' section," said Trushkina.
The most important question about motion comics is why they exist at all—is this something readers want? Trushkina has a simple answer: "It boosts our retention rate and boosts usage significantly," she said. "Our retention rate is 50%—that's users coming back to the app. It's not just logging in—how many times do you check Facebook? But you only check Facebook for 20 seconds. With NARR8, the average user session is 15 minutes, and it's not just I'm going to my favorite comics or series or reading other episodes; [the users] interact within the app. They go into forums not just to complain but to talk about the series. We do see a lot of traction on social media, and it is all organic growth. For some people, 1 million downloads in a year might seem a little low, but if you think about it, we didn't spend any money on marketing or user acquisition."
"These days, it is very important to keep user interest in content," Trushkina concluded. "That's what NARR8 does. When you add motion and interaction to a simple book or text, that makes it interesting. It's not just about storyline, it's about the special details that we add to it."

A former book editor and newspaper reporter, Brigid Alverson started MangaBlog to keep track of her daughters¹ reading habits and now covers comics and graphic novels for Comic Book Resources , School Library Journal, Publishers Weekly Comics World, Robot 6, and MTV Geek. She also edits the Good Comics for Kids blog at School Library Journal. Brigid was a judge for the 2012 Eisner Awards. Send her an email to wordballoons@gmail.com