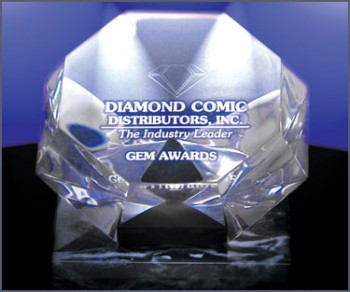 Image Comics, which has made a strong showing in recent years with such creator-owned titles as The Walking Dead and Saga, was named the Publisher of the Year in the Diamond Gem Awards, sponsored by Diamond Comics Distributors. BOOM! Studios took the Publisher of the Year award for publishers with a market share of less than 4%. The awards were chosen by a vote of comics retailers.
While Marvel and DC continue to focus on legacy properties that cater to a fairly narrow range of genre fans and are produced by artists who don't own the characters they work on, Image has gone in a different direction with an array of creator-owned comics that include superhero, science fiction, and other types of stories. Their other innovations include holding their own event, Image Expo, at which they announced a number of new titles this year, and selling DRM-free digital comics directly via their website.
While Image and BOOM! took the top honors, DC led the pack in terms of numbers, with six awards, including Top Dollar Publisher of the Year (for Superman Unchained #1), Backlist Publisher of the Year, and Reprint TP (trade paperback) or HC (hardcover) of the Year (Batman: Death of the Family, vol. 3). Dark Horse took five awards, including Licensed Comic of the Year (The Star Wars: Lucas Draft #1), Original Graphic Novel of the Year (Hellboy: Midnight Circle), and Manga of the Year (Lone Wolf and Cub omnibus, vol. 1). Marvel was named the Top Dollar Publisher of the Year and their Superior Spider-Man #1 NOW! was named the Comic of the Year in the over $3 category; Archie's zombie comic Afterlife With Archie was the Comic of the Year in the under $3 category.

A former book editor and newspaper reporter, Brigid Alverson started MangaBlog to keep track of her daughters¹ reading habits and now covers comics and graphic novels for Comic Book Resources , School Library Journal, Publishers Weekly Comics World, Robot 6, and MTV Geek. She also edits the Good Comics for Kids blog at School Library Journal. Brigid was a judge for the 2012 Eisner Awards. Send her an email to wordballoons@gmail.com