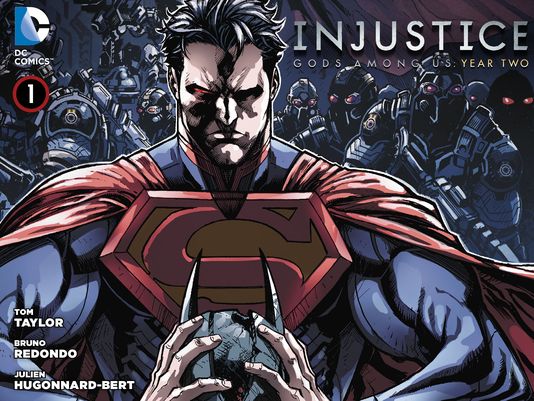 Injustice: Gods Among Us is back!
The DC digital-first comic, based on the video game of the same name, did phenomenally well in its first season. It was the top seller on the digital comics charts every week, and it has sold over 1.9 million copies in print and digital—mostly digital—according to USA Today. The first season of the comic wound up last September with issue #36, but it's back today with "Year Two."
The story is darker than the standard Superman continuity: Rather than being a hero, in the world of Injustice he is the supreme ruler of a dystopian world. The Justice League, led by Batman, are insurgents fighting against him, and the familiar characters are divided in their loyalties. The second series expands the story even further, says writer Tom Taylor:
"This is no longer just about Earth," he says. "Superman's actions are not just raising concerns for the leaders of our world. Powerful beings across the stars are turning their gaze towards Earth."

As the scope is increasing, though, there will plenty of smaller, character-focused tales as well, Taylor adds. "So don't worry, you can still expect more fractured relationships, loss and pain for the characters you love."
The "Year Two" arc debuted today on comiXology, Kindle, Nook, and iBooks, and a motion-comics version in the DC2 format was released as well on Madefire.
A former book editor and newspaper reporter, Brigid Alverson started MangaBlog to keep track of her daughters¹ reading habits and now covers comics and graphic novels for Comic Book Resources , School Library Journal, Publishers Weekly Comics World, Robot 6, and MTV Geek. She also edits the Good Comics for Kids blog at School Library Journal. Brigid was a judge for the 2012 Eisner Awards. Send her an email to wordballoons@gmail.com