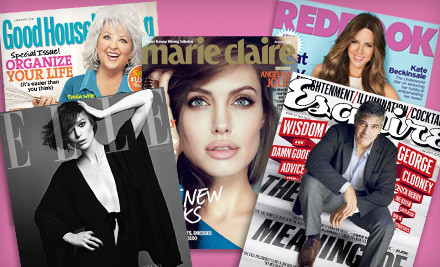 Hearst Magazines, the company behind Elle, Cosmopolitan, and Good House Keeping is planning on launching a new publication in 2016. President David Carey  made the bombshell announcement in his end of the year memo to employees.
"We hope to enlarge our print portfolio, through new joint ventures, spinoffs from existing titles and strategic acquisitions," Carey wrote in the note.
Hearst Magazines has had success rolling out new print titles with launch partners, such as Food Network Magazine and HGTV Magazine, which are joint ventures with Scripps Networks Interactive.  The company also released Dr. Oz THE GOOD LIFE , piloted TrendingNY, a free-to-the-reader fashion, beauty and pop-culture magazine for millennial women, and reintroduced Town & Country Travel.
"Our goal is to launch another new title in early 2016, and we're in conversation now with possible joint venture partners," Carey added.
Hearst Magazines has had a tremendous year with their digital endeavors. They are in year two of their ambitious reset of their digital operations, with impressive results. One of the ways they are doing this is bringing all of their online properties managed by a custom CMS.
The publisher has also seen accelerated demand for their flagship publications, such as Cosmopolitan and Elle on the Apple Newsstand, Google Play Magazines and their international editions on Pressreader. Hearst has also seen modest success with their part ownership of Next Issue, which is seeing an influx of venture capital being poured into it, so facilitate further growth.
Hearst has also invested heavily in their editorial teams and the new centralized U.S. news operation, has driven impressive audience growth. In the U.S., monthly unique visitors have doubled, to 112 million, and social media followers have increased 90%, to 63 million.
I think part of the reason why the social media numbers are up, because of the robust sharing on sites like Facebook. I have noticed in the last few months a number of friends sharing links to articles of a sexual nature.  Most of them have heavily click baited titles, which leads me to believe Hearst is paying attention to what Buzzfeed is doing.
"Looking back, 2014 was a real roller coaster of a year for the media business," Mr. Carey also noted. "Here at Hearst Magazines, we experienced a mix of both growth and turbulence."