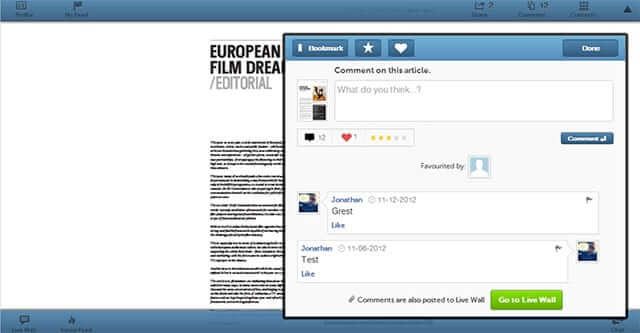 Netizeen is seeking to turn digital magazine reading into a strong social media engagement. The company has taken the wrappers off of its new tablet optimized, HTML5 based app for the Apple iPad today. It allows publishers to submit content and users to talk about and share riveting stories and ideas.
Online based apps are less bulky and cumbersome than iOS dedicated magazines you may download from the Apple iBookstore. With Netizeen, users are able to connect via Safari for the Apple iPad and also Chrome for the PC. People may interact around content they love, creating a shared magazine reading experience.
This engagement goes beyond simply adding a comment or posting to a social channel. It offers readers the potential for real-time conversation with one another. With Netizeen's topic-based social structure, readers now have a way to discover, connect, and chat in real time. Netizeen's social features reflect the growing trend of forming and facilitating communities around content and similar interests.
The essence of this platform is in allowing magazine publishers to setup their own channels to promote social engagement. Within a publication, users can earn reputation points and vote up each other's comments. This is a combination of our own Disqus platform we use for our commenting system and also the format of the Youtube commenting system. Users can chat with each other and even exchange instant messages, all in real time. If you like to hoard your friends, you can build up your own mini little empire and instead of checking into a location, you can check into Wired or Fastcompany. This may help like-minded users connect up with each other, who wouldn't otherwise have the opportunity to meet.
Most of the time, if you read magazines or newspapers via Zinio or Pressreader, you are given a fairly static interface. The digital editions seek to mirror the printed versions in form and function. Netizeen allows people to dive right into the most commented articles or highest rated. You can weed out the fluff pieces and dive right into the stories that the strong majority of users have flagged as important. While reading an article, you can check out the "live wall," which will display comments and user ratings in real time. This might change the way magazines are presented and laid out in the future because of these valuable metrics.
It is metrics and viable social media numbers that can help a magazine publisher check out who is reading their digital editions and how many people are talking about it. This is something that is difficult to really gauge when you are reading articles in Flipboard or Zite.
"What we've done with Netizeen is offer publishers a way to tap their most valuable asset, their readers," said Jonathan Harris, CEO and co-founder of Netizeen. "Magazines are the next big social space and Netizeen unlocks the social power of a magazine with minimal effort and investment. Publishers that are able to increase engagement through interactive and social functionality will survive and thrive, those that don't will struggle in an increasingly social and connected digital landscape."
"Magazine publishers have worked tirelessly for years to build strong, compelling brands. What we've done with Netizeen is offer publishers a way to salvage and leverage these brands – and their audiences – while getting them on to a tablet and thus advancing their digital strategy," said Harris. "Netizeen is the first publishing platform to connect these established networks of readers in a truly unique way, and requiring very little effort on behalf of the publisher. We think we've developed something really special and can't wait to see the benefits Netizeen offers publishers – and consumers – around the world."
Right now this program is still in Beta and it should be open to the public soon. The entire system is lacking many features, such as zooming in on articles. The ecosystem is totally dependent on publishers buying into the platform. There are only a few magazines in the system, with no options yet to even buy anything.  You can look at this project as a tech demonstration that shows you what the future of magazine publishing with a strong social media engagement via HTMl5 can actually do. You can signup today at http://www.netizeenapp.com