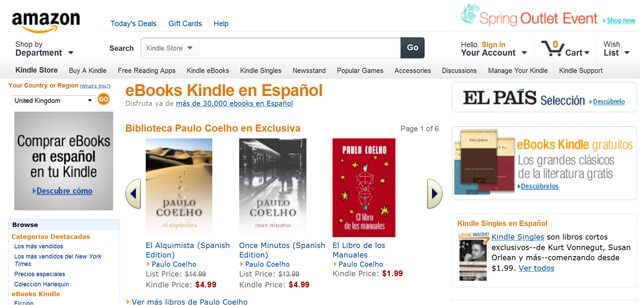 Amazon today unveiled a new Spanish eBook store called "eBooks Kindle en Español." This new version of the website is geared towards U.S. Spanish-speaking customers. There are new extensive help pages, and phone and email customer support in Spanish. U.S. customers can now shop for Spanish-language books in the new store on Amazon.com, or set any Kindle device to access a customized shopping experience designed for books in Spanish.
Not only is the store experience now tailored towards the second most popular language in the US, but it offers close to 30,000 ebooks in Spanish. You can easily shop for best sellers by prominant Spanish authors such as Paulo Coelho and Gabriel García Márquez. The store also includes books from Nobel Prize winners Gabriel García Márquez, Camilo Jose Cela, and Mario Vargas Llosa; popular titles from best-selling authors such as Julia Navarro, Carlos Ruiz Zafón, and Isabel Allende; over a thousand free classics in Spanish; and exclusive Kindle Singles in Spanish.
The Kindle 4th generation also has the ability in the US to give you a fully localized experience in Spanish and many of the apps on iOS and Android can also be customized.
"We're excited to introduce Spanish language storefronts on all Kindles, as well as a dedicated store for our Spanish-speaking customers in the U.S.," said Russ Grandinetti, Vice President, Kindle Content. "We expect our Spanish-speaking customers to enjoy both the newly-added books in Spanish, and the improved shopping and reading experience—including dedicated customer service in Spanish—that we've added to eBooks Kindle en Español. And we're looking forward to continued expansion of our store for Spanish language readers around the world."