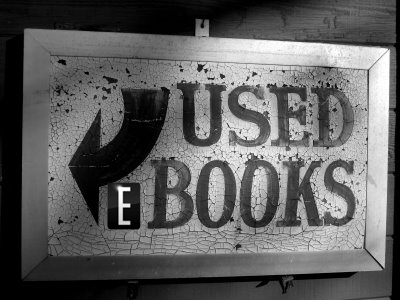 When you purchase a digital book from Amazon or Apple, you don't technically own it. You are merely licensing the electronic version for an indeterminate amount of time and there have been many cases where users' entire libraries get deleted. The question of ebook ownership has been a hot button issue, because when you buy the physical book, it's yours. You can sell it to a used bookstore or loan it out to friends. Last month Amazon filed a patent that had something to do with establishing a new digital system that would allow the reselling of content you purchased from them. In the last 48 hours, Apple has also filed a patent to sell used digital content, adding credence to the rumor that both companies will be unveiling a new way to buy and sell used ebooks.
One of the biggest concerns the games, music, and publishing industries have with digital content is the transfer of ownership without the original owner still having access to their copy. Amazon and Apple both have elaborate systems that deliver content to your specific used account. When you buy a Kindle book, it is transferred to your main account and you're able to read it on any e-reader, tablet, or app on a smartphone. The same thing occurs when you buy a book from iBooks; it is easily tracked that you bought the book. These new patents could allow for the removal of paid books from your account when the ownership is transferred.
The removal of content from your account is something Amazon and Barnes and Noble have developed with their lending ebook programs. Kindle Lending allows publishers and authors opt into a program that allows book buyers to loan a book out to a friend, over the period of two weeks and only once in the lifetime of the book. While the book is loaned out the original owner cannot read the book, and after two weeks it is automatically returned to the owner. When you borrow books from Overdrive on the Kindle, the books are also temporarily available for you to read and then returned when you are done. You can say that Amazon has extensive experience with removing and adding content to customers' accounts. It would make sense the company is laying down the groundwork for a used market for e-textbooks and ebooks.
The Apple and Amazon patents for used digital content could be the makings of a huge shift in the marketplace. Both companies sell books directly to the users and have full control over the master account. Not to mention that both of these companies are juggernauts and Amazon is thought to control over 60% of the global ebook market. I could see both of these behemoths take a cut out of each used book sold, to double dip in the profits. They would remove the initial cut from the publisher from selling the book, and then get another fee from reselling it to another user.

Michael Kozlowski is the Editor in Chief of Good e-Reader. He has been writing about audiobooks and e-readers for the past ten years. His articles have been picked up by major and local news sources and websites such as the CBC, CNET, Engadget, Huffington Post and the New York Times.