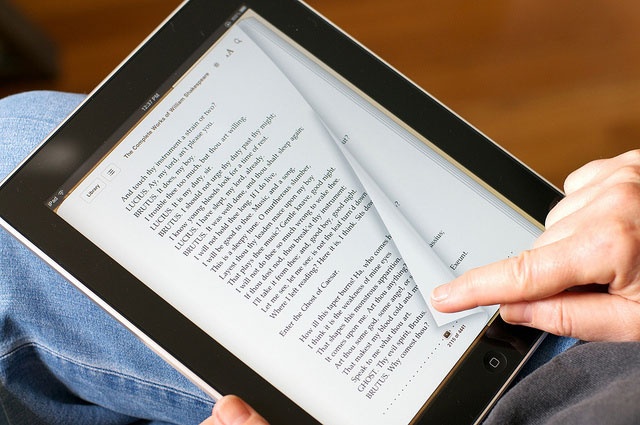 If you are looking for gift to by someone for the holiday season or want to catch up on some reading, Apple has you covered. The iBooksstore has just announced the top free, paid and audiobook titles of 2014.
When it comes to purchasing eBooks on the iPhone or iPad, Apple is one of the only retailers that actually sells them. A few years ago Amazon, Barnes and Noble and Kobo all pulled the ability to sell books through their apps, because they did not want to pay Apple a percentage of each book sold. This has relegrated these apps to basically be gloriified e-reading apps for books purchased on other devices or on their websites.
With the advent of iOS 8, the Apple bookstore is now preloaded on any new Apple device that is purchased or on older devices that have been automatically upgraded.
Fiction
The Fault in Our Stars, John Green (Children & Teens)
Gone Girl, Gillian Flynn (Mysteries & Thrillers)
Insurgent, Veronica Roth (Children & Teens)
Allegiant, Veronica Roth (Children & Teens)
Divergent, Veronica Roth (Children & Teens)
he Goldfinch, Donna Tartt (Fiction & Literature)
The Target, David Baldacci (Mysteries & Thrillers)
The Invention of Wings, Sue Monk Kidd (Fiction & Literature)
The Husband's Secret, Liane Moriarty (Fiction & Literature)
Fifty Shades of Grey, E L James (Romance)
The A Song of Ice and Fire Series, George R. R. Martin (Sci-Fi & Fantasy)
If I Stay, Gayle Forman (Children & Teens)
Personal, Lee Child (Mysteries & Thrillers)
Sycamore Row, John Grisham (Mysteries & Thrillers)
Fifty Shades Darker, E L James (Romance)
Unlucky 13, Maxine Paetro,James Patterson (Mysteries & Thrillers)
The Silkworm, Robert Galbraith (Mysteries & Thrillers)
The Maze Runner, James Dashner (Children & Teens)
The Heist, Daniel Silva (Mysteries & Thrillers)
Fifty Shades Freed, E L James (Romance)
Big Little Lies, Liane Moriarty (Fiction & Literature)
Missing You, Harlan Coben (Fiction & Literature)
Act of War, Brad Thor (Fiction & Literature)
Field of Prey, John Sandford (Mysteries & Thrillers)
Top Secret Twenty-One, Janet Evanovich (Mysteries & Thrillers)
Nonfiction
Flash Boys: A Wall Street Revolt, Michael Lewis (Business & Personal Finance)
Unbroken, Laura Hillenbrand (Biographies & Memoirs)
Lone Survivor, Patrick Robinson,Marcus Luttrell (Biographies & Memoirs)
Heaven is for Real, Todd Burpo,Lynn Vincent (Religion & Spirituality)
Duty, Robert M. Gates (Biographies & Memoirs)
Killing Patton, Martin Dugard,Bill O'Reilly (Biographies & Memoirs)
Killing Jesus, Martin Dugard,Bill O'Reilly (History)
Uganda Be Kidding Me, Chelsea Handler (Humor)
David and Goliath, Malcolm Gladwell (Health, Mind & Body)
The Boys in the Boat, Daniel James Brown (Sports & Outdoors)
The Five Love Languages, Gary D. Chapman (Nonfiction)
Not That Kind of Girl, Lena Dunham (Biographies & Memoirs)
Think Like a Freak, Steven D. Levitt,Stephen J. Dubner (Business & Personal Finance)
Hard Choices, Hillary Rodham Clinton (Biographies & Memoirs)
Orange Is the New Black, Piper Kerman (Biographies & Memoirs)
Wild, Cheryl Strayed (Biographies & Memoirs)
The Body Book, Cameron Diaz (Health, Mind & Body)
Super Shred: The Big Results Diet, Ian K. Smith, M.D. (Health, Mind & Body)
Finding Me, Michelle Knight,Michelle Burford (Biographies & Memoirs)
The Wolf of Wall Street, Jordan Belfort (Biographies & Memoirs)
The Blood Sugar Solution 10-Day Detox Diet, Mark Hyman, M.D. (Health, Mind & Body)
10% Happier, Dan Harris (Health, Mind & Body)
The Monuments Men, Robert M. Edsel,Bret Witter (History)
Lean In, Sheryl Sandberg (Biographies & Memoirs)
Blood Feud, Edward Klein (Politics & Current Events)
Free Books
Private, Maxine Paetro,James Patterson (Mysteries & Thrillers)
Pretty Little Liars, Sara Shepard (Children & Teens)
Justice League: Origin, Jim Lee,Geoff Johns (Comics & Graphic Novels)
Lost in Shangri-La, Mitchell Zuckoff (History)
Twenty-Eight and a Half Wishes, Denise Grover Swank (Mysteries & Thrillers)
The Swift Programming Language, Apple Inc. (Computers & Internet)
Be My Love, Lucy Kevin (Romance)
100 Quotations to Make You Think!, Wolfgang Riebe (Health, Mind & Body)
Best Jokes 2014, Various Authors (Humor)
iPhone User Guide For iOS 8.1, Apple Inc. (Computers & Internet)
Spirit Animals Book 1: Wild Born, Brandon Mull (Children & Teens)
The Girl in the Converse Shoes, Yaritza Garcia (Children & Teens)
Silence, Natasha Preston (Romance)
The Way of Kings, Brandon Sanderson (Sci-Fi & Fantasy)
The Art of War, Sun Tzu (History)
UnEnchanted, Chanda Hahn (Children & Teens)
How To Lose 10 Pounds In A Week: The Ultimate 7 Day Weight Loss Kick Start, Jenny Allan (Health, Mind & Body)
Guinness World Records 2015 Bonus Chapter, Guinness World Records (Reference)
Grimm's Fairy Tales, Wilhelm Grimm (Fiction & Literature)
The Animal Book (Multi-Touch Edition), Steve Jenkins (Children & Teens)
How the García Girls Lost Their Accents, Julia Alvarez (Fiction & Literature)
Pride and Prejudice, Jane Austen (Fiction & Literature)
The Time Machine, H.G. Wells (Fiction & Literature)
The Adventures of Sherlock Holmes, Arthur Conan Doyle (Mysteries & Thrillers)
The Game, Terry Schott (Sci-Fi & Fantasy)
Audiobooks
Divergent (Unabridged), Veronica Roth (Kids & Young Adults)
Gone Girl: A Novel (Unabridged), Gillian Flynn (Mystery)
Insurgent: Divergent, Book 2 (Unabridged), Veronica Roth (Kids & Young Adults)
The Fault in Our Stars (Unabridged), John Green (Kids & Young Adults)
Allegiant: Divergent Trilogy, Book 3 (Unabridged), Veronica Roth (Kids & Young Adults)
Fifty Shades of Grey: Book One of the Fifty Shades Trilogy (Unabridged), E L James (Romance)
Unbroken: A World War II Story of Survival, Resilience, and Redemption (Unabridged), Laura Hillenbrand (History)
A Game of Thrones: A Song of Ice and Fire, Book 1 (Unabridged), George R. R. Martin (Sci Fi & Fantasy)
Mockingjay: The Final Book of the Hunger Games (Unabridged), Suzanne Collins (Kids & Young Adults)
Bossypants (Unabridged), Tina Fey (Comedy)
The Goldfinch (Unabridged), Donna Tartt (Fiction)
Lone Survivor: The Eyewitness Account of Operation Redwing and the Lost Heroes of SEAL Team 10 (Unabridged), Marcus Luttrell, Patrick Robinson (History)
The Maze Runner: Maze Runner Series #1 (Unabridged), James Dashner (Kids & Young Adults)
How to Win Friends & Influence People (Unabridged), Dale Carnegie (Business)
The Giver (Unabridged), Lois Lowry (Kids & Young Adults)
The Target (Unabridged), David Baldacci (Mystery)
David and Goliath: Underdogs, Misfits, And the Art of Battling Giants (Unabridged), Malcolm Gladwell (Science)
Outlander (Outlander Series #1) (Unabridged), Diana Gabaldon (Sci Fi & Fantasy)
Outliers: the Story of Success (Unabridged), Malcolm Gladwell (Nonfiction)
The Hobbit (Unabridged), J. R. R. Tolkien (Sci Fi & Fantasy)
Flash Boys: A Wall Street Revolt (Unabridged), Michael Lewis (Nonfiction)
The Power of Now (Unabridged), Eckhart Tolle (Religion & Spirituality)
The Invention of Wings: A Novel (Unabridged), Sue Monk Kidd (Fiction)
Think Like a Freak: The Authors of Freakonomics Offer to Retrain Your Brain (Unabridged), Steven D. Levitt, Stephen J. Dubner (Nonfiction)
Fifty Shades Darker: Book Two of the Fifty Shades Trilogy (Unabridged), E L James (Romance)