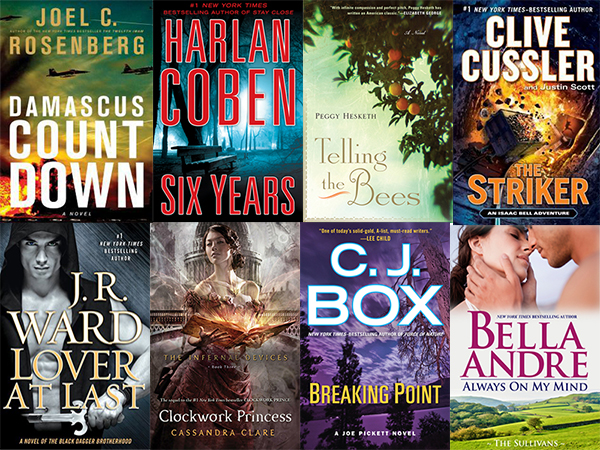 The Good e-Reader Staff every month gives our recommendations of the most essential reads for your tablet or dedicated e-reader. March is an exciting month with lots of new titles being released.
Clockwork Princess by by Cassandra Clare
Danger intensifies for the Shadowhunters as the New York Times bestselling Infernal Devices trilogy comes to a close. If the only way to save the world was to destroy what you loved most, would you do it? The clock is ticking. Everyone must choose. Passion. Power. Secrets. Enchantment. Danger closes in around the Shadowhunters in the final installment of the bestselling Infernal Devices trilogy.

Lover At Last by J.R. Ward
Qhuinn, son of no one, is used to being on his own. Disavowed from his bloodline, shunned by the aristocracy, he has finally found an identity as one of the most brutal fighters in the war against the Lessening Society. But his life is not complete. Even as the prospect of having a family of his own seems to be within reach, he is empty on the inside, his heart given to another…. Blay, after years of unrequited love, has moved on from his feelings for Qhuinn. And it's about time: The male has found his perfect match in a Chosen female, and they are going to have a young—just as Qhuinn has always wanted for himself. It's hard to see the new couple together, but building your life around a pipe dream is just a heartbreak waiting to happen. As he's learned firsthand.
Damascus Countdown by Joel C. Rosenberg
Israel successfully launches a first strike on Iran, taking out all of their nuclear sites and six of their nuclear warheads. American president William Jackson threatens to support a U.N. Security Council resolution condemning the Jewish State for unprovoked and unwarranted acts of aggression. And the Twelfth Imam prepares to order a genocidal retaliation. Meanwhile, CIA operative David Shirazi has infiltrated the Iranian regime and intercepted top secret intelligence indicating that two Iranian nuclear warheads survived the attack and have been moved to a secure and undisclosed location. In danger not only from the ongoing war between Israel and Iran but also from the increasingly hostile governments in multiple countries, Shirazi and his team are in a race against time to find the remaining nuclear warheads before the most cataclysmic event in the history of the Middle East comes to pass.
Breaking Point (A Joe Pickett Novel) by C. J. Box
Game Warden Joe Pickett had no idea that Lyle Pendergast was about to disappear. When they spoke the other day, Lyle said he was heading into the mountains to hunt, but instead he was running. Two EPA employees had just been murdered, and all signs pointed to him as the killer.
Six Years by by Harlan Coben
Six years have passed since Jake Sanders watched Natalie, the love of his life, marry another man. Six years of hiding a broken heart by throwing himself into his career as a college professor. Six years of keeping his promise to leave Natalie alone, and six years of tortured dreams of her life with her new husband, Todd.
But six years haven't come close to extinguishing his feelings, and when Jake comes across Todd's obituary, he can't keep himself away from the funeral. There he gets the glimpse of Todd's wife he's hoping for . . . but she is not Natalie. Whoever the mourning widow is, she's been married to Todd for more than a decade, and with that fact everything Jake thought he knew about the best time of his life—a time he has never gotten over—is turned completely inside out.
The Chance: A Novel by Karen Kingsbury
From #1 New York Times bestselling author Karen Kingsbury comes a heartwarming story about childhood friends, broken lives, and a long ago promise that just might offer the hope of love for today.Dubbed the "Queen of Christian Fiction" by Time magazine, #1 New York Times and USA TODAY bestselling author Karen Kingsbury is arguably America's favorite inspirational novelist with a dozen bestsellers to her credit. In The Chance, she delves deeply into a theme that resonates with us all: It's never too late for those willing to take a chance.
As Jake searches for the truth, his picture-perfect memories of Natalie begin to unravel. Mutual friends of the couple either can't be found or don't remember Jake. No one has seen Natalie in years. Jake's search for the woman who broke his heart—and who lied to him—soon puts his very life at risk as it dawns on him that the man he has become may be based on carefully constructed fiction.
Telling the Bees by Peggy Hesketh
Telling the Bees by Peggy Hesketh is a debut novel that seems as if it might appeal to book clubs. It is the story of of an eighty-something year old beekeeper, Albert, who has spent his life as a bachelor, but has a deep and complicated relationship with a friend, Claire. When Claire is killed in a burglary, Albert must work through his memories and their past.
The Striker by Clive Cussler, Justin Scott
It is 1902, and a bright, inexperienced young man named Isaac Bell, only two years out of his apprenticeship at the Van Dorn Detective Agency, has an urgent message for his boss. Hired to hunt for radical unionist saboteurs in the coal mines, he is witness to a terrible accident that makes him think that something else is going on, that provocateurs are at work and bigger stakes are in play.
Little does he know just how big they are. Given exactly one week to prove his case, Bell quickly finds himself pitted against two of the most ruthless opponents he has ever known, men of staggering ambition and cold-bloodedness . . . who are not about to let some wet-behind-the-ears detective stand in their way.
Always on My Mind by Bella Andre
Lori "Naughty" Sullivan finally falls in love in ALWAYS ON MY MIND, the new book in Bella Andre's New York Times and USA Today bestselling series about the Sullivan family.
After a tragic loss three years ago, Grayson Tyler left his life in New York City behind and started over in the rolling hills of the California coast. He's convinced himself that all he'll ever need again is the blue sky, a thousand acres of pasture, and the crashing waves of the ocean. Until one day, Lori Sullivan barges into his life and promptly blows his emotionless and solitary world to shreds, driving him crazy as only a woman nicknamed "Naughty" can. But will Lori be able to convince him that it's safe to love her…and that forever isn't actually out of reach?

Michael Kozlowski is the Editor in Chief of Good e-Reader. He has been writing about audiobooks and e-readers for the past ten years. His articles have been picked up by major and local news sources and websites such as the CBC, CNET, Engadget, Huffington Post and the New York Times.