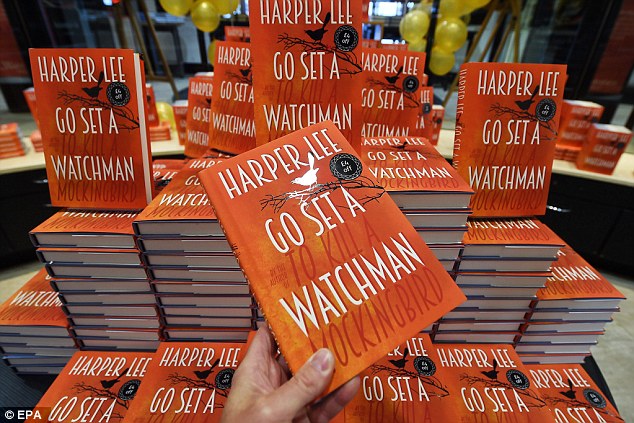 The first printing run of Go Set a Watchman by Harper Lee has missing text on the last few pages from the initial printing run. HarperCollins who published the book has blamed it on a printing error. Customers who ordered it online from companies like Amazon are promised a new copy with the corrected text will be mailed out soon.
How do you know if you have a physical copy that has the printing defect? It occurs in the middle of an argument between Scout, who is now mainly referred to by real name Jean Louise, and her father Atticus Finch about his views on a changing society.
Just before the passage cuts off Jean Louise says: 'You're the only person I think I've ever fully trusted and now I'm done for.'
This printing situation obviously pissed a lot of people off and it highlights why purchasing the digital edition sometimes bypasses this type of problem, partly due to automatic updates.
Likely one of the most underrated benefits of buying the e-book edition is that the digital title can be updated on the fly by the author or publisher. Anyone who had previously purchased it will have the new version automatically delivered to their e-reader. Surprisingly Amazon and Apple are the only two companies that actually has this type of content delivery system. Barnes and Noble and Kobo both don't support it, even though self-published authors have been bugging them about it for years.
If you have previously purchased an e-book title and there is a few version available, normally it is automatically downloaded to your Kindle e-reader, Fire Tablet or Kindle e-reading app. If you are not receiving the updates, you need to do the following;
1. Turn on the Annotations Backup* for your Kindle device or Kindle reading app to sync your notes, highlights, bookmarks, and furthest page read
2. Go to the Manage Your Content and Devices page
3. Select "Automatic Book Update" under the Settings tab
4. Select "On" from the dropdown menu
One of the big advantages of using Apple products, such as the iPad is to purchase digital textbooks. These get updated for any number of reasons. Thankfully, the iBooks app supports book and textbook updates. That means if a book you purchased is republished with new or additional content, iBooks lets you know. You can download the updated version free, and it automatically replaces the older copy in your library."
I really think that a number of people are switching to the e-book edition so an eagerly anticipated book is not subject to simple printing errors. Could you imagine if a new Harry Potter book came out and it was missing the last chapter?

Michael Kozlowski has been writing about audiobooks and e-readers for the past twelve years. His articles have been picked up by major and local news sources and websites such as the CBC, CNET, Engadget, Huffington Post and the New York Times. He Lives in Vancouver, British Columbia, Canada.