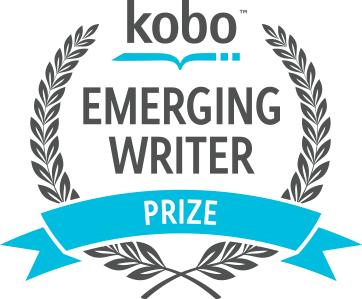 Kobo has just unveiled a new literary prize to celebrate the digital works by Canadian authors. The annual award is created for debut authors in three categories: Literary Fiction, Genre Fiction, Mystery and Non-Fiction. Each winning author will be awarded a $10,000 CAD cash prize as well as promotional, marketing, and communications support; winners will be announced in June.
The reason for focusing on debut authors? "In the world of digital sales, 'new' is a hard road to travel," said Michael Tamblyn, President and Chief Content Officer, Kobo. "In the online world, sales history, bestseller ranking and click-through rates equal visibility and discoverability, and breaking through with a first book can be the most difficult step. This award was created to support debut Canadian authors by helping kick-start their careers not only with a monetary prize, but also through marketing and sales support."
Starting today and until March 31, debut books published in 2014 by Canadian residents can be submitted in one of three categories: Non-Fiction, Literary Fiction, and Genre Fiction. Submissions can be made by publishers or directly by authors. A winning book from each category will be chosen through a multi-pronged judging process led by top Canadian authors – Charlotte Gray for Non-Fiction; Miriam Toews for Literary Fiction; and Ian Hamilton for Genre Fiction (Mystery), advisors who can help shape new writers' careers by imparting knowledge gained through their varied experiences within the industry.
Winners will also have access to key Kobo team members as part of the Meet the Experts element of the award program. This initiative will focus on providing advice and guidance on best practices for success in the world of publishing.
"We wanted to try something a bit different in a literary award. Our idea was to create something that would help build a career and not just be a cheque and a sticker on the cover, hence the combination of prize and promotional support. We also wanted to create a linkage between new and established, allowing a respected and beloved author a chance to bring a debut writer to the reading public. And in doing so, it gives us the opportunity to celebrate both the new author and the established one together, hopefully finding new audiences for both," said Tamblyn. "And finally, we wanted to make sure that genre fiction, literary fiction and non-fiction all got equal treatment. Each category has its own audience of passionate Canadian readers looking for something new."
"It has never been more important to promote the role that the written word plays in our daily lives, and it has never been more important to celebrate and support Canadian writers and writing. While we sell books all over the world, we love that we can shine a light on the amazing talent right here in Canada."
What are the Details?
Eligibility: The award is eligible to Canadian residents who have published debut books during the 2014 calendar year in the categories of Literary Fiction, Genre Fiction (Mystery this year; a different genre will be highlighted each year), or Non-Fiction. All submitted books must be available at Kobo.com.
Nomination process: Publishers and authors (traditionally published and self-published) can submit debut books published in 2014 at www.kobo.com/emergingwriter.
Selection: The author judges will select winners from a shortlist created by Kobo booksellers based on a combination of literary merit and reader engagement – completion rates, reviews, and ratings will factor into the final decision. Find out more about the official rules HERE.
Who are the Judges?
Charlotte Gray – Author Judge – Kobo Emerging Writer Prize – Non-Fiction
Charlotte Gray is author of nine acclaimed books of literary non-fiction. Born in Sheffield, England, she came to Canada in 1979 and worked as a political commentator, book reviewer and magazine columnist before she turned to biography and popular history.
Charlotte's most recent book is The Massey Murder: A Maid, Her Master and The Trial that Shocked a Country. It won the Toronto Book Award and the Toronto Heritage Book Award, and was long-listed for the B.C. Non-fiction Award, and shortlisted for the Charles Taylor Award, the Ottawa Award for Non-Fiction and the Evergreen Award. An adaptation of her 2010 bestseller Gold Diggers, Striking It Rich in the Klondike was broadcast as a television miniseries on the US Discovery Channel, under the title Klondike. Her previous seven books, which include Reluctant Genius, Sisters in the Wilderness, Flint & Feather, and A Museum Called Canada, were all bestsellers.
Charlotte appears regularly on radio and television as a political and cultural commentator. She was a celebrity panelist, championing Jane Urquhart's novel Away, in CBC Radio's annual battle of the books, Canada Reads. In 2004 she was the advocate for Sir John A. Macdonald, Canada's first prime minister, for the CBC series: The Greatest Canadian. She has been a judge for several of Canada's most prestigious literary prizes, including the Giller Prize for Fiction, the Charles Taylor Prize for Non-fiction and the Shaughnessy Cohen Prize for Political Writing. In 2014, she was short-listed as "Author of the Year" by the Canadian Booksellers Association.
An Adjunct Research Professor in the Department of History at Carleton University, Charlotte is the 2003 Recipient of the Pierre Berton Award for distinguished achievement in popularizing Canadian history. She is former chair of the board of Canada's National History Society, and sits on the boards of the Ottawa International Authors Festival, the Art Canada Institute/Institut de l'Art Canadien, and the Sir Winston Churchill Society of Ottawa. Charlotte is a member of the Order of Canada and a Fellow of the Royal Society of Canada.
Miriam Toews – Author Judge – Kobo Emerging Writer Prize – Literary Fiction
Miriam Toews is the author of five previous bestselling novels: Summer of My Amazing Luck, A Boy of Good Breeding, A Complicated Kindness (Canada Reads 2006, Canada Reads Canadian Bestseller of the Decade 2010), The Flying Troutmans, and Irma Voth, and one work of non-fiction, Swing Low: A Life. She is a winner of the Governor General's Award for Fiction, the Libris Award for Fiction Book of the Year, the Rogers Writers' Trust Fiction Prize, and the Writers Trust Marian Engel/Timothy Findley Award. Her most recent novel, All My Puny Sorrows, won the Rogers Writers Trust Fiction Prize, was a Scotiabank Giller Prize finalist. She lives in Toronto.
Ian Hamilton – Author Judge – Kobo Emerging Writer Prize – Fiction (Mystery)
Ian Hamilton is the author of the wildly popular and bestselling Ava Lee novels, which will be adapted for television by CBC. The first book in the series, The Water Rat of Wanchai, was the winner of multiple awards including the Arthur Ellis Award for Best First Novel, a Toronto Star Top 5 Fiction Book of the Year, and a Quill & Quire Top 5 Fiction Book of the Year. The Disciple of Las Vegas was a finalist for the Barry Award for Best Original Trade Paperback, and The Wild Beasts of Wuhan was a finalist for the Lambda Literary Award for Lesbian Mystery. Most recently, The Two Sisters of Borneo was an instant Canadian bestseller and, in July 2014, BBC included Ian Hamilton on their list of "crime writer[s] to read now."

Michael Kozlowski is the Editor in Chief of Good e-Reader. He has been writing about audiobooks and e-readers for the past ten years. His articles have been picked up by major and local news sources and websites such as the CBC, CNET, Engadget, Huffington Post and the New York Times.