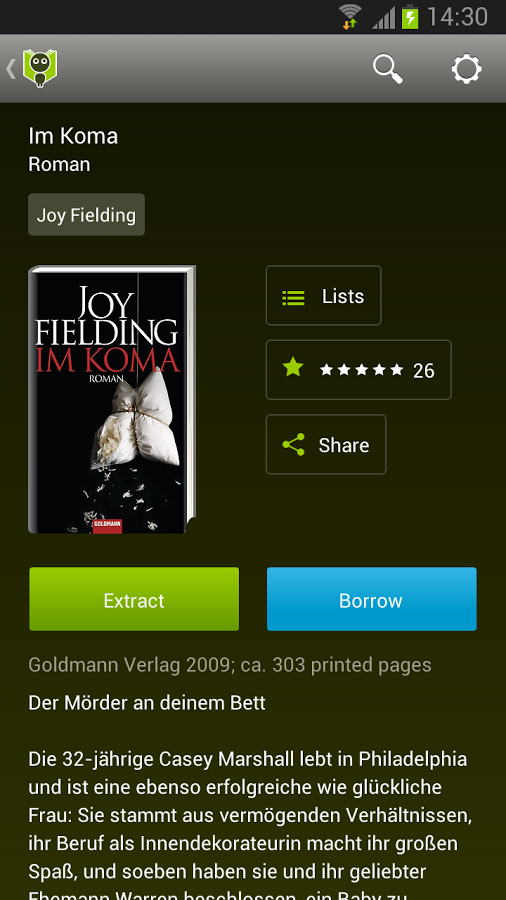 In North America there are a number of eBook subscription sites that have suddenly caught the attention of major publishers. Scribd, Entitle and Oyster all make themselves accessible on iOS and to a lesser degree Android. It is suddenly quite viable for readers and publishers to buy into the whole 'Netflix for eBooks' concept. Macmillan is not sitting idly in the sidelines and instead is focusing on the German market, by way of Skoobe.
Skoobe launched in 2012 in Germany and has been a critical success, as a homegrown company, appealing to local readers. The company initially launched charging $9.99 for the ability to read two titles every month and has since expanded for unlimited reads a month. Christian Damke, the founder of Skoobe mentioned "Skoobe aims to enlarge the market for major publishers by offering easy ebook access to price-sensitive readers who don't necessarily want to own the books. Our members are looking for engagement, quality, and ease of use. After joining Skoobe our members spend significantly more time reading while still buying print as well as ebooks. To split the catalogue into verticals is not planned, since we have found that having the option to read according to one's mood is actually one of the attractions of the offer. To carry more than 13,000 ebooks in your pocket and read a biography on the way to work and a crime story at home is very much our customer's wish. The reader is not limited to the one book she can carry in her bag but can continue to read the story she feels most drawn to at the moment."
Macmillan is buying into Skoobe via their parent company Verlagsgruppe Georg von Holtzbrinck. They are contributing 1500 titles from Tor Books, which will assist Skoobe in expanding into the English market.
Skoobe continues to solicit publishers to join their system and currently has a catalog of over 40,000 titles from over 900 publishers. Their business gets a lot of attention in Germany, with all of the major newspapers and magazines doing features on them. Statistically most Germans don't own property, but instead pay rent. Buying into an eBook subscription site makes sense. One of the great aspects is that this service is really accessible. They have apps for iOS, Android, and an optimized version of the Kindle Fire.
Download Skoobe today (spelled eBooks backwards) from the Good e-Reader App Store.
Update: The PR manager from Skoobe emailed me and cleared up some facts.
"From the start Skoobe has always offered unlimited reading to all customers and has been available starting at 9,99 Euros/month, not USD. We are not quite sure, how the misperception that only two books were available came up, be we have seen it in other articles too.
Since the launch in 2012 Skoobe has intensively worked on enlarging the ebook catalogue. Currently we offer more than 40.000 titles to customers in Germany, Austria and Switzerland. The great majority of titles is in German. However we have started to built a foreign language catalogue for our german-speaking readers too.
Christian Damke has left the company in 2013 to work with Grin.com. In April 2014 Constance Landsberg joined Skoobe as the new CEO. She has been employed by HolidayCheck.de before and contributes to the company's sucess with her deep knowledge of digital markets."