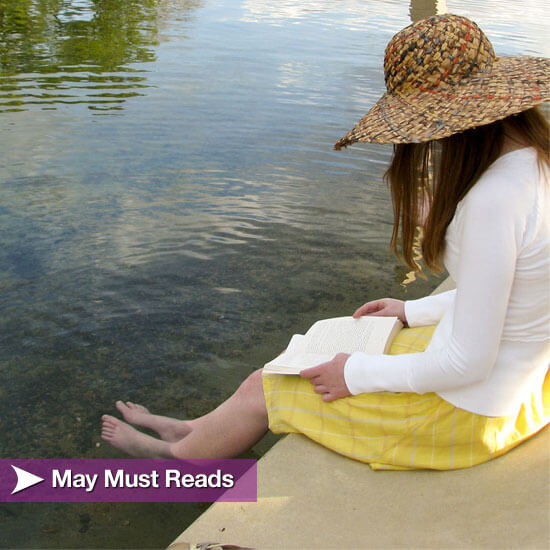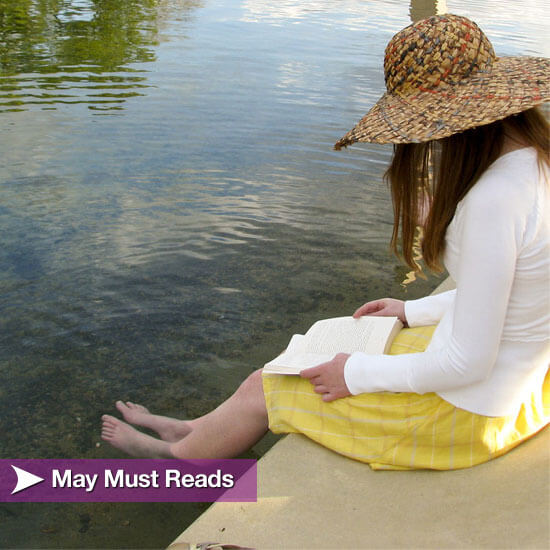 This May we are seeing lots of new YA books coming out by the likes of Rick Riordan and Charlaine Harris. This should be a good month for the kid in us all or to buy for your little one. Every month at Good e-Reader we do our essential reading list covering a wide array of genres to give you a look at some of the books that you might want to pick up!
Deadlocked (Sookie Stackhouse, Book 12) by Charlaine Harris – Release Date: May 1st 2012
Growing up with telepathic abilities, Sookie Stackhouse realized early on there were things she'd rather not know. And now that she's an adult, she also realizes that some things she knows about, she'd rather not see—like Eric Northman feeding off another woman. A younger one. There's a thing or two she'd like to say about that, but she has to keep quiet—Felipe de Castro, the Vampire King of Louisiana (and Arkansas and Nevada), is in town. It's the worst possible time for a human body to show up in Eric's front yard—especially the body of the woman whose blood he just drank. Now, it's up to Sookie and Bill, the official Area Five investigator, to solve the murder. Sookie thinks that, at least this time, the dead girl's fate has nothing to do with her. But she is wrong. She has an enemy, one far more devious than she would ever suspect, who's set out to make Sookie's world come crashing down.
The Serpent's Shadow (The Kane Chronicles, Book Three) by Rick Riordan – Release Date: May 1st 2012
He's b-a-a-ack! Despite their best efforts, Carter and Sade Kane can't seem to keep Apophis, the chaos snake, down. Now Apophis is threatening to plunge the world into eternal darkness, and the Kanes are faced with the impossible task of having to destroy him once and for all. Unfortunately, the magicians of the House of Life are on the brink of civil war, the gods are divided, and the young initiates of Brooklyn House stand almost alone against the forces of chaos. The Kanes' only hope is an ancient spell that might turn the serpent's own shadow into a weapon, but the magic has been lost for a millennia. To find the answer they need, the Kanes must rely on the murderous ghost of a powerful magician who might be able to lead them to the serpent's shadow . . . or might lead them to their deaths in the depths of the underworld.
The Last Boyfriend: Book Two of the Inn BoonsBoro Trilogy (The Inn Trilogy) by Nora Roberts – Release Date – May 1st 2012
Owen is the organizer of the Montgomery clan, running the family's construction business with an iron fist—and an even less flexible spreadsheet. And though his brothers bust on his compulsive list-making, the Inn BoonsBoro is about to open right on schedule. The only thing Owen didn't plan for was Avery McTavish… Avery's popular pizza place is right across the street from the inn, giving her a first-hand look at its amazing renovation—and a newfound appreciation for Owen. Since he was her first boyfriend when they were kids, Owen has never been far from Avery's thoughts. But the attraction she's feeling for him now is far from innocent. As Avery and Owen cautiously take their relationship to another level, the opening of the inn gives the whole town of Boonsboro a reason to celebrate. But Owen's hard work has only begun. Getting Avery to let down her guard is going to take longer than he expected—and so will getting her to realize that her first boyfriend is going to be her last…
11th Hour (Women's Murder Club) by James Patterson, Maxine Paetro – Release Date: May 7th 2012
Lindsay Boxer is pregnant at last! But her work doesn't slow for a second. When millionaire Chaz Smith is mercilessly gunned down, she discovers that the murder weapon is linked to the deaths of four of San Francisco's most untouchable criminals. And it was taken from her own department's evidence locker. Anyone could be the killer–even her closest friends. Lindsay is called next to the most bizarre crime scene she's ever seen: two bodiless heads elaborately displayed in the garden of a world-famous actor. Another head is unearthed in the garden, and Lindsay realizes that the ground could hide hundreds of victims. A reporter launches a series of vicious articles about the cases and Lindsay's personal life is laid bare. But this time she has no one to turn to–especially not Joe. 11TH HOUR is the most shocking, most emotional, and most thrilling Women's Murder Club novel ever
Can the lost be reclaimed? What price is too high to pay for love? Who can be trusted when sin and salvation collide? Love. Blood. Betrayal. Revenge. Darkness threatens to claim the Shadowhunters in the harrowing fifth book of the Mortal Instruments series.
In One Person: A Novel by John Irving – Release Date: May 8th 2012
A compelling novel of desire, secrecy, and sexual identity, In One Person is a story of unfulfilled love—tormented, funny, and affecting—and an impassioned embrace of our sexual differences. Billy, the bisexual narrator and main character of In One Person, tells the tragicomic story (lasting more than half a century) of his life as a "sexual suspect," a phrase first used by John Irving in 1978 in his landmark novel of "terminal cases," The World According to Garp.
His most political novel since The Cider House Rules and A Prayer for Owen Meany, John Irving's In One Person is a poignant tribute to Billy's friends and lovers—a theatrical cast of characters who defy category and convention. Not least, In One Person is an intimate and unforgettable portrait of the solitariness of a bisexual man who is dedicated to making himself "worthwhile."
Stolen Prey by John Sandford – Release Date: May 15th 2012
Lucas Davenport has seen many terrible murder scenes. This is one of the worst. In the small Minnesota town of Deephaven, an entire family has been killed—husband, wife, two daughters, dogs.
There's something about the scene that pokes at Lucas's cop instincts—it looks an awful lot like the kind of scorched-earth retribution he's seen in drug killings sometimes. But this is a seriously upscale town, and the husband was an executive vice president at a big bank. It just doesn't seem to fit.
Until it does. And where it leads Lucas will take him into the darkest nightmare of his life.

Michael Kozlowski is the Editor in Chief of Good e-Reader. He has been writing about audiobooks and e-readers for the past ten years. His articles have been picked up by major and local news sources and websites such as the CBC, CNET, Engadget, Huffington Post and the New York Times.