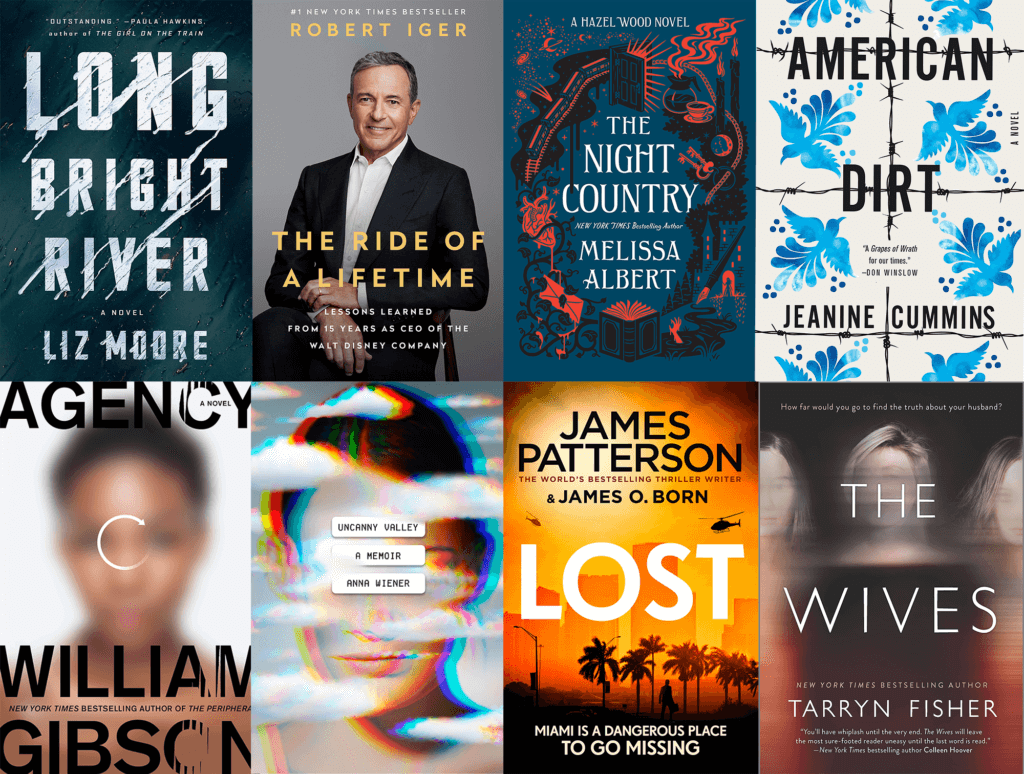 The Good e-Reader staff members read a copious amount of books and these are our picks for the top ebooks of the month for January 2020. Leading the way is the Agency by William Gibson, which is his first new book in a few years.
The Agency by William Gibson – Top Pick – The year is 2017, and Verity Jane is a talented "app whisperer" who is hired to test a new artificial intelligence called "Eunice." Verity soon becomes aware that the AI is quite powerful, something that she hesitates to share with her employers. But she can't hide for long. While Agency opens in 2017, it is a book with both feet placed firmly in the future—a novel of variable timelines, including one set in London where shady characters can reach back into the past to manipulate Verity's present. The book is a sequel of sorts to Gibson's 2014 novel The Peripheral—it is set in the same universe and shares some characters—but it can be read on its own. With its pithy short chapters and mind-bending plot, with the recognizably erudite characters and Gibson-esque language and dialogue, and with the inventiveness of a great science fiction, this is a fun first read of the new decade. Agency will entertain you, but it will also leave you with thoughts to chew on.
American Dirt by Jeanine Cummins – Lydia Quixano Pérez runs a bookstore in Acapulco, Mexico, where she lives with her husband, Sebastián, who is a journalist, and their son, Luca. When a man starts visiting her store, buying books and striking up a friendship, she has no idea initially that he will be responsible for turning her life upside down. But Lydia and Luca will have to flee Acapulco, setting them on a journey they will share with countless other Central and South Americans-turned migrants. There is very little I can say about this novel that hasn't already been said, and it hasn't even been published yet. The buzz has been building early, and when it does go on sale it will likely be one of the most talked about (and widely read) books of the year. From the colossal opening chapter to the epilogue, American Dirt is a novel of crisp writing, urgent pacing, and remarkable empathy. It deserves the attention of a large audience.
Uncanny Valley by Uncanny Valley – In her mid-twenties, Anna Wiener left her low-paying but rewarding-ish job in New York publishing and sold her soul to Silicon Valley start-up culture. First she dipped her toe in by taking a job at a books-focused tech company, but soon she made the full plunge, moving West and joining a data analytics company as an early employee. In her debut memoir, Wiener relays firsthand the juxtaposition of the extreme wealth and poverty of San Francisco, most memorably with an anecdote about a homeless man wearing the sweatshirt swag from her company. Her colleague's response? "I wonder whose it was. We're not supposed to give away the hoodies." Wiener is not here to make friends, as she gets pretty dish-y on the highs and lows of tech culture. We see young tech entrepreneurs with low EQ struggle to run a sustainable business, and highly paid boys and girls acting badly in and around the Bay Area. Wiener's observations and writing are razor sharp; she cleverly doesn't name any companies (Google is the "search-engine giant down in Mountain View", Uber "an on-demand ride-sharing startup"), but they are easily recognizable and make the reader feel clever when they uncrack her code. This perfectly named memoir places Wiener on the map as an astute documenter of our time. She's now married her worlds and is writing about Silicon Valley, startup culture and tech for national publications.
Tiny Habits: The Small Changes That Change Everything by BJ Fogg Given the surge in popularity in books on making and breaking habits, it's a wonder there's room for another one. But make space for BJ Fogg's Tiny Habits, a practical guide to introducing intentionally small changes into your routine that can lead to big results. The director of the Behavior Design Lab at Stanford, Fogg has spent years trying to figure out what makes habits stick. After much trial and error, he's focused upon a potent trinity of motivation, ability, and consistent prompts. More important, he shows the reader how to hone in on what small actions are more likely to be accomplished and therefore can snowball into something bigger, whether that action is flossing teeth or eventually running a marathon. I admit I found the book design off-putting at first, but the content is so good I quickly forgot my aesthetic quibbles. An excellent, lively resource for those seeking life changes
Long Bright River by Liz Moore – Many thrillers distract the readers with false leads and red herrings—it's part of the joy of reading a good thriller. Long Bright River distracts the reader from seeing the wood for the trees too, by going back to childhood to painstakingly lay out the events that made once-close sisters take divergent paths in life. Raised by their bitter grandmother, Mickey is now an arrow-straight cop, raising a child alone, while Kacey is a victim of Philadelphia's opioid epidemic. Estranged from one another, Mickey's job enables her to keep tabs on her sister along with all the other lost souls and criminals on her regular beat. Every sighting of Kacey means one more day Mickey doesn't have to worry about her sister turning up among the dead in the opioid-ravaged Kensington section of Philly. But when a string of murders coincides with Kacey's disappearance, Mickey's fears overrule her good sense and she obsessively hunts for Kacey in a neighborhood riddled with crime, corruption, addiction, danger, and deception. Both a harrowing tale that shows how the arc of addiction can feel like death by a thousand cuts to the rest of the family, and a tense, layered police procedural with a strong sense of place that puts it right up there with the best of Tana French or Dennis Lehane, readers will be thinking about Long Bright River long after the final page is turned.
The Night Country: A Hazel Wood Novel by Melissa Albert – Melissa Albert's The Hazel Wood first drew us into the Hinterland, her dark fairy tale world come to life. Now her spellbinding sequel, The Night Country, takes readers deeper into the darkness. Alice Proserpine, Alice-Three-Times in her origin story, has left the Hinterland for New York City. She is not alone. Others from the Hinterland are there, too, trying to live as humans in a place they don't belong. Someone begins killing these storybook characters, but who is doing it, and why? The love story between Alice and the boy Finch shines light and hope into the novel's shadows, and I sped through the pages of The Night Country, heart in my throat, marveling at each new thread of the story, and hoping none of the characters I loved would die. The Night Country has new fairytales and journeys to follow, and one tale in particular becomes the key to what is happening in both the fading Hinterland and in New York City. Albert has crafted a sequel that can also stand on its own, and for those among us who love a good fairy tale, and a mystery, The Night Country is a dragon's hoard of riches.
The Wives by Tarryn Fisher – There's a virtual reality Harry Potter-themed ride at Universal Studios that simulates a Quidditch match. You strap in, and start flying through the air, only to swing wildly to the right, stop short, dip, and then lurch 180 degrees to the left. Reading The Wives felt like being back on that ride. Thursday is a nurse in a busy Seattle hospital, slowly getting back in the swing of things after a miscarriage leaves her without her longed-for baby and infertile to boot. Her husband Seth is there for support but only one day a week. The rest of his week is spent commuting to and from Portland where his other two wives live. Presumably. Thursday's never met either of his other wives; all she knows is that one of them is pregnant, about to give Seth the one thing that Thursday no longer can. When she finds a scrap of information about one of the other wives—enough to identify her and locate her—the opening to the rabbit hole beckons, and Thursday is about to fall into it. Yes, the premise is about as preposterous as taking part in a Quidditch match, so if you've made it this far, ignore that fact and consider yourself strapped in and ready for a soapy, bumpy, twisty, exhilarating ride, set at a breakneck pace. Enjoy.
Lost by James Patterson – The city of Miami is Detective Tom Moon's back yard. He's always kept it local, attending University of Miami on a football scholarship, and, as a Miami PD officer, protecting the city's most vulnerable. Now, as the new leader of an FBI task force called "Operation Guardian," it's his mission to combat international crime. Moon's investigative team discovers that the opportunistic "Blood Brothers" — Russian nationals Roman and Emile Rostoff — have evaded authorities while building a vast, powerful, and deadly crime syndicate throughout Europe and metropolitan Miami. Moon played offense for U of M, but he's on the other side of the field this time. And as the Rostoffs zero in on a target dear to Tom, they're not playing by anyone's rules.
The Ride of a Lifetime: Lessons Learned from 15 Years as CEO of the Walt Disney Company by Bob Iger – People have been waiting years for Bob Iger to share his leadership secrets. Now he has, and they are utterly brilliant. The Ride of a Lifetime is not merely a memoir; it's a personal, all-access session with the wisest CEO you've ever met and a playbook for handling the key challenges of our age: how to drive change, leverage technology, build an enduring culture, and empower people. It's a ripping good, revelatory read.
Michael Kozlowski is the Editor in Chief of Good e-Reader. He has been writing about audiobooks and e-readers for the past ten years. His articles have been picked up by major and local news sources and websites such as the CBC, CNET, Engadget, Huffington Post and the New York Times.