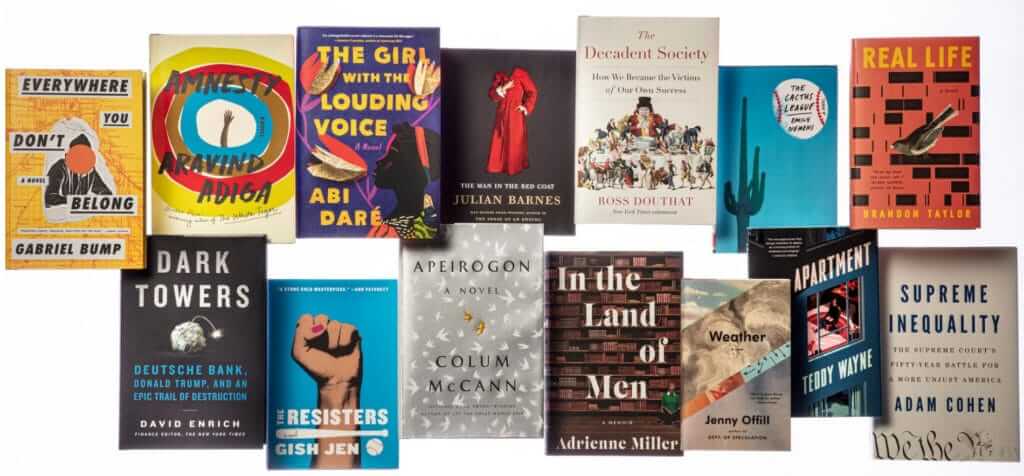 Good e-Reader continues to chronicle the best ebooks that you should seriously take a look at. There are a ton of great titles that are coming out, all month long. We are putting the spotlight on a small section of the books we think will sell very well on all of the major online platforms, such as Amazon, Apple Books, Barnes and Noble, Kobo and Google Books.
Good e-Reader Top Pick – The Glass Hotel by Emily St. John Mandel (Feb. 15)
The new book from Station Eleven author Emily St. John Mandel centers on a pair of estranged siblings, Vincent and Paul, whose messy lives result in Vincent's mysterious disappearance from a ship off the coast of northern Africa. The questions of who was responsible and how it all came to pass haunt this literary stunner.
Amnesty, by Aravind Adiga (Feb. 18)
Ever since his refugee application was denied, Danny, who came to Australia from Sri Lanka, has tried to stay under the radar. But when he hears about a murder — and realizes he may hold a key to the case — he must weigh the risks of exposing his undocumented status to the authorities. Adiga, the author of the Booker Prize-winning novel "The White Tiger," brings to life the precarious circumstances and impossible choices that immigrants face in his new book.
Apartment, by Teddy Wayne (Feb. 25)
It's 1996, and Wayne's achingly lonely narrator is enrolled in Columbia's M.F.A. program, where he finds solace in an unexpectedly intense friendship with a fellow student, Billy. When he offers Billy the chance to live rent-free in his apartment, the relationship becomes a crucible, driven by questions about power, class and masculinity.
Apeirogon, by Colum McCann (Feb. 25)
Two fathers, one from Israel and one from Palestine, are linked by their shared grief: Rami's teenage daughter was killed by a suicide bomber, and Bassam's 10-year-old daughter was fatally shot by the police after leaving a candy store. McCann, who won the National Book Award for his 2009 novel, "Let the Great World Spin," draws on the men's real-life stories for this novel, which follows their friendship and shared efforts to bring about peace.
Black Sunday by Tola Rotimi Abraham (Feb. 4)
Set in mid-1990s Lagos, Tola Rotimi Abraham's Black Sunday centers on twins Bibike and Ariyike, whose family is thrown into turmoil after their father makes a poor financial decision that results in the loss of their home. Living with their grandmother in the wake of the family tragedy, the once-close sisters begin to drift apart in this poignant debut.
The Cactus League, by Emily Nemens (Feb. 4)
This debut novel by the editor of The Paris Review follows a baseball team, the Los Angeles Lions, and the grand unraveling of its star outfielder, Jason Goodyear. Set during spring training in the Arizona desert, it features a quirky cast — Goodyear's ex-wife, a sportswriter hoping for a juicy story, the team's groupies and even the stadium's organist.
Everywhere You Don't Belong, by Gabriel Bump (Feb. 4)
This debut novel tells the story of Claude, a young black man born on the South Side of Chicago and raised by his grandmother. As tensions between the police and his neighborhood intensify, he avoids getting involved, hoping that once he leaves the city for college he can carve out a new identity.
The Girl With the Louding Voice, by Abi Daré (Feb. 4)
Growing up in Nigeria, Adunni — the teenage heroine of Daré's debut novel — strives for an education, but her plans are overturned after her father sells her to an older man. She eventually escapes the marriage and heads to Lagos, where she works for a wealthy family and encounters yet more punishing setbacks. Despite what she endures, this is a courageous story of a woman asserting her own voice.
In the Land of Men: A Memoir, by Adrienne Miller ( Feb. 11)
Miller sets out to detail the misogynistic, old-boy culture of print magazines in the 1990s as she charts her path from a young editorial assistant at GQ to the first female literary editor at Esquire. Her dealings with the writer David Foster Wallace — both professional and personal — occupy a large part of the book.
The Man in the Red Coat, by Julian Barnes (Feb. 18)
Belle epoque Paris comes alive in this biography of a pioneering French doctor, Samuel Jean Pozzi, who was the subject of one of John Singer Sargent's most famous paintings. Barnes, the author of "The Sense of an Ending" and other beloved books, sketches his subject's life in fascinating detail, including entanglements with Henry James, Oscar Wilde and Sarah Bernhardt.
Real Life, by Brandon Taylor (Feb. 18)
In Taylor's debut novel, Wallace — a shy African-American student at a Midwestern college — feels out of place and keeps to himself. But several confrontations dismantle his defenses and unnerve him, forcing him to reckon with his desires.
The Authenticity Project by Clare Pooley (Feb. 4)
Imagine if The Sisterhood of the Traveling Pants were about a shared journal instead. In Clare Pooley's The Authenticity Project, six strangers each write down their own, honest stories in a single notebook. Originally picked up by an elderly man and left in a series of local gathering places, the notebook takes on a life of its own as it allows those who write inside it to bare their souls, anonymously.
The Resisters, by Gish Jen (Feb. 4)
In her latest novel, Jen imagines a future surveillance state called AutoAmerica, where you're either a Netter, with a nice home, an income and other luxuries, or a Surplus. Gwen, who comes from a Surplus family, is an incredible baseball talent. When word of her skill gets out, she must decide whether to leave her caste and way of life behind.
Saint X, by Alexis Schaitkin (Feb. 18)
Years have passed, but Claire is still haunted by the unsolved murder of her sister. After happening upon one of the initially accused, she ingratiates herself into his life — under a false ID — in hopes of solving the mystery. "Saint X" is already shaping up to be one of the thrillers of 2020.
Weather by Jenny Offill (Feb. 11)
Dept. of Speculation author Jenny Offill returns this year with Weather, the story of a real librarian, turned fake psychiatrist, and podcast communications handler. As she tries to assuage Internet strangers' fears, Lizzie realizes that her own relatives may be slowly slipping beyond her capacity to help.
When We Were Vikings, by Andrew David MacDonald
This book is a tender, funny, and utterly original novel about a young, Viking-obsessed woman named Zelda, who is about to become the hero of her own legend. Zelda's developmental challenges make her story all the more inspiring, and her tribe — consisting of herself and older brother, Gert — is as loyal as they come.

Michael Kozlowski is the Editor in Chief of Good e-Reader. He has been writing about audiobooks and e-readers for the past ten years. His articles have been picked up by major and local news sources and websites such as the CBC, CNET, Engadget, Huffington Post and the New York Times.